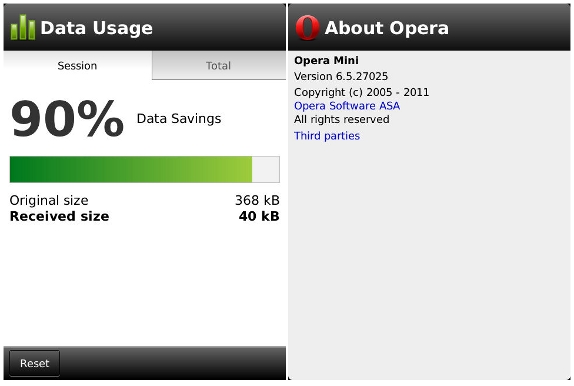 Opera has launched their latest Opera Mini 6.5 with Data Usage view and bookmark import for iPhone, BlackBerry, Symbian S60 and Java Phones. The Opera Mobile 11.5 browser is now also available on Symbian S60. The Data Usage view keeps count of how much data you are spending and saving in total, or for a specific time frame. It is said to save 90% of data cost. The Opera Mini and Mobile for Android was launched last month.
The data tracker is located under the "Help" menu that gets you total usage and also temporary usage. You also add bookmarks or new Speed Dial shortcuts for easy access to your most used website in the new version. The cost-saving compression is always turned on in the Opera Mini and you can turn off this feature in the Opera Mobile.
Download Opera Mini 6.5 for iPhone from the Apple iTunes Store. Download the app for BlackBerry, Symbian S60 and Java Phones just by heading to m.opera.com from your device.