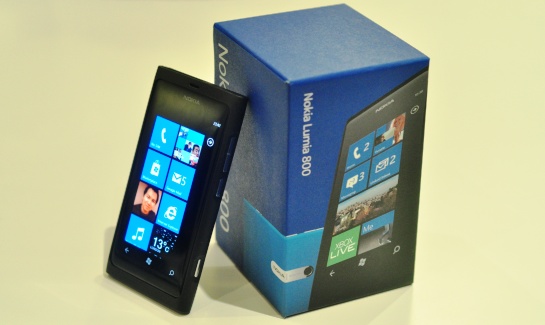 httpv://www.youtube.com/watch?v=sZpUgHDtY_Y
A week after the Nokia Lumia 800 was announced, and less than a week after Nokia World 2011 ended, Nokia has begun sending samples of the Nokia Lumia 800 to the press. This is an impressive turnaround compared to previous years. In addition to that Nokia has also announced that the Lumia 800 will be released on 16 November, two weeks from now.
The Lumia 800 we were given are pre-release prototypes. I was told that the retail boxes will be similar, but do not be surprised if the contents change come release day. In addition to the phone itself, you will find a USB wall adaptor (mine came with an European plug, but expect to see the correct version for your country), microUSB cable and a pair of head-set inside the compact blue box. The head-set are of the none in-ear version. Finally, Nokia has also included a very neat looking case.
Readers here will likely be already familiar with the Nokia Lumia 800, but to recap, Nokia's first ever Windows Phone 7 device runs on the Mango variety. Inside the single piece polycarbonate you will find a 3.7″ WVGA AMOLED display with Clear Black technology, a single core 1.4 GHz Qualcomm processor with hardware accelerator, 512MB RAM, 16GB storage and 8MP AF camera with Carl Zeiss optics. I can confirm that the screen uses a PenTile sub-pixel matrix, as seen previously on the Galaxy S and the upcoming Galaxy Nexus.
A review of the Lumia 800 is being worked on. In the meantime, do enjoy the unboxing video.