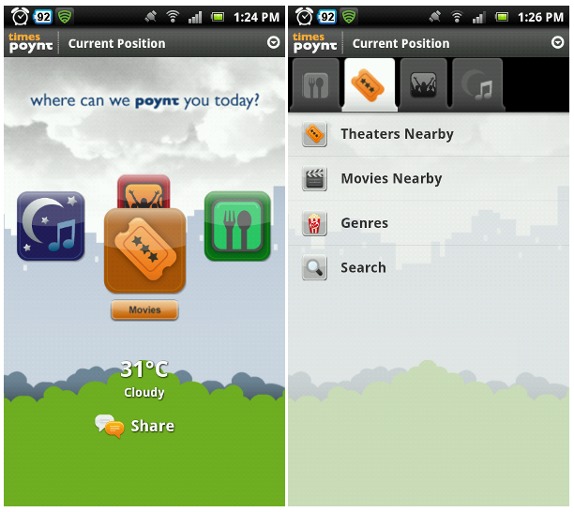 Canada-based Poynt, provider of mobile local search services, in partnership with Times Internet Limited has launched mobile local search application, timesPoynt in India. This would let the Indian users to access the most locally relevant, GPS-enabled service in one intuitive mobile application.
Features of TimesPoynt app
Nightlife – find local nightlife, top 10 nightlife or search by keyword, click-to-call, get directions and send these details to contacts
Movies – search by theater, movie, or genre, click –to-call the location, get directions, sort by name or rating, view trailers, add to calendar and send these details to contacts
Restaurants – Search by name, cuisine type and see top 10 or nearby, click-to-call the location, get directions and view the restaurant's website
Events – search by category, venue, performer, event or nearby, get directions, send the details to contacts or add events to calendar
It uses GPS or cell-site location to quickly search for nearby places (set radius from 5 to 50km). The app also shows current weather in your city, receive push notifications for child search alerts and sharing option on Facebook and Twitter.
The timesPoynt app is available in India on iPhone, Android and Nokia devices and BlackBerry smartphones. Head on to m.timespoynt.com from you mobile phone browser to download the app.