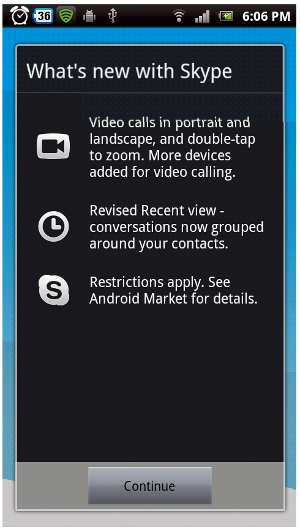 Skype for Android has been updated to version 2.5.0.108 that brings 2-way video calling support to 14 more Android phones and tablets.The new version also supports video calling in some of the Android 2.2 (Froyo) devices. The Skype v2.1 brought the video calling support for 17 devices.
The compatible devices are Samsung Galaxy Tab 10.1, HTC Nexus One, HTC Shooter, Sony Ericsson Xperia Live with Walkman, Sony Ericsson Xperia neo V, LG Optimus Black, LG Optimus 3D, LG Optimus 2x, Motorola Photon, Motorola Droid 3, Motorola Bionic, Motorola Xoom, Motorola Atrix and Acer Iconia.
This version also has improved support for bluetooth headsets and number of bug fixes and performance enhancements video enhancements. Some of the other features include option to switch between portrait and landscape mode during video calls, and zoom in with a simple double tap on the screen, In-client advertising, conversations are now grouped around your contacts in recent view and option to edit and delete IM messages.
Download Skype for Android from the Android Market (2.1 and up) for free.