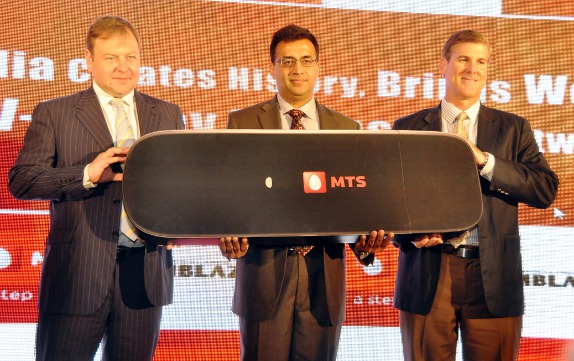 MTS brings the world's first CDMA EV-DO Rev.B Phase II network to India. Compared to EV-DO Rev.B Phase I, the Phase II technology offers high speed rate as high as 4.9 Mbps in single frequency carrier and 9.8 Mbps in two frequency carrier bundle. They have also launched MBlaze Ultra dongle that provides data download speeds of 9.8 Mbps. ZTE won the commercial contract from MTS earlier this May.
MBlaze Ultra lets you enjoy video streaming, High quality audio/video download and live play back without buffering. Customers will get access to over 100 Live TV and Video on Demand to a range of News, Entertainment, Sports and Regional channels.
MBlaze Ultra dongle is available for Rs. 4599 that comes with 1 GB free data per month for six months. Customers can also purchase MBlaze Ultra device for just Rs. 2499 and the monthly plans are available as low as Rs. 629. As and introductory offer all the customers purchasing MBlaze Ultra in the first month of launch50 percent extra usage for lifetime.
The MTS CDMA EV-DO Rev.B Phase II network would be available in Jaipur and would be rolled out in the top metros and other key cities across India in coming months.