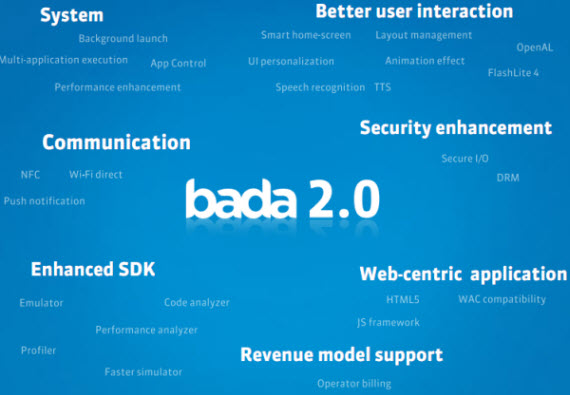 Samsung has launched the bada 2.0 SDK (Software Development Kit) for the developers, which is their own mobile development platform. They showcased the features of bada 2.0 at the MWC 2011 in Barcelona earlier this February.
The bada 2.0 brings new capabilities including multi-tasking, Wi-Fi Direct, Near Field Communication (NFC) and voice recognition and enhances the web experience with the HTML5 and improved Flash support. It also supports some of the advanced services such as mobile payment, transport pass-card recharge and file sharing without Internet networking.
The bada 2.0 would also support In-app Ads that lets the developers insert ads using the Ads API (Application Programming Interface)that would provide revenue opportunities. There are also some useful tools for developers such as Emulator and Profiler.
The Samsung apps clocked 10 Million downloads in the first 10 months of its launch and it surpassed 100 million-mark in March 2011, and it is now available in 121 countries worldwide. The new bada 2.0 would provide new app purchasing options and recommendations. The bada 2.0 SDK could be downloaded from the bada developer site.