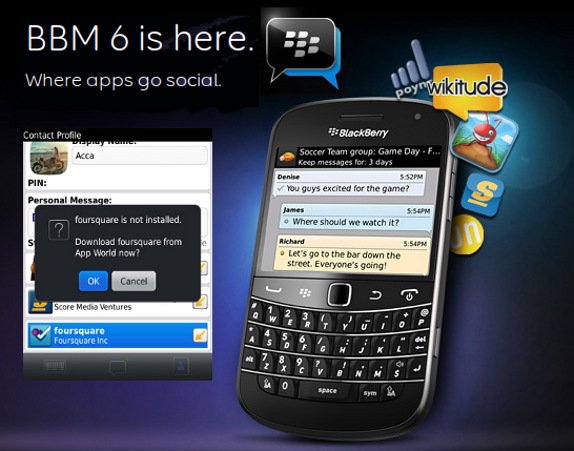 RIM has launched the new BlackBerry Messenger (BBM) 6. The new version delivers a whole new social app experience with the new features like status update via BBM connected apps, BlackBerry app share and more.
Features of BlackBerry Messenger 6
The BBM connected apps feature lets you insert status updates like high scores, trophies, achievements, etc that shows up in the custom area within the BBM profile
Share the apps with your BBM friends from the app and ask them to download it.
Now you can have BBM chat within the app so that you could chat with your friends while tracking the game scores
Launch or install an app within your friend's profile with the discover app feature
There are a wide range of BBM connected app such as ScoreMobile, Huffington Post, Foursquare, Backgammon King, Dark Galaxy and lots more that could be identified from the "BBM connected" app icon. Your BBM friends could see the status updates from your connected apps even if they have not installed those apps.
Checkout the BBM connected app feature on Foursquare and BBM chat feature on the ScoreMobile:
httpv://www.youtube.com/watch?v=JqdJLCLvhoY
httpv://www.youtube.com/watch?v=QtbOUMoTPHU
Download BlackBerry Messenger 6 for devices that run BlackBerry OS 4.5 and above from the BlackBerry App World.