Sony Ericsson has officially confirmed on their Facebook page that the Xperia X10 Android 2.3 update would come this week. They announced this March that Xperia X10 would get Android 2.3 update in Q2 / early Q3 of 2011. Later they announced that the update would be available in August 2011.
Sony Ericsson has said on the Facebook page that the launch of Android 2.3 for X10 is getting closer and the approximate launch date is week 30 which is this week (25th July to 31st July 2011). The launch date may differ based on the approval of the market/operators.
We will keep you updated with the news about the update when it releases. Read the Sony Ericsson's official statement below.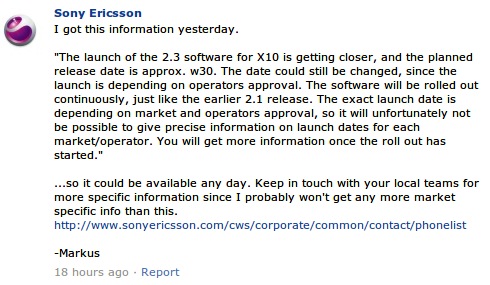 via: XperiaX10.net