Google Arts & Culture has launched an unprecedented online exhibition showcasing the rich history of Hindi cinema. This free exhibit, accessible on their platform, utilizes cutting-edge technology like Augmented Reality and Street View.
Featuring over 120 curated stories and 7000 assets, including 5000 high-res images and 1500 videos, it spans from early classics like "Manthan" to modern blockbusters. In collaboration with 21 cultural organizations, including the National Film Archive of India and Yash Raj Films, the exhibit offers a 3D virtual gallery and Hall of Fame.
Visitors can explore the history of Hindi filmmaking through iconic films and industry legends. Street view captures provide a 360-degree tour of Mumbai's Art Deco theaters, and Augmented Reality allows users to project posters onto walls using smartphones.

The exhibit includes insightful conversations by Anupama Chopra with industry veterans Shabana Azmi and Karan Johar. At the week-long Film Bazaar at IFFI 2023, an interactive space enhances the experience for delegates, allowing them to personally relive the magic and nostalgia of Hindi films.
You can check out more information on the company's website.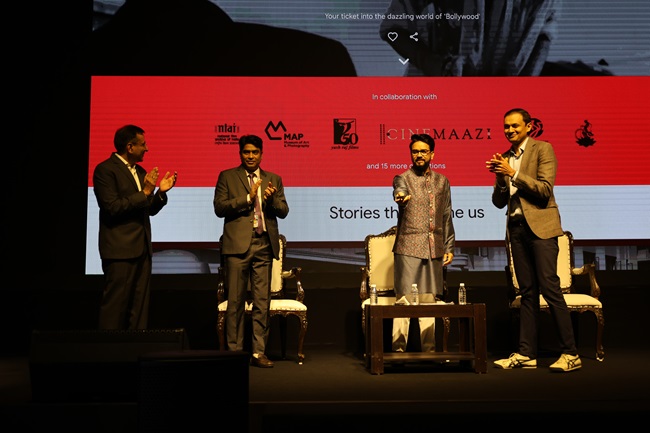 Commenting at the event, Union Minister of Information and Broadcasting, Youth Affairs and Sports Anurag Singh Thakur, said:
Films evoke the strength of coming together as a community to cherish and honor the art that shapes our society. It's gratifying to witness the timeless allure of cinematic experiences now reaching audiences in India and globally, finding a unique online space.

I invite everyone to explore the Hindi Cinema exhibit, both at the Film Bazaar and on the Google Arts & Culture platform, and immerse themselves in the enchanting history of an art form that has profoundly influenced our culture for over a century, standing as a cornerstone of our society and global soft power.
Speaking at the event, Sanjay Gupta, Country Head & Vice President, Google India, said:
The power of storytelling to unite peoples, cultures, and communities is extraordinary and a timeless reflection of Indian history and heritage. Films elevate storytelling to new heights, transcending literacy barriers, embracing India's linguistic diversity, and captivating audiences across the spectrum. This is a commitment we proudly uphold at YouTube, promising to amplify every voice and showcase the world.

We are deeply dedicated to YouTube's dual roles: advancing the democratization of storytelling by promoting the works of India's film industry, creators, and artists to broader audiences in India and beyond, and harnessing cutting-edge AI and machine learning to foster a thriving ecosystem that champions creators' needs and safeguards our platform's viewers.
Describing the exhibit, Amit Sood, Director, Google Arts & Culture said:
Together with 21 partner institutions from India and around the globe, Google Arts & Culture has created an online tribute to the richness of India's filmmaking culture. This homage is the result of the dedication of cinema experts, curators, and cultural organizations. We appreciate their significant contribution in enhancing accessibility to Hindi Cinema for all. In collaboration with them, we eagerly anticipate further expansion in the future.
Speaking at the occasion, Prithul Kumar, Festival Director – IFFI and Film Bazaar said:
Cinema serves as a universal language, breaking borders and uniting people. This year's festival is poised to exemplify the storytelling power inherent in the lens of the camera. We are excited to collaborate with Google Arts & Culture, enriching this extraordinary cinematic journey with invaluable archival content.