Truke has expanded its product line and entered the home audio segment with its newest offerings, Infinitybox and Thunderbar Bluetooth Speakers, in India.
Infinitybox Party Speaker
With a robust 50W sound output, it packs a punch. Dual 78mm speakers and dual passive radiators deliver deep bass that fills your space. You can easily control your music with on-speaker buttons for a hassle-free listening experience.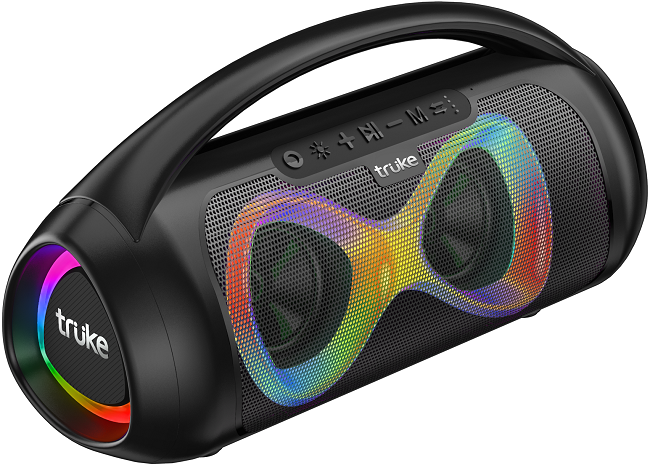 Plus, it comes with dynamic RGB lighting that syncs with your tunes. Enjoy up to 12 hours of continuous playback and quick Type-C charging. Connect two Infinitybox speakers for stereo sound and choose from multiple playback options: Bluetooth, AUX, TF/USB, or FM radio.
Quick specifications: Truke Infinitybox Party Speaker
50W sound output
Dual 78mm speakers and dual passive radiators
Dynamic RGB Lighting
12 Hours Playback; Type-C Charging
Supports TWS Stereo
Connectivity: Bluetooth, AUX, TF/USB, or listen to FM radio.
On-speaker Controls
1-year warranty
Thunderbar Soundbar
Experience rich audio with Thunderbar's 16W output and dual 52mm speaker drivers for deep bass. It also features customizable RGB lighting and a built-in holder for your mobile devices and tablets, ensuring comfortable content enjoyment.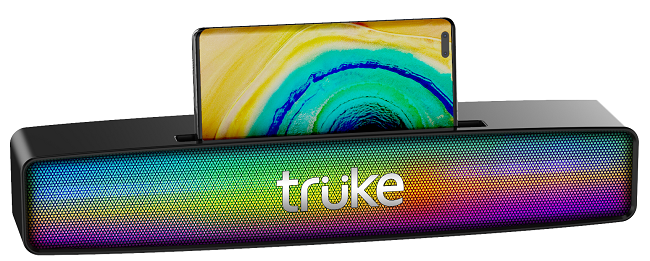 With up to 6 hours of battery life, you can connect via Bluetooth, AUX, TF/USB, or FM radio. On-speaker controls make adjusting volume, skipping tracks, and managing calls effortless.
Quick specifications: Truke Thunderbar Soundbar
16W Output
Dual 52mm Drivers; Rich Deep Bass
Customizable RGB Lighting
Convenient Device Holder
Up to 6 Hours Battery Life
Multiple Playback Options (Bluetooth, AUX, TF/USB, FM Radio)
Easy On-speaker Controls
1 year warranty
Pricing and availability
The Truke Infinitybox party speaker is priced at Rs. 4499, while the Thunderbar soundbar is at Rs. 1499. Both the devices are available for purchase on Amazon.in and Truke.in, starting today.
Speaking at the launch, Pankaj Upadhyay, CEO & Founder, Truke said,
Truke's foray into the home audio sector is a significant step forward, a testament to the unwavering support from our stakeholders. We see a vast potential in the budget home audio market, and we believe our innovative products, priced competitively, will stand out.

We look forward to a positive reception for both Thunderbar and Infinitybox from our customers. Truke remains dedicated to constant innovation, striving to bridge the gap between state-of-the-art products and affordability for our valued customers.