Redmi has launched their new Redmi Buds 5 TWS earbuds in China, alongside the Redmi Note 13 series. These earbuds prioritize comfort, thanks to their ergonomic in-ear design that evenly distributes weight for extended wear.
They boast glossy decorative strips with nano-coating for an enhanced appearance. The charging case features a cloud-like design, a charging indicator, and a strip-shaped breathing light effect lasting three months.
Inside, they house an independent acoustic rear cavity, a precise 1.6m dynamic coil, a robust neodymium magnet, and a sizable 12.4mm dynamic coil with a titanium-plated polymer. These earbuds are also certified by NetEase Cloud Sound for their hardware quality.
The Redmi Buds 5, tuned by Xiaomi's Golden Ears Team, deliver great audio with EQ effects, vocal enhancement, and treble and bass boosts. They excel in calls with dual microphones and AI noise reduction, even in windy conditions.
These earbuds offer significant 46dB noise reduction, wide 2kHz range, three noise reduction levels, three transparency modes, and dual microphone noise reduction.
For battery life, one earbud lasts 10 hours, and with the case, you get 40 hours. Even with noise reduction, one earbud gives 8 hours, and a full charge is 30 hours. They support fast Type-C charging, giving 2 hours of music in 5 minutes.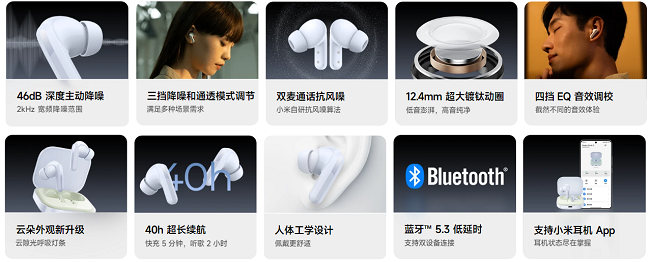 Additionally, these earbuds support dual device connectivity, Bluetooth 5.3 Low Energy, touch controls, and can be customized and updated using the Xiaomi Headphones App. Redmi has also introduced a special AAPE trend limited edition of the Redmi Buds 5, featuring a green camouflage gift box and trendy ICON design.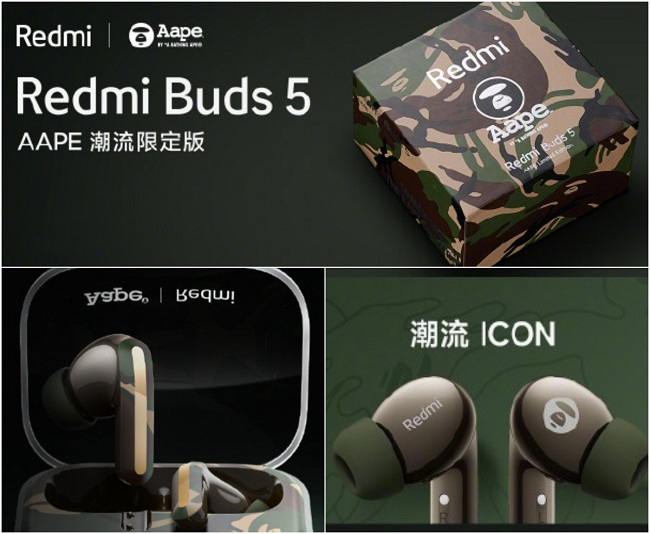 Quick specifications: Redmi Buds 5
Drivers: 12.4mm drivers
Design: Ergonomic in-ear design and glossy nano-coated decorative strips.
Audio: Tuned by Xiaomi Golden Ears Team for EQ sound effects, vocal enhancement, treble boost, and bass boost.
NetEase Cloud Sound Certification
Call Quality: Dual microphones with AI noise reduction to resist wind noise
Active Noise Cancellation: Up to 46dB noise reduction depth.
Battery Life: Up to 10 hours per earbud, 40 hours with the charging case, 8 hours with noise reduction
Charging: Type-C fast 5-minute charging for 2 hours of music.
Connectivity: Dual device smart connection, Bluetooth 5.3 Low Energy, touch controls.
App Support: Customization and updates via Xiaomi Headphones App.
Pricing and availability
The Redmi Buds 5 are priced at 199 yuan (USD 27 or Rs. 2,300 approx.), and they are already available for sale starting today. They come in three colors: taro purple, clear snow white, and midnight dark.
The Redmi Buds 5 AAPE trend limited edition is priced at 299 yuan (USD 40 or Rs. 3,455 approx.). The first sale will be at 10:00 on September 26, 2023.