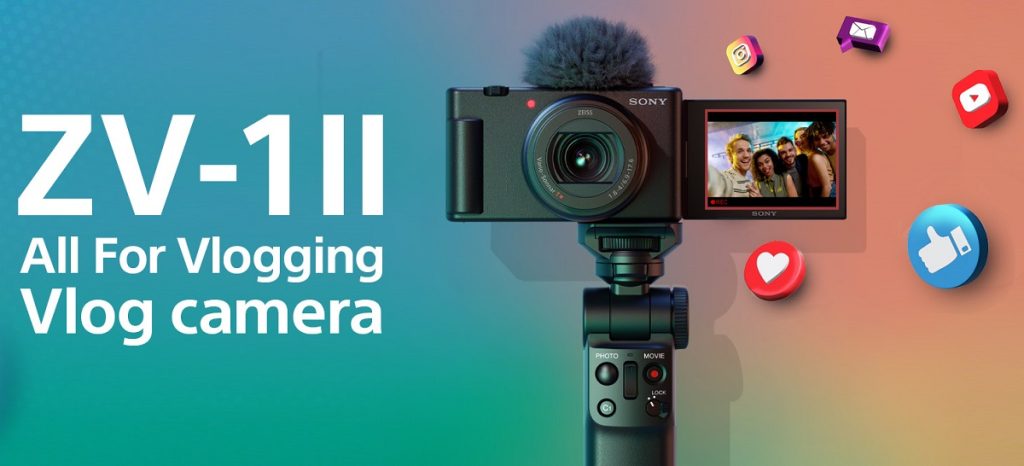 Sony has introduced a new camera called the ZV-1 II, which is the second generation in the ZV series for vlogging. This camera is designed to be compact and lightweight, making it easy to carry in a pocket or small bag. It even has a wide zoom lens.
The ZV-1 II offers versatility in filming styles with its selfie-friendly vari-angle screen, comfortable grip, user-friendly controls, and a front-facing recording indicator. Charging is easy using a USB Type-C connector. Its 18mm wide-angle view is perfect for wide scenes, especially selfies. It features optical zoom and clear image zoom for video versatility.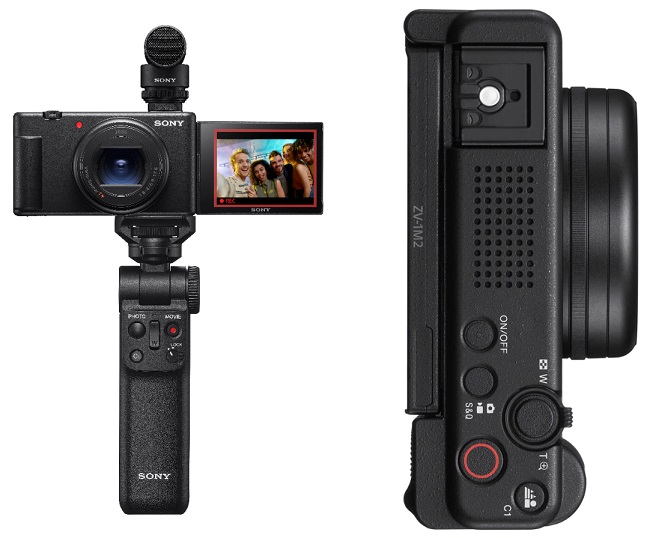 This camera boasts a Bokeh Switch for effortless background blur, a Cinematic Vlog Setting for cinematic shots, and a choice of various looks and moods, including 10 preset options for creativity. It excels with Fast Hybrid AF for sharp 4K images and Real-time Eye AF for precise focus on people or animals.
The camera's microphone adapts to faces or objects in Auto mode and offers manual direction control. It's easy to connect external microphones. Additionally, it features Face Priority AE, Soft Skin Effect, Product Showcase Setting, slow and quick motion modes, and customizable ISO sensitivity. It's equipped with image stabilization and a built-in ND filter.
For high-quality live streaming, you can use it as a webcam with your PC or smartphone, enhancing appearance and focus in online meetings and streams. The ZV-1 II is accessible with a screen reader for visually impaired users and offers functions like Real-time Eye AF, Touch Focus, and a versatile vari-angle LCD screen for user-friendly operation.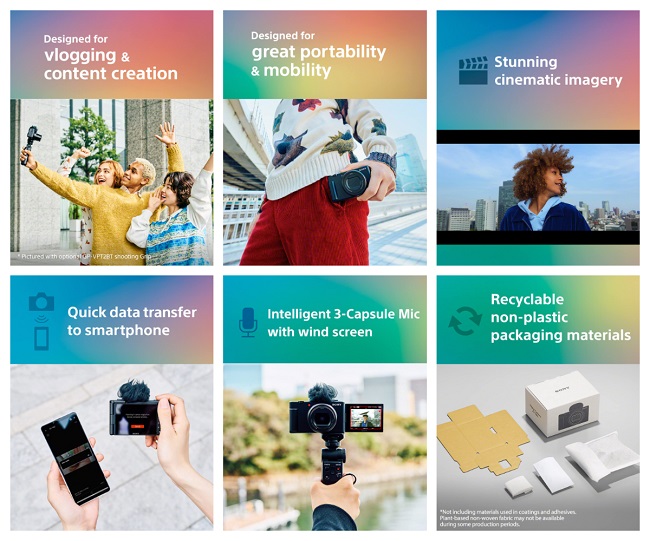 Quick specifications: Sony ZV-1 II Vlog Camera
Camera Type: Digital camera
Lens: 18–50 mm (F1.8-4 lens)
Sensor Type: 1.0-type (13.2 mm x 8.8 mm) Exmor RS CMOS sensor; 21.0 MP
Built-in ND Filer ND (1/8 ND), Colour Temperature 2500 K–9900 K, Anti-Flicker Shoot
Images format: RAW, RAW+JPEG, JPEG
Audio Recording Format: LPCM 2ch (48 kHz 16 bit)
Video compression: XAVC S: MPEG-4 AVC/H.264
Memory card slot: Multi slot for Memory Stick Duo™/SD memory card
Movie functions: Slow and Quick motion, Proxy recording, and TC/UB
Focus Type: Fast Hybrid AF (phase-detection AF / contrast-detection AF); Human, Animal
LCD Screen: 3″ TFT touch, 921,600 dots, Opening Angle: Approx. 176 °, Rotation Angle: Approx. 270 °
ISO sensitivity ranging from 125 to 12800
Electronic image stabilization
Other features: Cinematic Vlog Setting, My Image Style, Creative Look, Product Showcase Set., Background Defocus, Soft Skin Effect, Custom function, Picture Profile
Microphone: Built-in, stereo; Speaker: Built-in, monaural
Connectivity: Wi-Fi (IEEE 802.11b/g/n; 2.4 GHz band); Bluetooth v4.2
Ports: Mass-storage / MTP, HDMI CONNECTOR, 3.5 mm Stereo minijack
Type-C Charging
Dimensions (W X H X D): 105.5 x 60.0 x 46.7 mm; Weight: 300g
Color: Black
Pricing and availability
The Sony ZV-1 II is priced at Rs. 86,990 and will be available across all Sony Centers, Alpha Flagship stores, Sony authorized dealers, ecommerce websites such as Amazon.in and Flipkart and major electronic stores across India from 25th September 2023 onwards.
Commenting on the launch, Mukesh Srivastava, Head of Digital Imaging Business at Sony India, said:
The ZV-1 II signifies a thrilling era for content creators, positioning itself as the camera of choice for a wide spectrum of artists, from vloggers and influencers to short-form video creators. Our newest member of the ZV series is a product of careful consideration of user feedback and includes features that are of paramount importance to vloggers. Our dedication to improving the ZV series in response to community suggestions is steadfast, and the ZV-1 II is a shining example of this commitment.