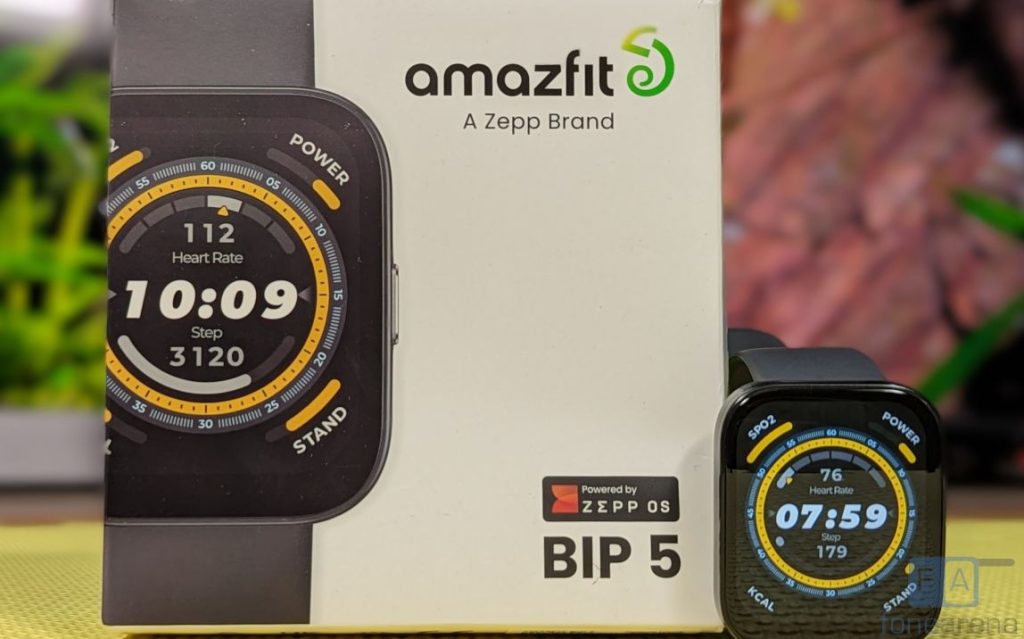 Amazfit launched the BIP 5, the company's latest smartwatch in the BIP series, and the successor to last year's BIP 3 in India this week. It has a large 1.91-inch screen, has built-in microphone and speaker for voice calling capabilities, has 120+ sports modes, also has 4 Satellite Positioning Systems. I have been using the latest smartwatch from Amazfit for about a week now, and here is the review.
Box Contents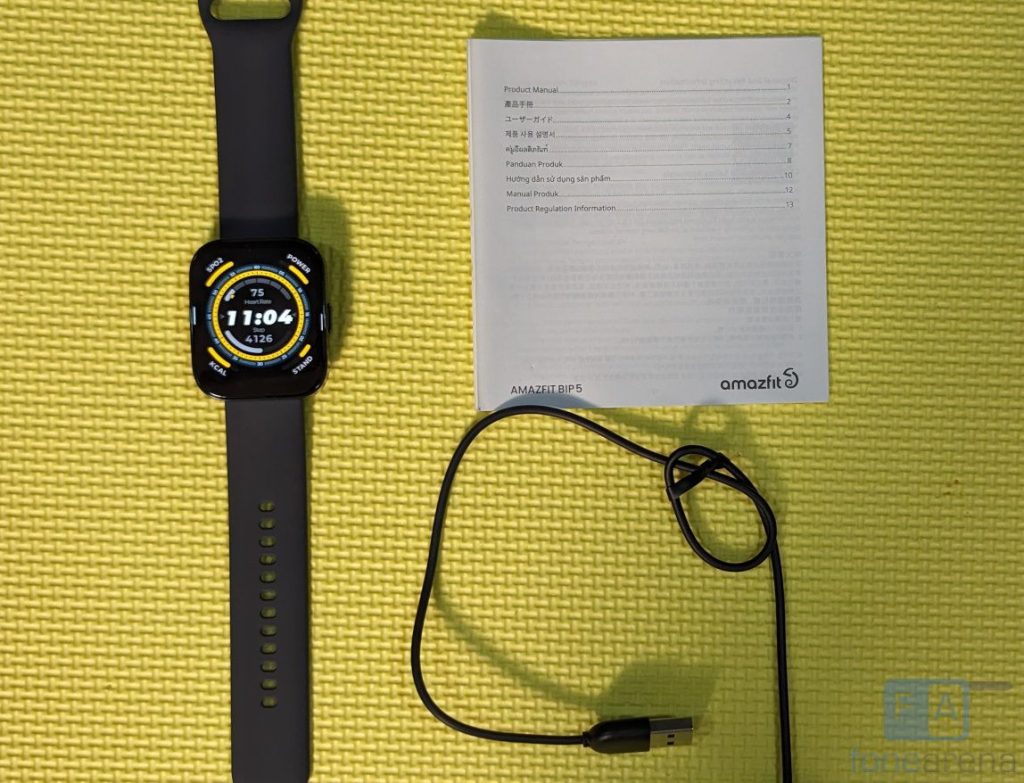 Amazfit BIP 5 in Soft Black colour
Charging dock
User manual
Design and Build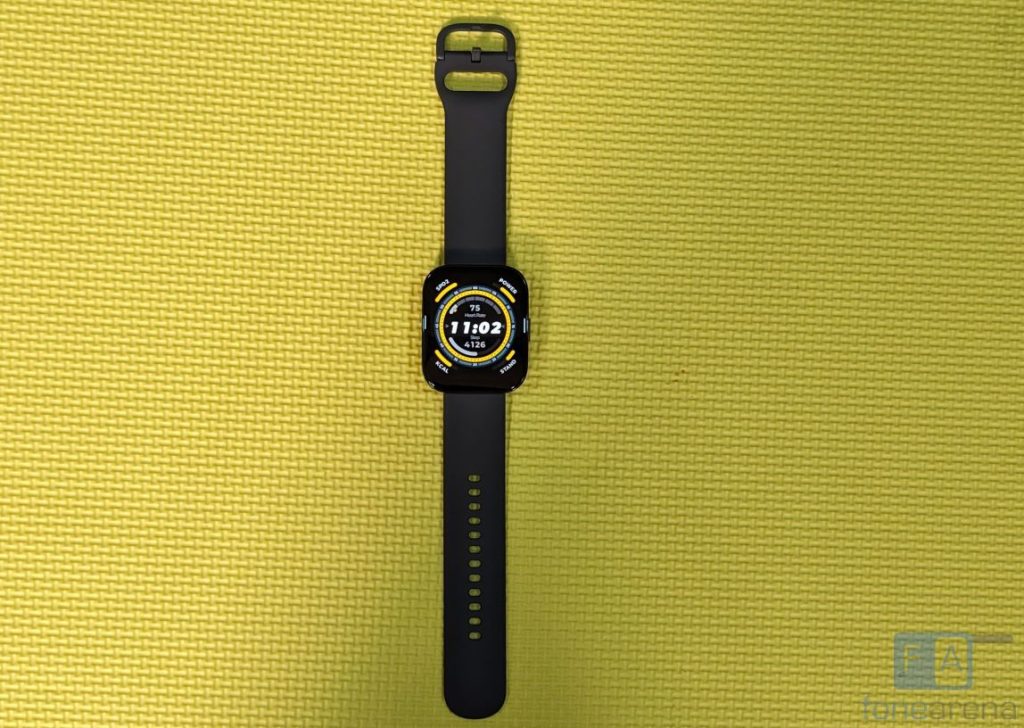 The Amazfit BIP 5 has the square design that is similar to most watches. It measures 45.94×38.09×11.2mm and weighs 40 grams with the strap. The smartwatch has IP68 water resistance. There is Accelerometer, 24h Heart Rate Monitor and SpO2 Sensor. It uses Bluetooth 5.2 to connect to Android and iOS devices.
Coming to the strap, it has a lightweight 22mm interchangeable strap that is made of skin-friendly material, and the quality of the strap is good.
There is a single function button on the right side that lets you wake up the watch, go back, quick launch something and also pause workouts. You can also see the microphone below it. On the other side, there is a speaker grill. The watch has a glossy frame. The build quality is good, but it is prone to fingerprints.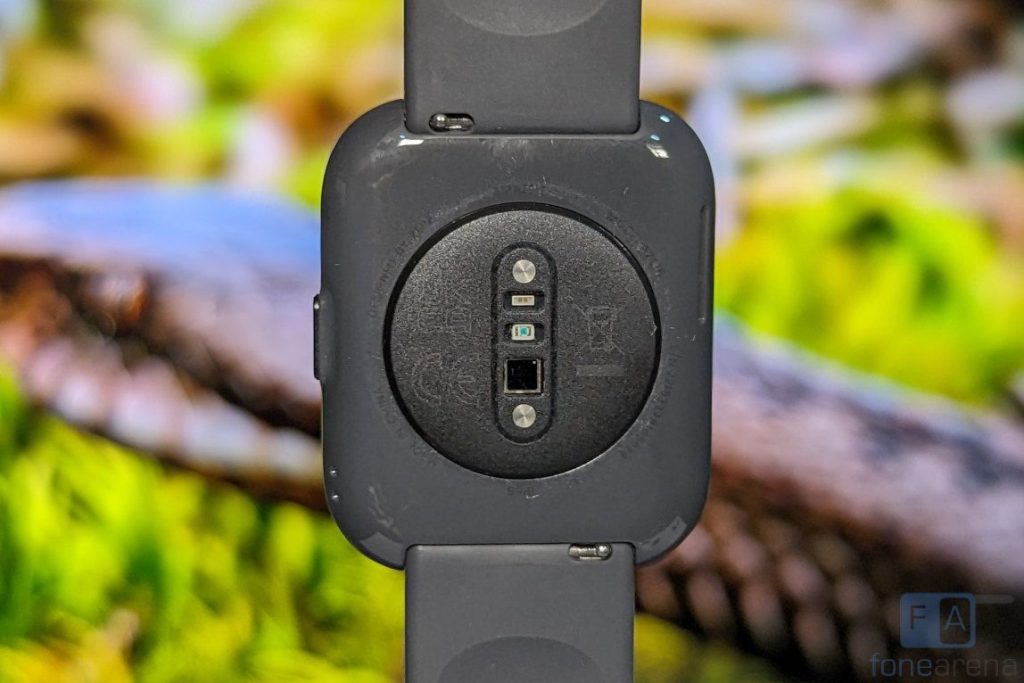 On the back, there are heart rate and SpO2 sensors that have glowing green and red LED lights when you are using it to measure heart rate and blood oxygen.
Display and features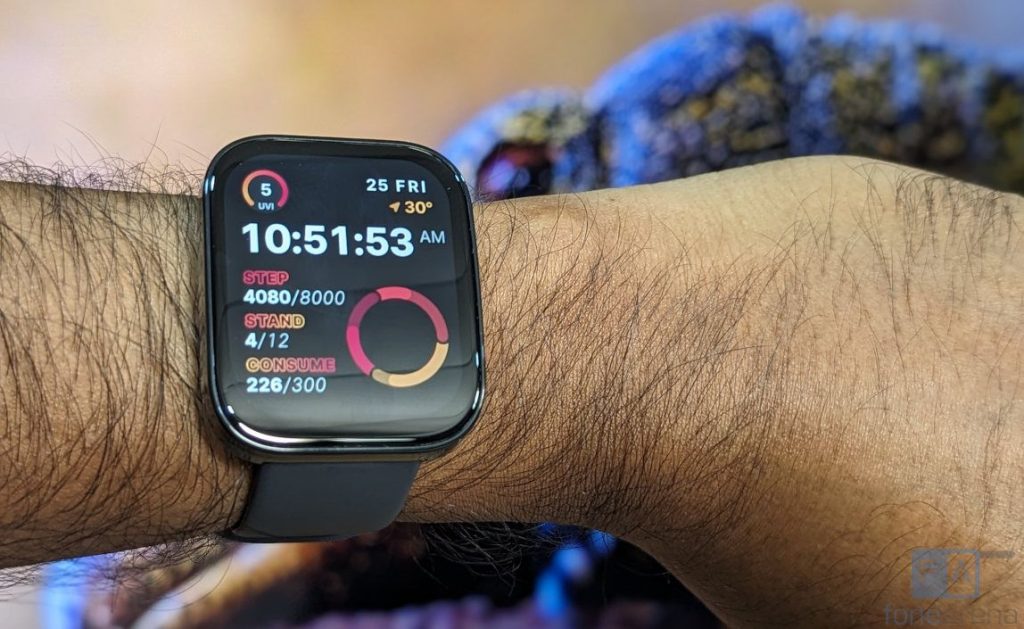 Coming to the display, the Amazfit BIP 5 has a large 1.91-inch (320×380 pixels) 260 PPI TFT LCD touch screen with 2.5D scratch resistant glass. You can set it to turn on when you lift your hand, and the screen turns off in a few seconds to save power.
Outdoor visibility is good even though it's LCD. You can adjust the brightness by swiping from the top or from Settings→Display →Adjust Brightness. You can increase in the form of a slide. The screen time out is available from 5 till 20 seconds, but there is no auto brightness adjustment since it lacks an ambient light sensor. For indoors, even low brightness is good, and with almost 80% it is visible even in bright outdoors.
When you swipe from the top, you can see quick settings. This has battery, DND, Sleep, flash, Calendar, volume, keep screen awake, Brightness adjustment, settings, Theatre mode, Lock screen and Find my phone.
Pressing the function button, shows PAI, heart rate, blood oxygen, one-tap measuring, workout, workout history, workout status, stress, activity, sleep, Phone, Cycle tracking, Membership card, Weather, Music, Alarm, Calendar, Settings, Breathe, Stopwatch, Countdown, Find my phone, To Do and Camera controls.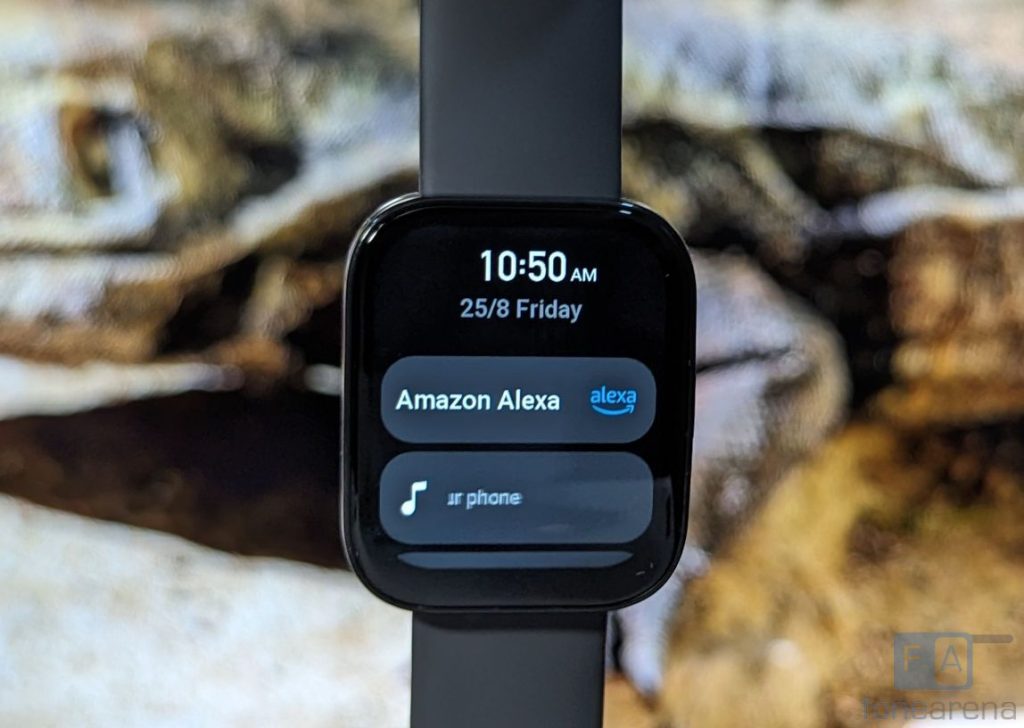 Swiping to the left shows Alexa access, music controls, recommendations, Weather, PAI, Alarms, Sleep data, heart rate, and SpO2. Swiping to the right shows activity data, heart rate, weather, PAI and music controls. There is also an easy notification shade when you swipe from the bottom on the home screen. You can read them and dismiss, but can't reply.
Bluetooth Calling
The smartwatch has a built-in calling feature, since it has a microphone and a speaker. It shows call log, and there is even a dial pad, in addition to contacts option which you can add from the app.
Calling experience is good indoors, and the microphone is able to pick up the voice well, but the speaker output is not loud enough even indoors, so it is hardly audible outdoors.
Software
The BIP 5 runs ZepOS 2.1 that the company says works in tandem with the advanced sensors and algorithms in the smartwatch for 24/7 health monitoring. The UI is intuitive, friendly and easy-to-navigate, and doesn't have any lags.
It uses Zepp companion app on Android and iPhone.  It shows all the important details on the home tab, workouts in the health tab and the profile tab lets you finetune the settings. Inside the Amazfit BIP settings you can select call reminders, notifications from the preferred apps, health reminders such as 24-hour HR monitoring, stress monitoring, set watch faces and more.
The face gallery shows 70+ different types of watch faces. There are a lot of watch faces to choose from, and it also lets you customize which widgets are shown on the editable watch face options. There are 13 editable watch faces. There is an option to upload photos to the watch face, and if you upload 3 photos to the watch, it will switch between them each time you wake up the display.
Fitness and Sleep tracking
It has an option to sync your data to Strava, Komoot and Relive, as well as adidas Runtastic, adidas Running app. There are 120+ workout modes, like indoor and outdoor walking, running and cycling, as well as more freeform workouts like strength training, yoga, and free training.
The watch can be set to intelligently detect seven exercise types and prompt you to engage the relevant sports mode as soon as you begin one of these sports (Outdoor Running, Treadmill, Walking, Indoor Walking, Outdoor Cycling, Rowing Machine and Elliptical), so you can jump into action
quickly and easily.
This offers real-time sport data tracking, analytical report in the mobile app, sports notifications: be notified about your stages, conditions, and heart rate zones while doing sports.
For outdoor activities, you get all the details such as distance, calories burnt, average heart rate, average speed, average pace, cadence and duration. You can also see VO2 Max, recovery period and heart rate zones for outdoor activities such as running.
Thanks to 4 satellite positioning systems: GPS, GLONASS, GALILEO, BDS, you need not carry the phone with you for outdoor activities. The lock is quick, and it did not get cut off during my run. You can press the side button to pause a workout in the middle.
Compared to tracking apps like Strava running on mobile, or other GPS watches like Mi Watch Revolve Active, it is accurate.
Sleep tracking shows light and deep sleep, awake time, as well as REM sleep. At first use it didn't track well, but after reset it was fine. It also shows the breathing quality, which is in beta, says the company.
Heart rate, SpO2 and stress monitoring
The smartwatch uses LED lights and photo-diodes to illuminate the blood vessel for a while and monitors the heart rate via the change of green light absorbed, and it uses red light for SpO2 or blood oxygen monitoring.
You can't say this is 100% accurate. Heart rate recordings — both resting and active, and SpO2 readings are decent compared to oximeter. It also shows stress data, but you need to enable this manually.
Battery life
The BIP 5 has a 300mAh battery, and the company promises up to 10 days of battery life with normal use, 5 days with heavy use and 26 days in battery saver mode. During my use with 24h heart rate tracking, GPS use of 30 minutes for 4 days and 2 to 3 calls over Bluetooth, it lasted for a week.
Battery life might vary depending on frequent use of the display with increased brightness, use of heart rate monitor during workouts, calling and all the notifications turned on.
It has a magnetic charging dock that you can even plug it in a USB port of a PC or a laptop or use power bank in low-power mode. It takes about 2 hours to charge the watch fully from 0%. Charging time doesn't matter since it lasts for over a week.
Conclusion
The Amazfit BIP 5 is a good upgrade to last year's BIP 3 since this adds GPS, bigger screen and offers longer battery life, but the price has increased more than two times, and the loudspeaker volume is too low for calls.
If you don't need GPS, there is Amazfit's own POP 3S and POP 3R models with an AMOLED screen at a cheaper rate. If you need GPS, but don't need calls, there is Amazfit GTS 2 at a slightly higher price with an AMOLED screen and 3GB Music Storage.
The Amazfit Bip 5 is priced at Rs. 7,499 and available exclusively on Amazon.in, starting 31st August 2023.
Pros
Large and bright 1.91″display
4 satellite positioning systems for accurate outdoor activity tracking
ZeppOS 2 with a lot of features
Good battery life
Cons
No ambient light sensor
Speaker volume is low for calls