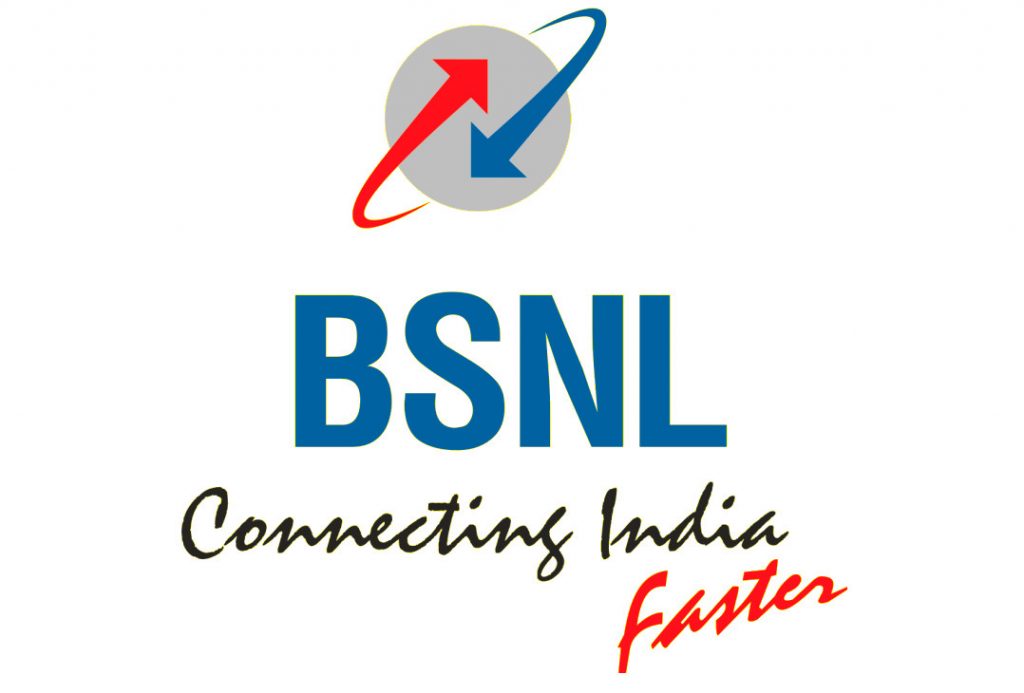 The Union Cabinet, led by Prime Minister Narendra Modi, has approved a revival package for BSNL. The package has a total outlay of Rs. 89,047 crore and includes increasing BSNL's authorized capital from Rs. 1,50,000 crore to Rs. 2,10,000 crore.
The aim is to make BSNL a reliable telecom service provider that prioritizes connectivity in remote areas of India. The package includes the allotment of valuable wireless frequencies to BSNL.
Grateful to PM @narendramodi Ji for empowering the BSNL to provide 4G/5G services in the nook and corner of India by approving the third revival package for BSNL with a total outlay of ₹89,047 Cr.

This revival package will make BSNL a stable telecom service provider. pic.twitter.com/WRL5gDQUYd

— Amit Shah (@AmitShah) June 7, 2023
4G/5G Spectrum to BSNL comprises of:
700 MHz band spectrum worth Rs. 46,338.6 crore
70 MHz of frequencies in 3300 MHz band worth Rs. 26,184.2 crore
Frequencies in 26 GHz band worth Rs. 6,564.93 crore
Frequencies in 2500 MHz band worth Rs. 9,428.2 crore
Total of Rs. 531.89 crore for miscellaneous items.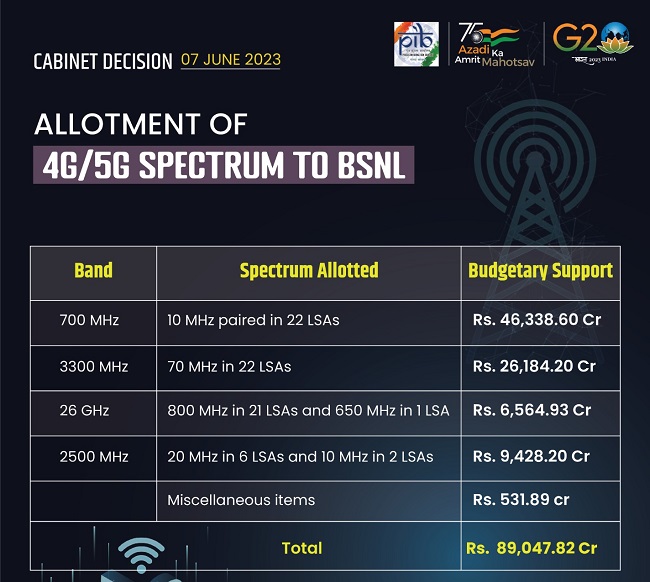 This spectrum allotment will enable BSNL to:
Provide nationwide 4G and 5G services.
Extend 4G coverage to rural and underserved villages as part of connectivity projects.
Offer Fixed Wireless Access (FWA) services for high-speed internet.
Provide services/spectrum for Captive Non-Public Network (CNPN).
BSNL/MTNL Revival Packages
The government has implemented two revival packages to support BSNL/MTNL. The first package, approved in 2019, amounted to Rs. 69,000 Crore and aimed to stabilize the companies. In 2022, the government approved the second revival package, totalling Rs. 1.64 Lakh Crore.
This package provided financial assistance for capex, viability gap funding for rural landlines, balance sheet restructuring, settlement of AGR dues, and the merger of BBNL with BSNL, among other measures.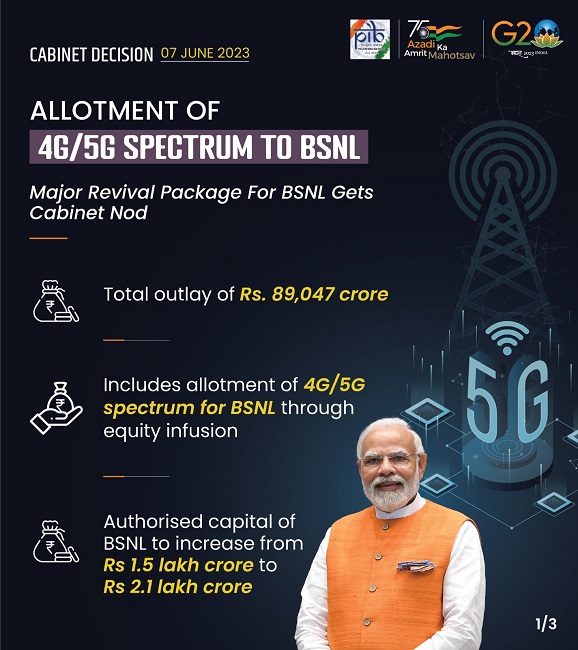 These revival packages have had a positive impact on BSNL. The company has seen a turnaround, achieving operating profits since FY 2021-22. Additionally, BSNL's total debt has significantly reduced from Rs. 32,944 Crore to Rs. 22,289 Crore.
Notably, the home fiber segment has experienced substantial growth, with BSNL adding over 1 Lakh new connections every month. As of May 2023, BSNL's total home fiber subscriber base stands at 30.88 Lakh, generating revenue of Rs. 2,071 Crore in the previous year.
Atmanirbhar Vision: Indigenous 4G/5G Technology
As part of the Atmanirbhar vision of Prime Minister Narendra Modi, India has successfully developed its own 4G/5G technology stack. The deployment of this technology has already begun and will soon be rolled out nationwide on the BSNL network. In preparation for the 4G rollout, BSNL had planned to install 1.12 lakh towers across India in 2022.