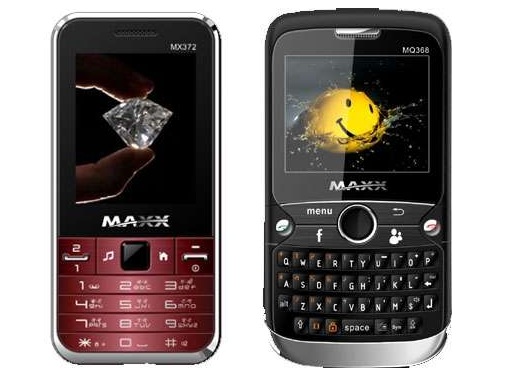 MAXX mobiles has launched two new dual SIM budget phones, MX372 and MQ368. These phones are called Tiny series of phones and are aimed at youth market. Both these are sleek phones and MQ368 is a QWERTY phone and MX372 has T9 keypad.
The MX372 has 2.0 TFT display and weighs just 61 grams. It also has optical track-pad, dedicated music button and a 2MP camera. It is java enabled and comes with pre-installed applications like Facebook and eBuddy messenger.
The MQ368 is a QWERTY phone that has 2.0 TFT display and an optical track-pad. It comes with 2 MP Camera and 1000 mAh battery with talk-time up to 4 hours and standby time of up to 300 hours. It is java enabled and has dedicated keys for Facebook and MSN.
The MX372 is priced at Rs.2524 and comes in four colors, purple, pink, wine red and white. The MQ368 is priced at Rs. 2636. These phones would be available in Mumbai first, followed by other Indian cities at the retail outlets such as Planet M, Tata Croma, Hyper City, Star Bazar, Mobile & Gadgets, Indian Naval Canteen, Kings Electronics, Hotspot, Reliance Web World and NEXT electronics.