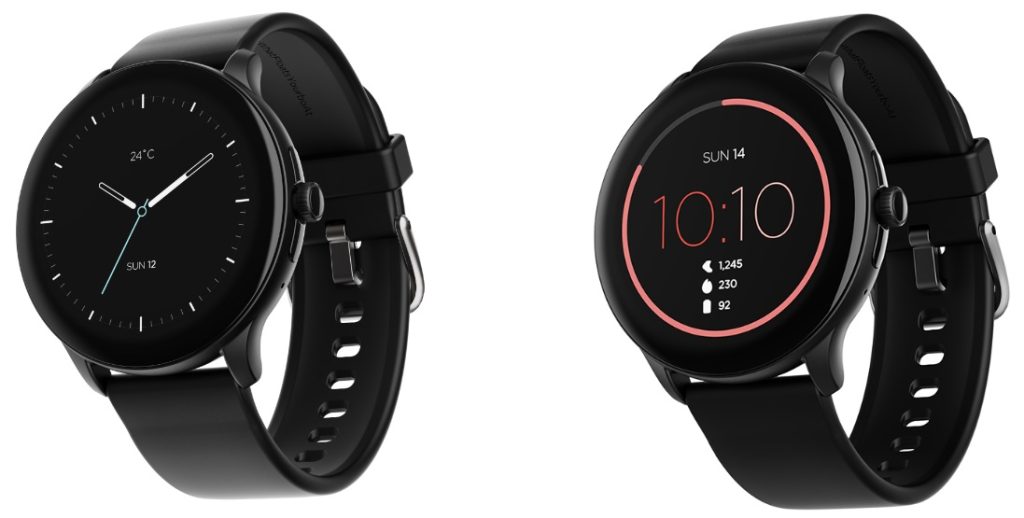 The Indian wearable device market saw a robust growth of 80.9% YoY in 1Q23, with 25.1 million units shipped, as per the International Data Corporation's (IDC) India Monthly Wearable Device Tracker. However, the growth remained flat QoQ after a strong 4Q22.
The smartwatch segment accounted for 41.4% of the total shipments, showing an increase from 26.8% a year ago. The earwear category also witnessed a strong YoY growth of 48.5%. In 2022, the Indian wearables market had recorded a YoY growth of 46.9%, as per IDC's earlier report.

TWS Earwear share sees a rise in India
According to the International Data Corporation's (IDC) India Monthly Wearable Device Tracker, True Wireless Stereo (TWS) earwear share in India has increased from 48.1% to 63.9% YoY, within the earwear category.
As in 2022, more people are switching from earwear with neckbands to earwear without wires (TWS) in the first quarter of 2023. The average prices for these two types of earwear are US$12.2 for neckbands and US$20.4 for TWS.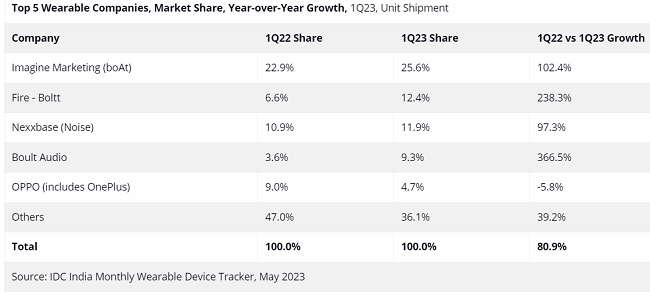 Vikas Sharma, Senior Market Analyst for Wearable Devices at IDC India, says that better audio quality with ANC/ENC and attractive designs will be the main factors that set apart the products in 2023.
India Leads the Way in Smartwatch Growth Among Wearables
Smartwatches, including both basic and advanced categories, continue to be the fastest-growing wearable category in India. As per IDC's report, 10.4 million smartwatches were shipped in 1Q23, representing a growth of 178.9% YoY.
The ASP of smartwatches declined by 42.0% YoY to reach US$29.2, compared to US$50.4 a year ago. The basic smartwatch category witnessed a share rise of 98.0% and grew by 187.4% YoY in 1Q23.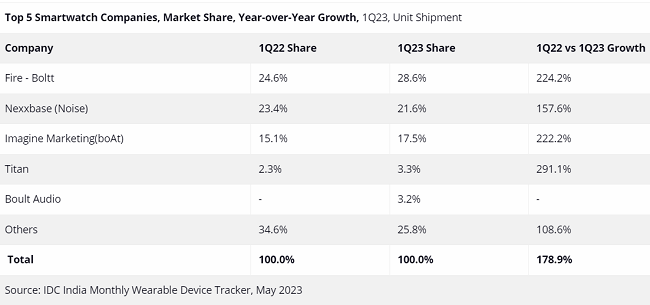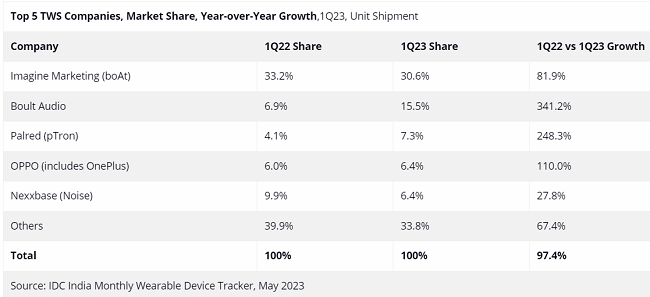 Top wearables brands in India in 1Q23:
boAt maintained the top position with 25.6% market share, growing by 102.4% YoY. It also led the TWS segment with 30.6% share and the smartwatch category with 28.3% of overall shipments.
Fire-Boltt stood second with 12.4% share and led the smartwatch category with 28.6% share, growing by 224.2% YoY, thanks to affordability and new designs.
Nexxbase (Noise) came third with 11.9% share and grew by 97.3% YoY, but faced supply constraints. It dropped to second place in the smartwatch category and fifth in TWS.
Boult Audio stood fourth with 9.3% market share and retained the second place in the TWS category with 15.5% share, showing a healthy 366.5% YoY growth.
With a 4.7% market share, OPPO (which also includes OnePlus) ranked fifth in the first quarter of 2023, but its shipments dropped by 5.8%.
Other players included Palred (pTron) and Seminole in the 3rd and 6th position in TWS category, SRK Powertech (Pebble) at 6th position in smartwatch, and Ambrane at 7th position in smartwatch.
Brandscale (Wings Lifestyle) gained momentum in 1Q23 with gaming centric TWS.
Speaking on the report, Upasana Joshi, Research Manager, Client Devices, IDC India, said:
With a variety of smartwatch models that have metal bands/shells, round faces, tough looks, and elegant designs, brands are offering more than just timekeeping. They are also adding advanced communication features like LTE, digital payment options, and more accurate sensors/algorithms to attract new smartwatch consumers and encourage existing ones to upgrade. The smartwatch market will grow from 30.7 million units in 2022 to over 50 million units in 2023.