During its I/O event, Google introduced several new features for Google Home on various devices, including phones, tablets, and smartwatches, to assist users in staying up-to-date with what is important to them.
Google had previously revamped the Google Home app to enhance the smart home experience. Take a look at the following five updates to see what's new in Google Home.
The new, redesigned @Google Home app—now on #PixelTablet 🏠

Bring together over 80,000 supported smart home devices, including all of your Matter-enabled devices¹ ✨#GoogleIO pic.twitter.com/xzu365scjk

— Made by Google (@madebygoogle) May 10, 2023
Five-Tab Layout for Better Control
The app has a new layout with five tabs that let users manage their devices, set up home routines, and monitor their home activities. The Favorites tab is the default, where users can pin their most-used devices, actions, and automations, and view their Spaces. These Spaces group devices into categories like lights, cameras, Wi-Fi, and climate, making it easy for users to find what they need.
Easy Access to Nest Cameras
Users can now easily access and view their Nest cameras in the app. The Cameras Space lets them see all their feeds in one place with a tap, or they can add them to their Favorites tab for quick access to the live streams when they launch the app. Users can also scroll through hours of video history in seconds, with important events labeled and organized by type.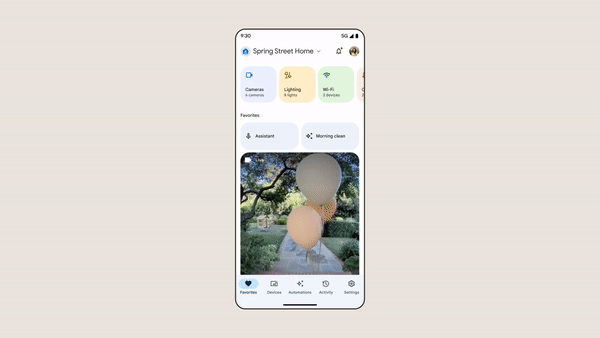 Support for More Smart Devices
The new Devices tab in the app provides users with a central spot to manage all their smart home devices, including those paired with Matter. Google has rolled out new and improved controllers for more than 60 device types that are either Matter-enabled or certified Works with Google Home devices, allowing users to control all their different smart devices from a single place.
Google Home App for Wear OS and Tablets
Google is adding more capabilities to the Google Home app for Wear OS, allowing users to access their Favorites to make even quicker adjustments.

The app shows animated previews in camera notifications to inform users when something they care about happens, like a package arrival. The app is also optimized for tablets, with support for navigating camera timelines and event lists in both landscape and portrait modes.
New Home Panel for Android Devices
Google is set to release a fresh home panel for Android gadgets, enabling users to access Google Home with just one tap directly from their lock screen or quick settings.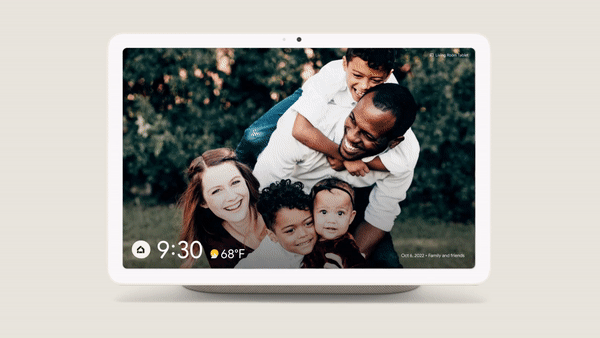 Users can do things like turn off lights, adjust thermostats, or view cameras without unlocking their device. The panel lets anyone in the home view and control devices by tapping the home icon on the screensaver when the Pixel Tablet is in Hub.
Availability
The redesigned Google Home app will be released for everyone on May 11, 2023.
Early generation Nest Cameras will receive support in the upcoming months. Public Preview users can start using the Google Home app with Nest Cam Indoor (1st Gen) in July, followed by Nest Cam Outdoor (1st Gen).
Matter support will be available to iOS users with iOS 16.5. You can set up and control your Matter devices in the Google Home app on iOS devices.
Updated Google Home app for Wear OS will be available to everyone on May 15, 2023.
A new home panel for Android devices will be released first on Pixel phones, including Pixel 7a and Pixel Fold. Pixel Tablet and Android tablet users can expect it to be available in June.
Commenting on the announcement, Anish Kattukaran, Director, Product Management, Google Home & Nest, said:
We've been working on making your smart home easier to control and personalize. Now we're excited to announce new features for Google Home on your phone, tablet and smartwatch that let you monitor what matters most to you. Easily locate your devices, view your camera feeds in one place, make changes from your smartwatch and more.