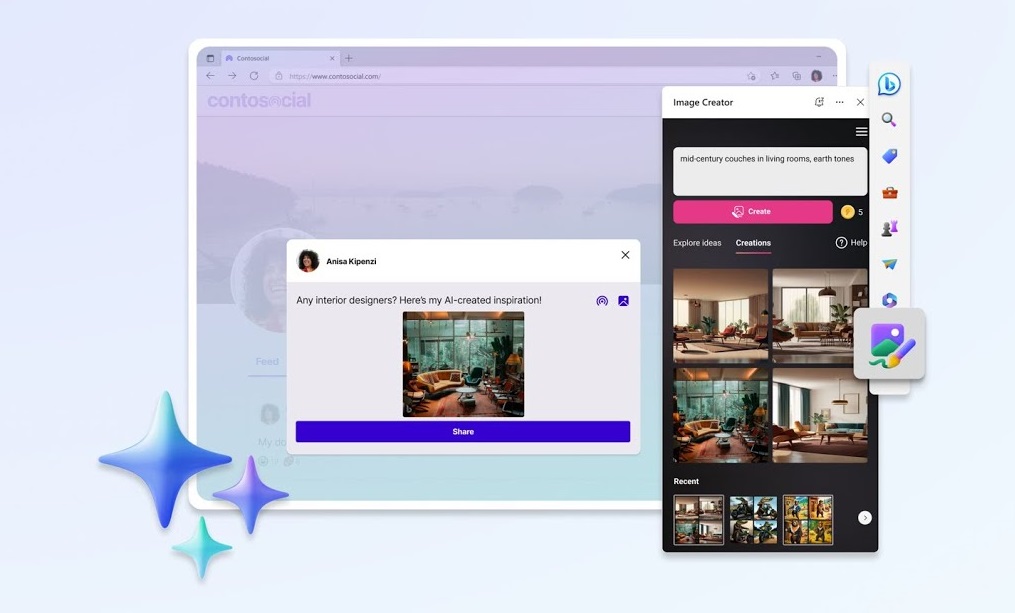 Microsoft has rolled out a range of fresh features for Edge designed to enhance your organization and productivity. According to the company, their goal is to provide you with exciting innovations that will enable you to unleash your creativity and productivity.
Here's a closer look at the latest updates to Edge's web experiences:
Edge browser integrated AI image generator
Microsoft recently launched the Bing Image Creator, which is powered by DALL∙E models from ChatGPT. Now, the Image Creator is available on desktop for Edge users worldwide. With this tool, users can easily find a specific image for social media or presentation purposes.
Users can access the Image Creator in the sidebar on the right side of their Edge browser, enter a prompt, and select from four different image options. After selecting an image, users can download it and add it to their document or upload it to social media. To use the Image Creator in Microsoft Edge, users must enable it in the Edge sidebar by clicking the "+" icon and turning on the toggle key for Image Creator.
Easier to share files and notes across devices
Microsoft has introduced a new feature called "Drop" in Microsoft Edge, which allows users to share and access content across all their devices in one place. This feature enables users to share not only photos, but also other file types and notes with themselves.
For instance, if a user finds a recipe while working at their job, they can easily copy and send it to their mobile device using Drop, which will allow them to access it quickly when they go grocery shopping. Users can access Drop by clicking on the icon in the sidebar or using drag-and-drop to add content.
Drop is available on desktop and mobile devices for PC, Mac, iOS, and Android, provided users are signed in to their Microsoft account in Edge.
Edit and save web images without additional tools
Microsoft has added a new feature to Edge that allows users to edit and save web images without the need for additional tools or apps. Users can now crop, adjust lighting and color, and add filters to web images by simply right-clicking on them, without leaving the browser window.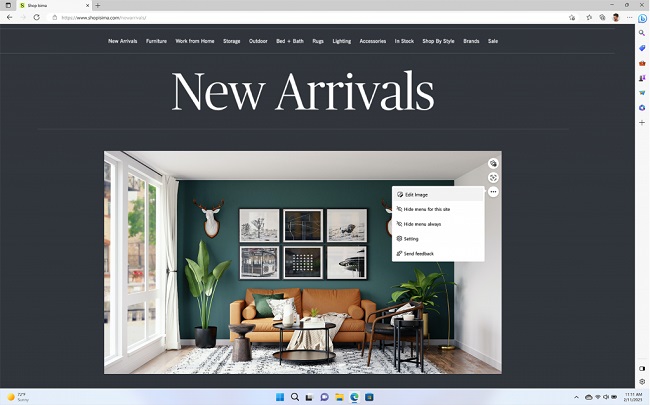 Additionally, users can start editing an image by hovering over it and selecting "edit image" from the menu. This eliminates the need for users to download, save, and edit images in a separate app on their PC or macOS device when creating visuals for presentations or other purposes.
New updates to efficiency mode
Microsoft has made new updates to the Efficiency Mode feature that improves battery performance and offers more control over power consumption on devices. With the latest update, when the laptop detects low battery, Efficiency Mode enables power-saving features both when the user is interacting and not interacting with the browser.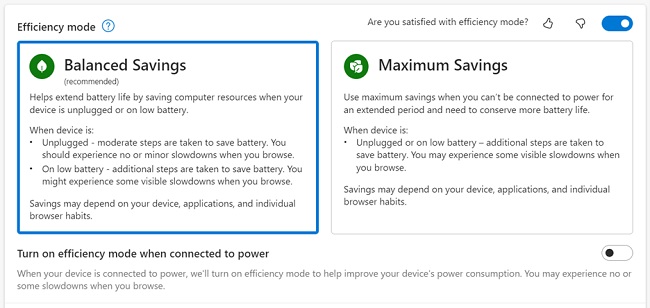 Users can choose from various options to save battery life. The Balanced setting helps save energy while providing a good browsing experience, and Maximum Savings setting conserves more energy but may affect browser performance. This feature also helps save power when the device is plugged in.
Features to power your productivity and stay organized
Collections: A feature to visually organize web content, links, images, and notes for various aspects of life. Collections sync across devices.
Vertical tabs: A tab management feature that moves browser tabs to the left side of the screen for easy scrolling and expanding.
Tab groups: A feature that allows the naming and color-coding of tab groups for easy organization.
Pin specific tabs: A feature to pin frequently used tabs for quick access and increased efficiency.
Speaking on the announcement, Roger Capriotti, Microsoft, said
At Microsoft Edge, we know how important a web browser is for your online activities, and we aim to create features that help you save time and be productive.