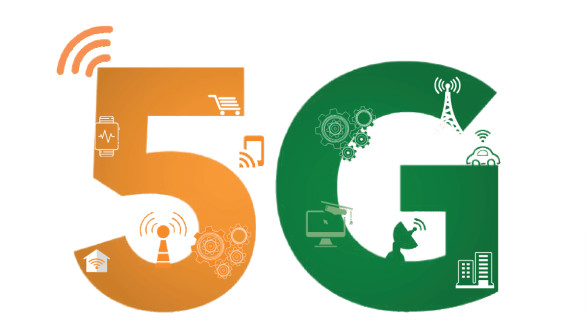 Opensignal, a data analytics firm specializing in quantifying mobile network experiences, has shared information about real-world 5G experiences in 22 telecom circles across India and its major cities. According to the findings, the launch of 5G in India has resulted in a significant improvement in users' 5G experiences when compared to 4G.
The Opensignal report found that, on average, 5G is 12.2 to 26.2 times faster for downloading, that the quality of streaming video is 19.9 to 32.4% higher, and that the quality of playing games is 14.2 to 44.2% higher.
The firm analyzed 5G availability data based on actual user experience, and the percentage of time users with a 5G device and subscription have an active 5G connection is reflected.
According to their findings, the Kolkata metro circle has the highest 5G availability in India, with users spending an impressive 43.6% of their time connected to an active 5G network, followed by Gujarat (30.6%) and the Mumbai metro circle (30.5%).
Furthermore, 5G users in Bihar, Punjab, Rajasthan, Tamil Nadu, and Karnataka have more than 20% 5G availability, exceeding Delhi's 25%.
5G Download Speed, Video and Gaming Experiences: March 2023
When it comes to 5G download speeds, the Kolkata Metro Circle has an impressive average speed of 405.2Mbps, followed by Andhra Pradesh, Gujarat, West Bengal, and Tamil Nadu, all of which have download speeds that exceed 300Mbps.
Furthermore, with peak 5G speeds of 950.4 Mbps and 919.2 Mbps, respectively, Kolkata Metro Circle and West Bengal lead the way. With peak speeds of more than 800 Mbps, Uttar Pradesh (West), Madhya Pradesh, and Gujarat also perform exceptionally well.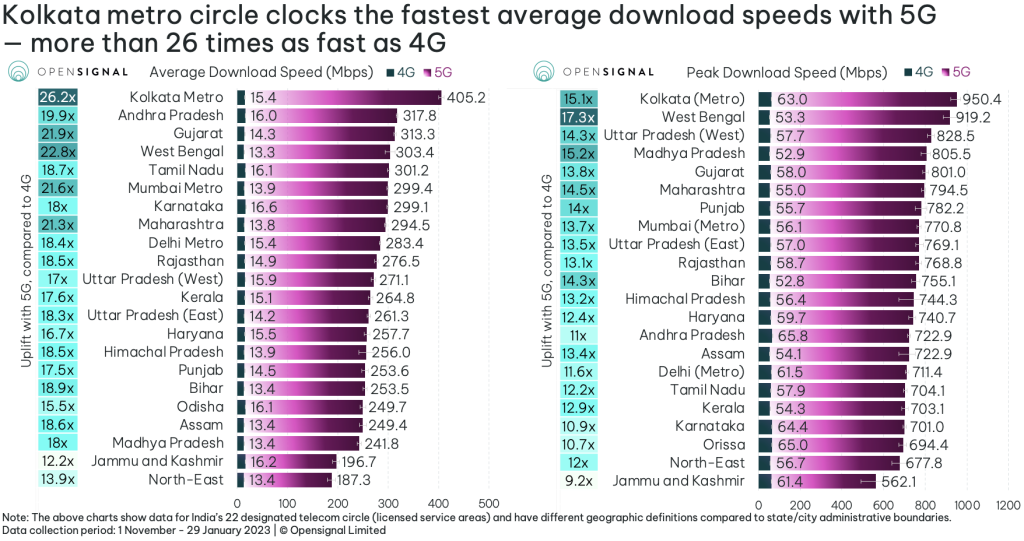 However, Delhi Metro Circle, Tamil Nadu, Kerala, and Karnataka are positioned in the bottom half of the table with peak speeds exceeding 700 Mbps. Meanwhile, Jammu and Kashmir ranks last in the table, with a 5G peak download speed of 562.1 Mbps on average.
In terms of the 5G video experience, according to Opensignal, the quality of mobile video streaming over 5G networks is very good (68-78) in all 22 circles. This means that on average, users can stream video at 1080p or higher with acceptable loading times and minimal stalling.
Moving on, the Mumbai metro circle has a stunning 5G Games Experience score of 78.8 out of 100, placing it in the good (75-85) category. 5G provided a significantly better experience than 4G in all circles.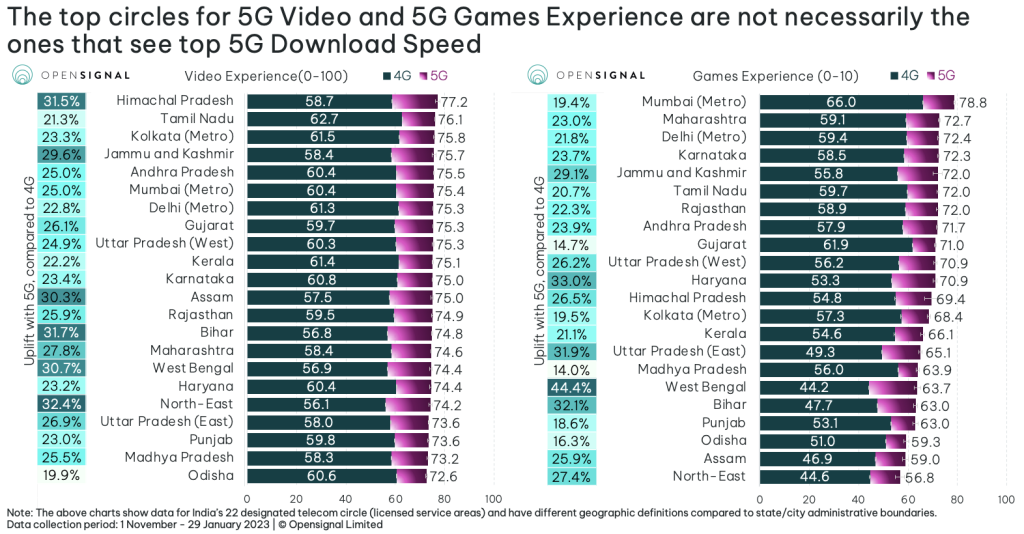 Even though Mumbai is the only circle to have received this prestigious rating at the moment, there are currently 14 other circles that compete in the fair (65-75) category, and there are seven other circles that struggle in the poor (40-65) category. West Bengal, Bihar, Punjab, Odisha, and the North-East are among the circles that fall into this category.
With a startling 27.8-fold increase over 4G, Kolkata city leads India for the increase in users' average download speeds using 5G. However, Tier 2 cities—three out of the top five cities for uplift—see some of the biggest improvements in mobile experience with 5G.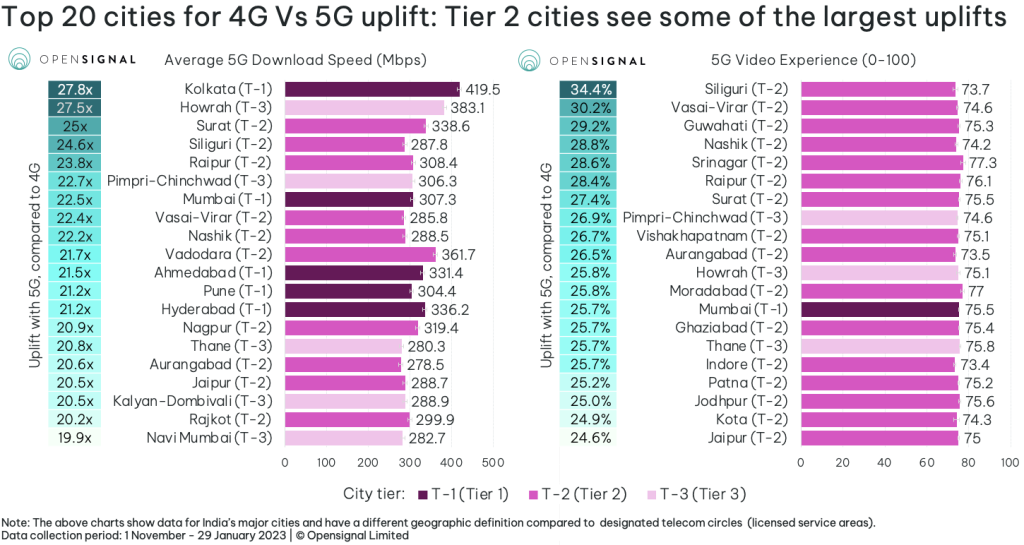 Ahead of Tier 1 cities like Mumbai (22.5x), Ahmedabad (21.5x), Pune (21.2x), and Hyderabad (21.2x) that made it to the top 20, Surat, Siliguri, and Raipur experience speeds that are 22.7–25 times faster on 5G than they were on 4G.
The report concludes that 5G operators in India have improved users' experiences compared to 4G. This analysis also shows that Tier 2 cities have the biggest 5G speed and video streaming improvements and showcase the potential to improve the mobile network experience for users across India.