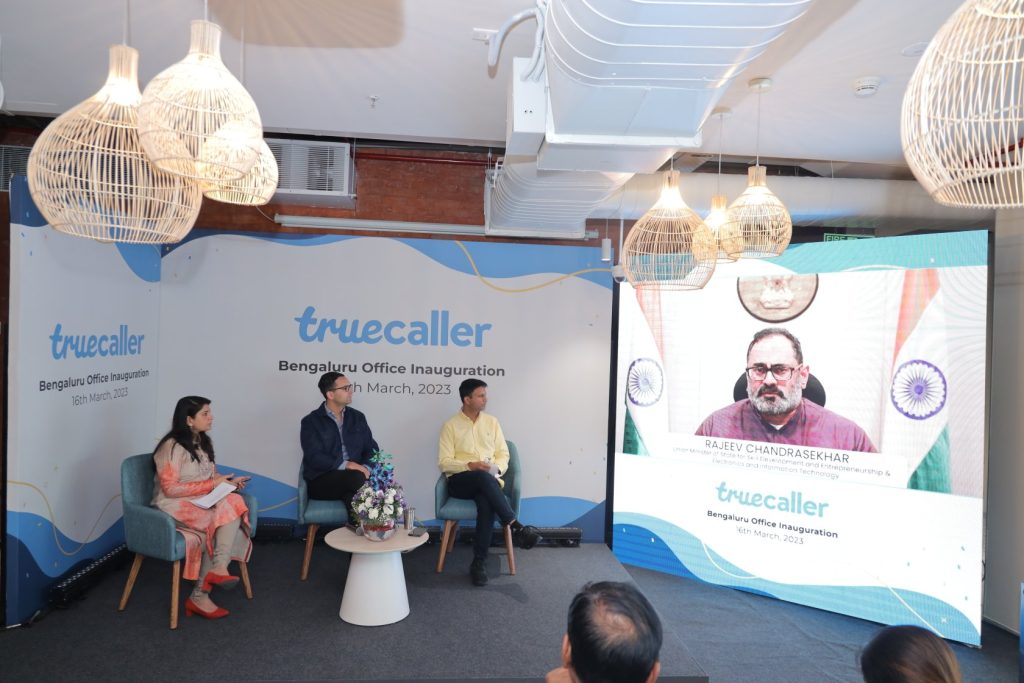 Truecaller, the communications and caller ID platform, has opened its largest office space outside Sweden in Bengaluru. The Sequoia-backed company is optimistic about its largest market, which it predicts will experience a two-fold growth in user base over the next three years.
Indian Minister Mr. Rajeev Chandrasekhar inaugurated Truecaller's new office in India, and recently, the company launched a Government Services Directory in the country.
Truecaller's Government Services Directory will facilitate interaction between citizens of India and the Government by providing quick and easy access to a vast database of verified contacts for government officials. With this feature, users can easily locate and connect with the relevant authorities for their needs.
A new chapter begins for us as we open the doors of our new office in Bengaluru in the presence of @Rajeev_GOI, Hon'ble Union Minister of State for Skill Development and Entrepreneurship and Electronics and Information Technology, Govt. of India & @AlanMamedi, CEO of @Truecaller pic.twitter.com/3XR2maA95W

— Truecaller India (@truecaller_in) March 16, 2023
Truecaller's brand-new office in the southern city of Bengaluru
Truecaller's journey in India has reached a new milestone with the launch of its Bengaluru office. With 338 million monthly active users, of which 246 million are from India, Truecaller has become a household name in the country over the last decade.
The new Bangalore facility is the largest office outside of Truecaller's headquarters in Stockholm, Sweden, with a capacity to accommodate up to 250 employees. This expansion comes at a time when advertising revenue has slowed down globally, with Truecaller earning 80% of its revenue from advertisements, 10% from subscriptions, and 10% from Truecaller for business.
While inaugurating the office, Hon'ble Minister of State, Skill Development and Entrepreneurship & Electronics, Information and Technology, Mr. Rajeev Chandrasekhar, said,
Office in India is representative of the growth of India as a trusted technology partner to the world. The government's vision and focus is on enabling entrepreneurship and expansion of a vibrant innovation and startup ecosystem in India. The journey to where we are today in 2023 as one of the most exciting and fastest-growing ecosystems in the world has been a result of the hard work of many years where our Prime Minister had outlined and set out one of the key goals of making India a technology enabler. Wishing all of you at Truecaller the very best and I hope you continue to grow, thrive and succeed.
Sharing his thoughts at the opening of Truecaller's first own office in India,  Alan Mamedi, CEO & Co-Founder at Truecaller, said:
I am very proud to be here for this inauguration and see our India footprint grow. This facility is a reaffirmation of our continued investment in India. We want to continue to serve India's digital society and economy with the best experience on our app with safety and privacy as core operating principles. Our company's growth in India has been closely linked to the increasing use of smartphones and the internet. I would like to compliment the minister for accelerating this digital revolution. We are delighted and thank him for supporting our journey. We remain committed to the safety of our users and the values of Digital India of an open, trusted, safe and accountable internet.