Vi (Vodafone Idea), the telecom company, is developing various use cases for 5G in the country with the aim of improving its customers' connectivity. To support 5G growth, Vi has teamed up with motorola to offer seamless 5G connectivity across their wide range of 5G smartphones.
motorola and Vi to enable 5G across its extensive 5G smartphone portfolio in India
motorola and Vi have partnered to offer seamless 5G connectivity for their extensive range of 5G smartphones. motorola said that it has tested its popular phone models on Vi's 5G network in Delhi and is the first OEM to launch a 5G-capable smartphone.
Their 5G smartphone portfolio in India covers multiple segments, from mass to premium, and offers advanced hardware and software capabilities for fast, secure and comprehensive 5G coverage. All their 5G smartphones, including the moto g62 5G, support 11-13 5G bands, the highest in the industry, and feature 3 Carrier Aggregation, 4X4 MIMO and more.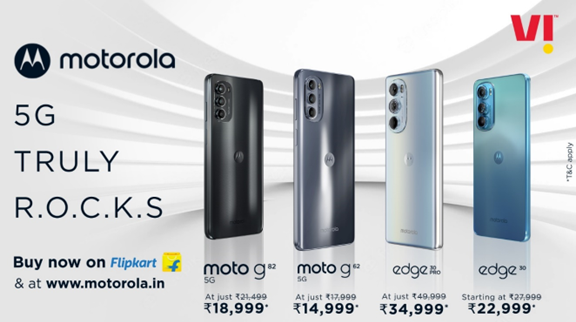 Motorola support all-India 5G bands
According to the company, Motorola provides efficient and affordable 5G connections across their range of devices. Their 5G devices are designed to deliver exceptional reliability, optimization, coverage, and security with industry-leading speeds, and support all-India 5G bands regardless of the price tier.
The seamless switching algorithm between 5G bands and optimized battery behavior ensure uninterrupted connectivity with better coverage and longer battery life. The devices are optimized for performance and provide a high-speed 5G experience even in rural areas or indoors. All Motorola 5G smartphones come with ThinkShield for mobile for a secure experience and are SAR tested and certified.
Motorola 5G devices enabled with Vi 5G
motorola Edge 30 Ultra
motorola Edge 30 Fusion
moto G62 5G
motorola Edge 30
moto G82 5G
motorola Edge 30 Pro
moto G71 5G
moto G51 5G
motorola Edge 20
motorola Edge 20 Pro
motorola Edge 20 Fusion
Commenting on the partnership, Avneesh Khosla, CMO, Vi said
Vi remains committed to playing a significant role in realizing the Digital India dream. We are happy to partner with Motorola in one more step towards our 5G roll out. We believe that the partnership will help develop the 5G device ecosystem, helping more Vi customers upgrade to a superior 5G ready smartphone in time for service roll out.
Speaking on the occasion, Prashanth Mani, Executive Director, Motorola Asia Pacific, said,
At Motorola, we believe in delivering meaningful consumer innovations. Motorola smartphones give an exceptionally reliable, optimized and fast 5G experience across price points, staying true to our commitment of giving the most comprehensive, no compromise 5G smartphone portfolio to Indian consumers with support for up to 13 5G bands, across price points. We are delighted to partner with Vi with a vision to take 5G to millions of Indian consumers.