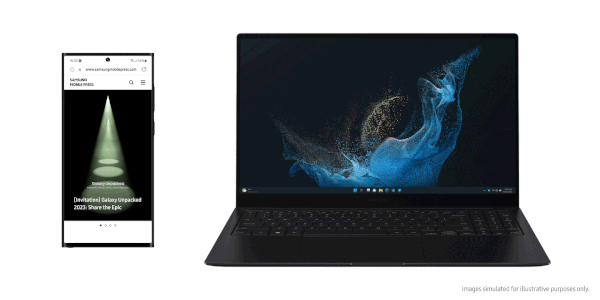 Microsoft revamped 'Your Phone' PC app for Android to 'Phone Link' last year that brought a new design and features. Now Samsung has announced a new feature for 'Recent Websites' for is devices with an update for the Microsoft Phone Link. This allows users to continue browsing sessions from their smartphones on their PCs effortlessly
How does 'Recent Websites' work?
To use the 'Recent Websites', you need to link your Galaxy smartphone to Galaxy Book through 'Link to Windows' on your phone and the Microsoft Phone Link App on your PC.
Then you can open the Microsoft Phone Link App or flyout on your PC, which will display a list of websites you recently opened on your smartphone. You can click on one of these websites to launch it straight away on your Galaxy Book.
This will be useful when you are browsing with the Galaxy smartphone and want to view them on your PC, you can quickly get recent sessions from the smartphone directly on the Galaxy Book.
Availability
This feature is now available in Samsung Internet app on Samsung Galaxy smartphone with One UI 3.1.1 or above (Samsung Galaxy S, Note, Z Fold, Z Flip) and Windows PC with Windows 10 20H1 or above.
Regarding the feature, Samsung said:
Recent Websites is one of a variety of new and upcoming connectivity features that make the connected experience between Galaxy smartphones and the Galaxy Book series richer and more adaptable than ever.

By unlocking limitless possibilities between devices, Samsung is empowering customers to use and combine their devices in more innovative and accessible ways.

Stay tuned for the upcoming Galaxy Unpacked event to hear more about Samsung's efforts to push multi-device connectivity for the Galaxy Book series and beyond.