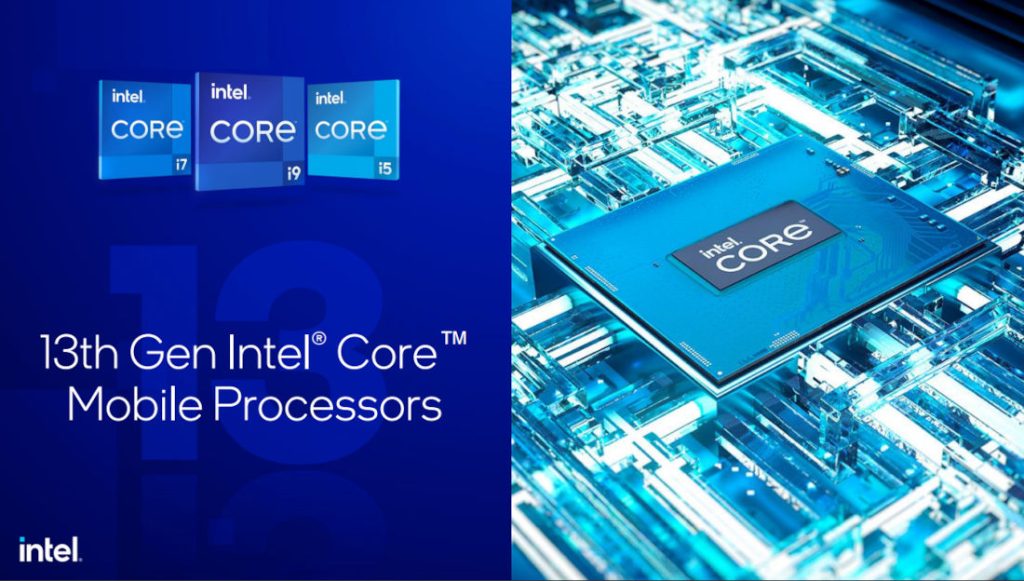 After introducing 13th Gen 'Raptor Lake' desktop processors back in September, Intel at the CES announced its 13th Gen Core mobile processors with 32 models. This includes the new flagship Intel Core i9-13980HX, the first 24-core laptop processor, and the company says that this is the world's fastest mobile processor.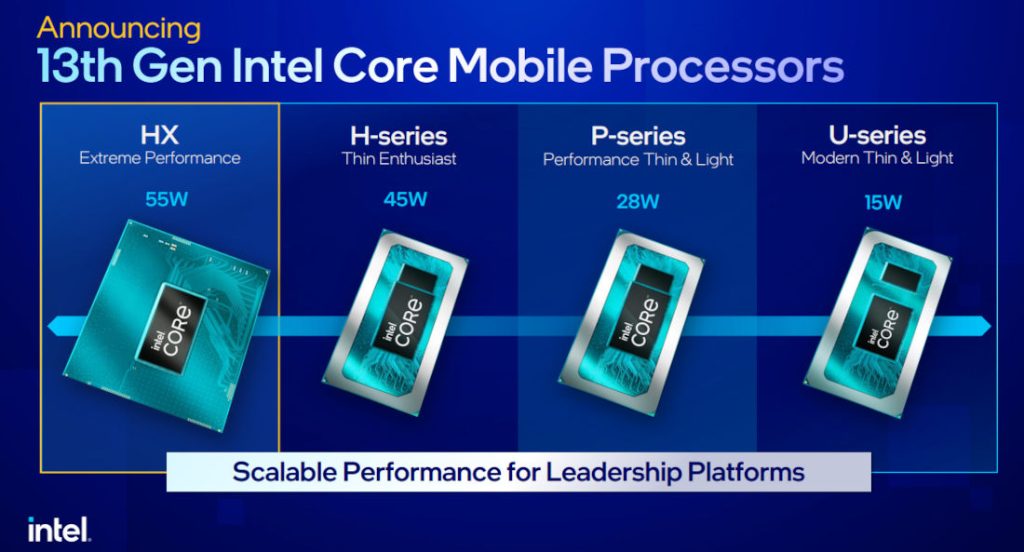 13th Gen Intel Core H-series Processors
Intel 13th Gen Intel Core H-series mobile processors includes the first 24-core processor for a laptop. When combined with unique features like support for both DDR4 and DDR5 memory, best-in-class connectivity and PCIe Gen 5, 13th Gen HX processors deliver the world's best mobile gaming platform, says Intel.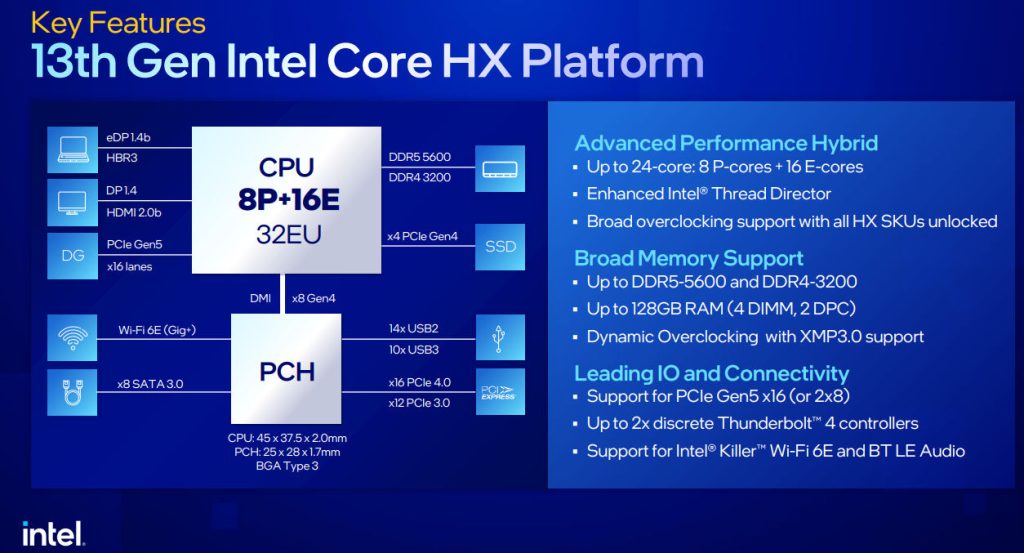 The new processor family offers:
Up to 5.6 gigahertz (GHz) turbo frequency – the highest clock speed available for the laptop market – delivering up to 11% faster single-thread performance and 49% faster multitask performance over the previous generation.
Up to 24 cores (8 Performance-cores, 16 Efficient-cores), 32 threads and enhanced Intel Thread Director.
Full memory support of up to 128 gigabyte (GB) total for DDR5 (up to 5,600 megahertz) and DDR4 (up to 3,200 MHz).
Intel Killer Wi-Fi 6E (Gig+) for up to 6x faster internet speeds with no legacy Wi-Fi channel interference.
The latest in Bluetooth connectivity with Intel Bluetooth LE Audio and Bluetooth 5.2 supporting up to 2x faster speeds and multiple device connections with lower power consumption.
Thunderbolt 4 support, delivering transfer speeds up to 40 gigabits per second (Gbps) and PC connectivity to multiple 4K monitors and accessories.
Improved integrated graphics experience based on improved driver stack and key learnings from Intel's work with discrete graphics.
Overclocking capabilities on all HX and HK SKUs.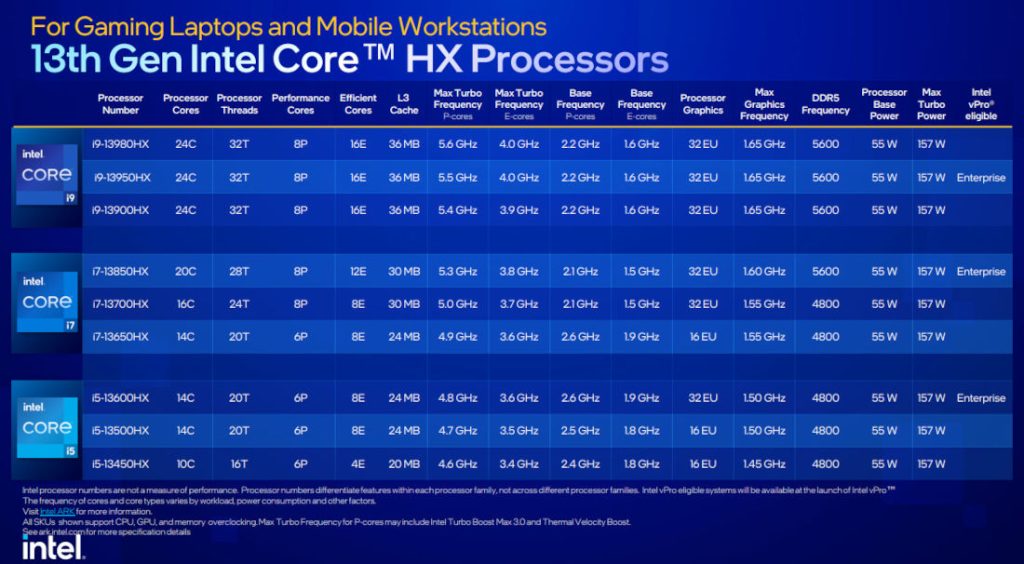 With five times as many HX laptop designs powered by 13th Gen Intel Core mobile processors compared with 12th Gen, Intel said that users can choose from 60 HX designs.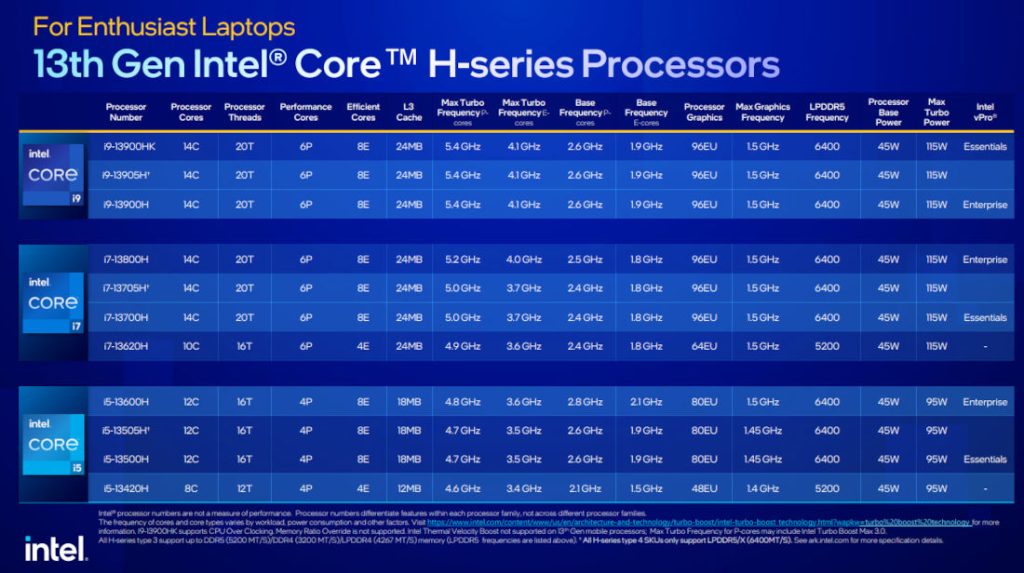 13th Gen Intel Core P-series and U-series Processors
Intel also introduced 13th Gen Intel Core P-series and U-series mobile processors, offering high performance on the go in sleek, thin systems.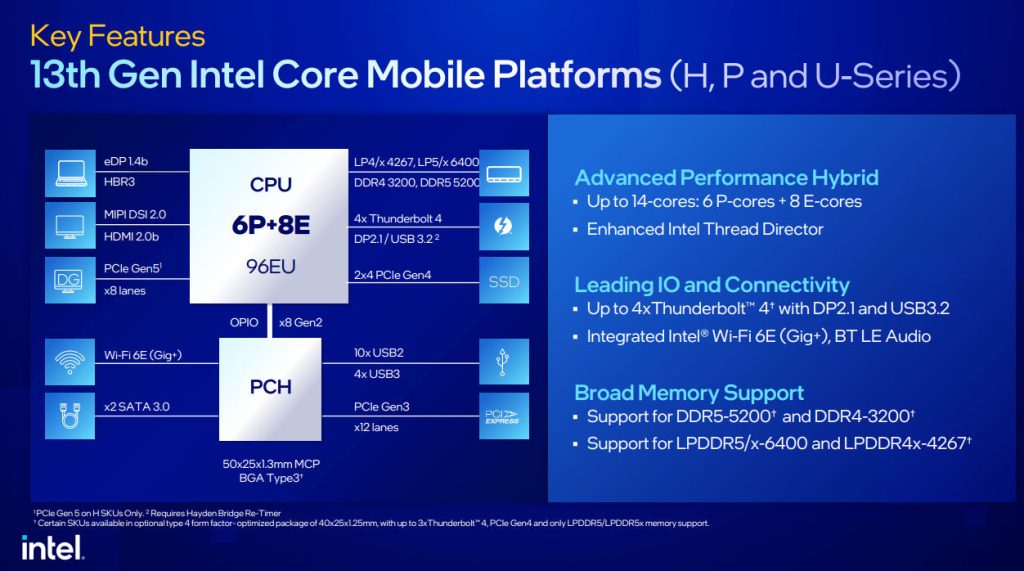 The new processor family offers:
Up to 14 cores (6 Performance-cores, 8 Efficient-cores) and enhanced Intel Thread Director.
New Intel Iris Xe Graphics features including endurance gaming, XeSS Super Sampling and Intel Arc Control.
Broad memory support for DDR5 and DDR4 and LP variants.
Integrated Intel Wi-Fi 6E (Gig+) and new wireless features like Intel Connectivity Performance Suite, Intel Wi-Fi Proximity Sensing and Intel Bluetooth LE Audio.
Up to four Thunderbolt 4 ports for the fastest, simplest and most reliable cable solution to any dock, display or accessory.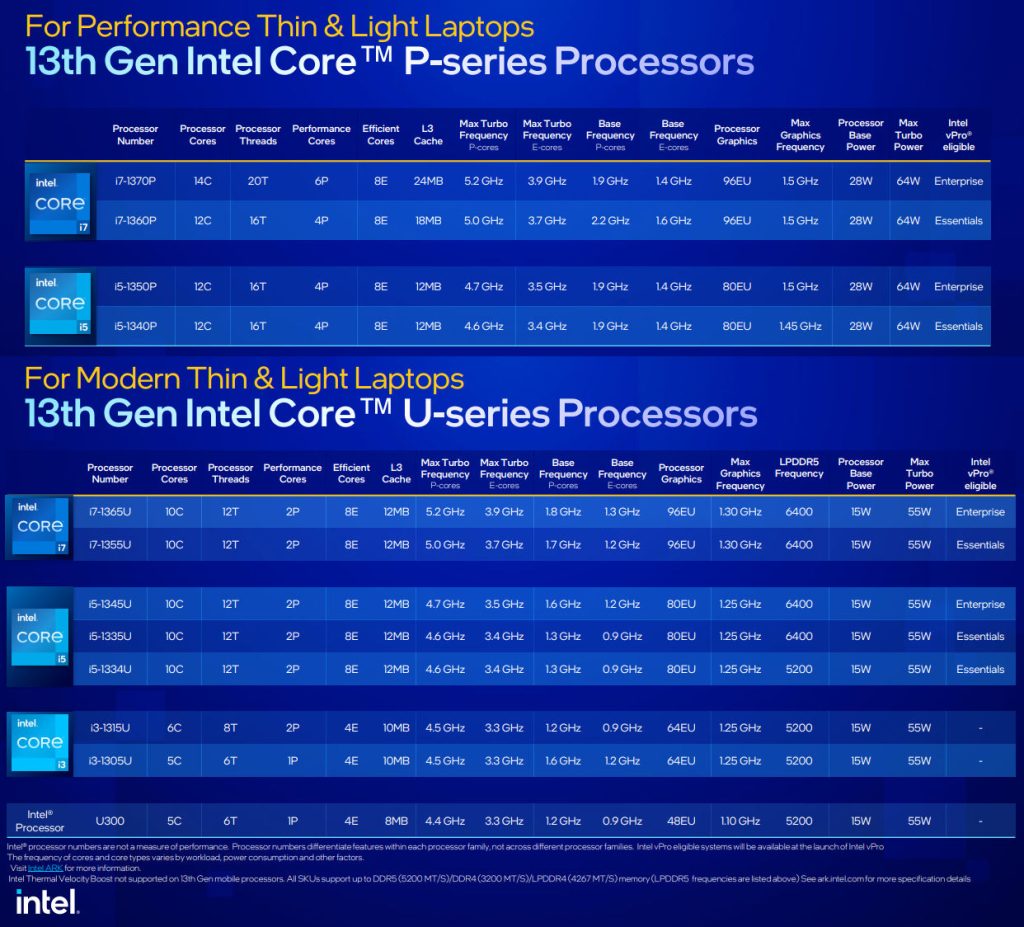 For the first time, select designs based on 13th Gen Intel Core processors will feature the Intel Movidius vision processing unit (VPU). Intel said that this is after deep co-engineering with Microsoft on its new Windows Studio Effects, the AI-heavy tasks required for professional-grade collaboration and streaming can be offloaded to the VPU, freeing the CPU and GPU for other workloads or multitasking.
More than 300 unique designs are expected this year from Acer, Asus, Dell, HP, Lenovo, MSI, Razer, Republic of Gamers, Samsung and others.
Intel Evo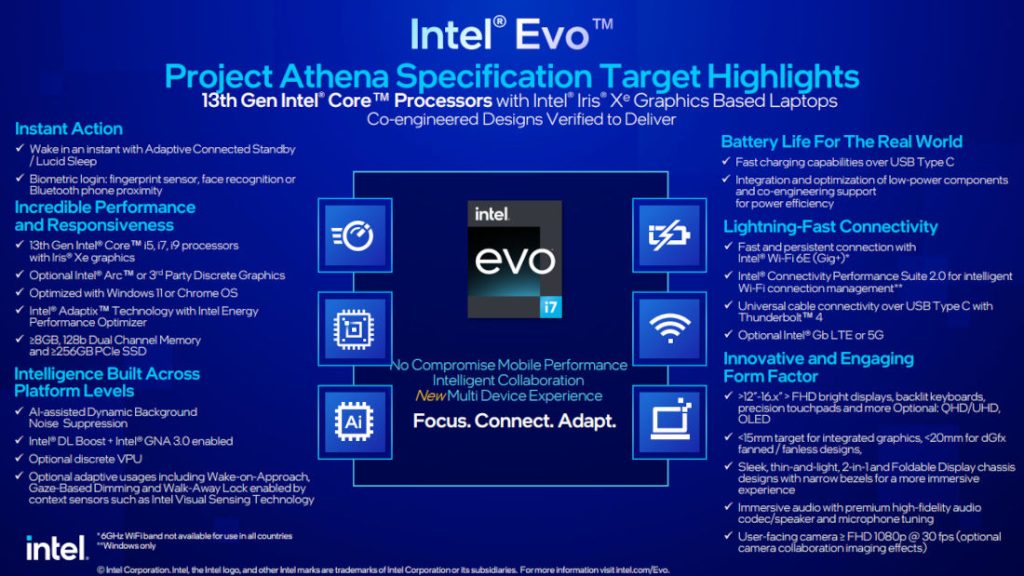 Intel also introduced new Intel Evo laptop specification that features longer real-world battery life and new multi-device experience, Intel Unison enabling text messages, phone calls, phone notifications and file transfer from your PC to an Android- or iOS-enabled phone.
Intelligent collaboration offers superior videoconferencing leveraging technologies like Intel Connectivity Performance Suite and Intel Bluetooth LE Audio.
Intel Processor N-series for entry-level laptops
After discontinuation of Intel Pentium and Intel Celeron branding, Intel has introduced the new Intel Processor and Intel Core i3 in the N-series family of products for the education segment, entry-level computing and IoT edge native applications.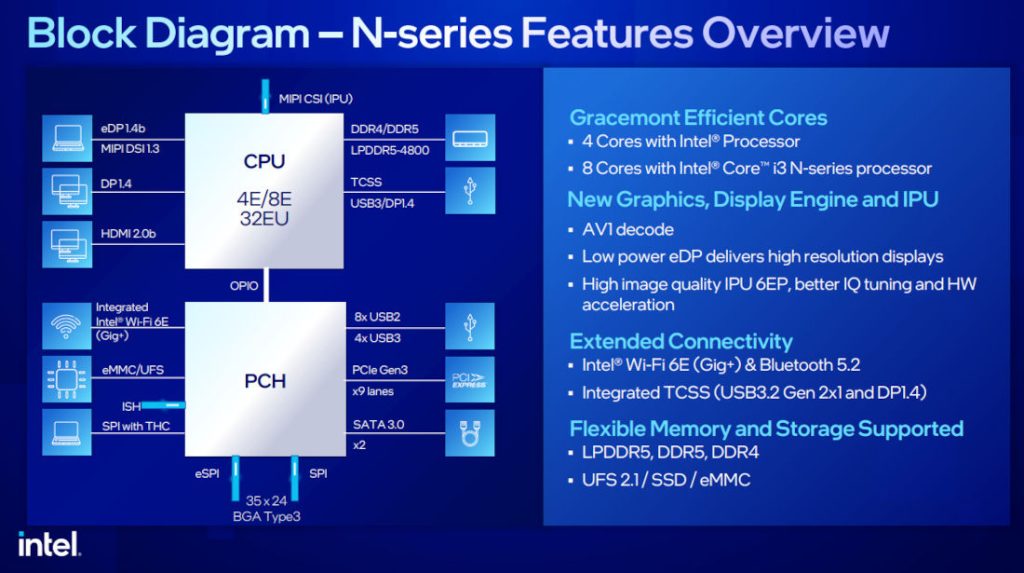 The new processor family offers:
New Efficient-cores (microarchitecture code-named Gracemont) built on the Intel 7 process technology.
Up to 28% better application performance and 64% better graphics performance on the Intel Processor over the previous generation.
For the first time, scale up to the new Intel Core i3 N-series for up to an additional 42% application performance and 56% graphics performance over the Intel Processor.
Up to 10-hour HD video playback without recharging.
New AV1 decode, high-resolution display engine and improved IPU and MIPI camera support.
Extended connectivity with ultra-fast Intel Wi-Fi 6E (Gig+) and Bluetooth 5.2.
Flexible memory (LPDDR5, DDR5/DDR4) and storage (UFS/SSD/eMMC) options.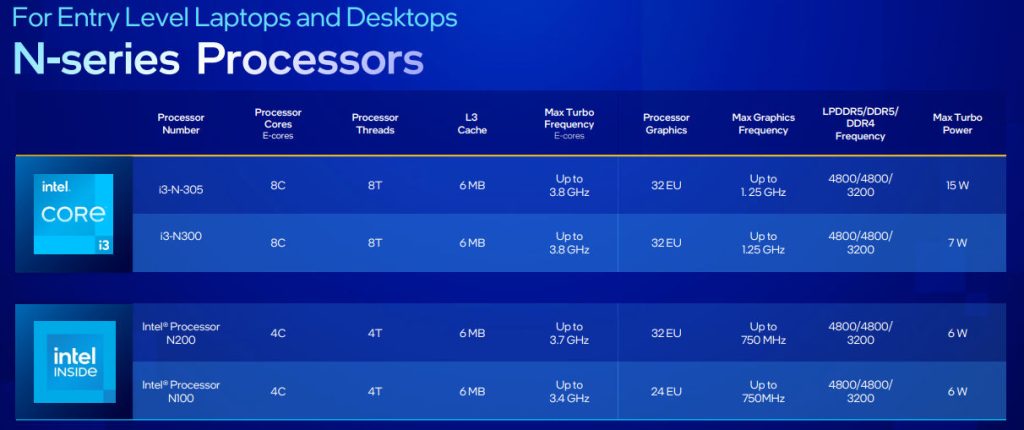 Intel said that the processors are designed for education and consumer segments that need a lower, value-oriented price point, but still require performance and high-quality experiences in areas like video collaboration and productivity.
More than 50 designs from Acer, Dell, HP, Lenovo and Asus in both Windows and Chromebooks are expected in 2023.