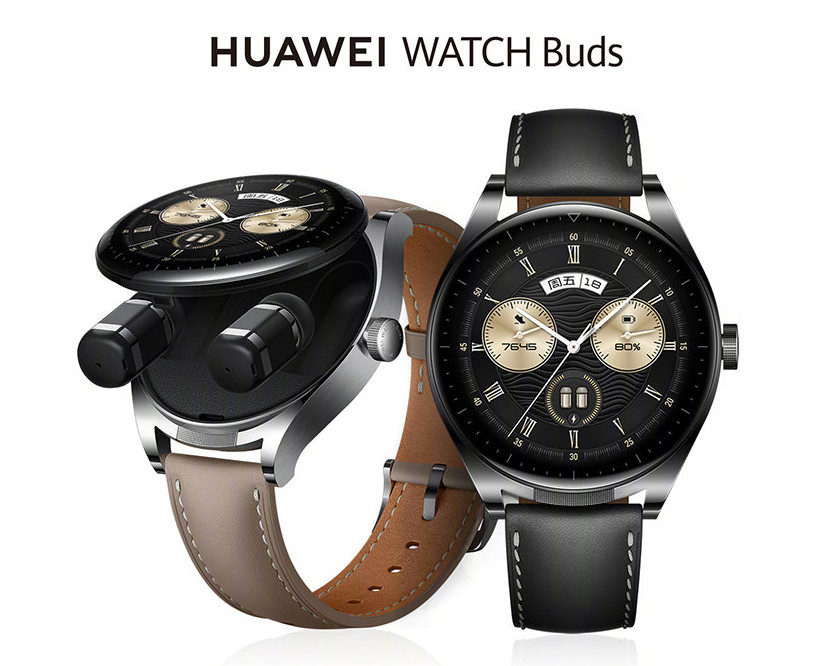 After much anticipation, the HUAWEI Watch Buds, a smartwatch that includes built-in earbuds, was finally released today in China. The design allows users to access two wireless earbuds inside a smartwatch by simply opening the watch dial.
Huawei calls it the Flip Cover design; the magnetic design merges the earphone and watch, and the earphone may be worn at any time. The lid opens with one finger, making it more convenient than comparable smartwatches. The magnetic back box, which has earbuds, features an innovative magnetic gathering array that makes it easy to remove the earbuds with your fingertips. With magnetic correction and alignment, any side of the earphones can be mounted to the box's lid.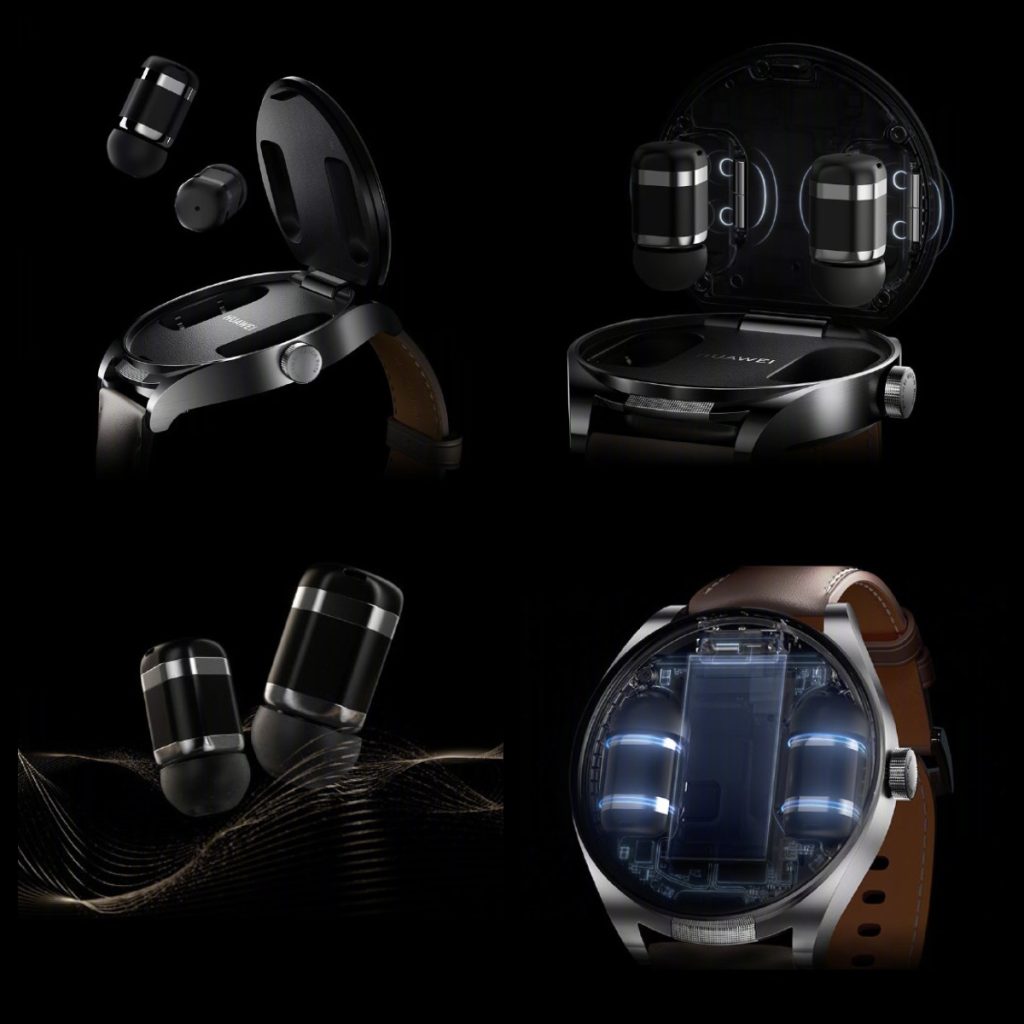 For the design, streamer 3D curved glass is placed in a stainless steel body hardened at 1300 °C. The drill-cut buttons and crown are decorated with 710 Paris studs, imparting a metallic sheen; they also come in two versatile leather colors, and a variety of new dials allow you to match different styles. Display-wise, the Watch Buds sport a 1.43-inch AMOLED color screen with a resolution of 466 x 466 pixels, a pixel density of 326 PPI, and support for touch interactions.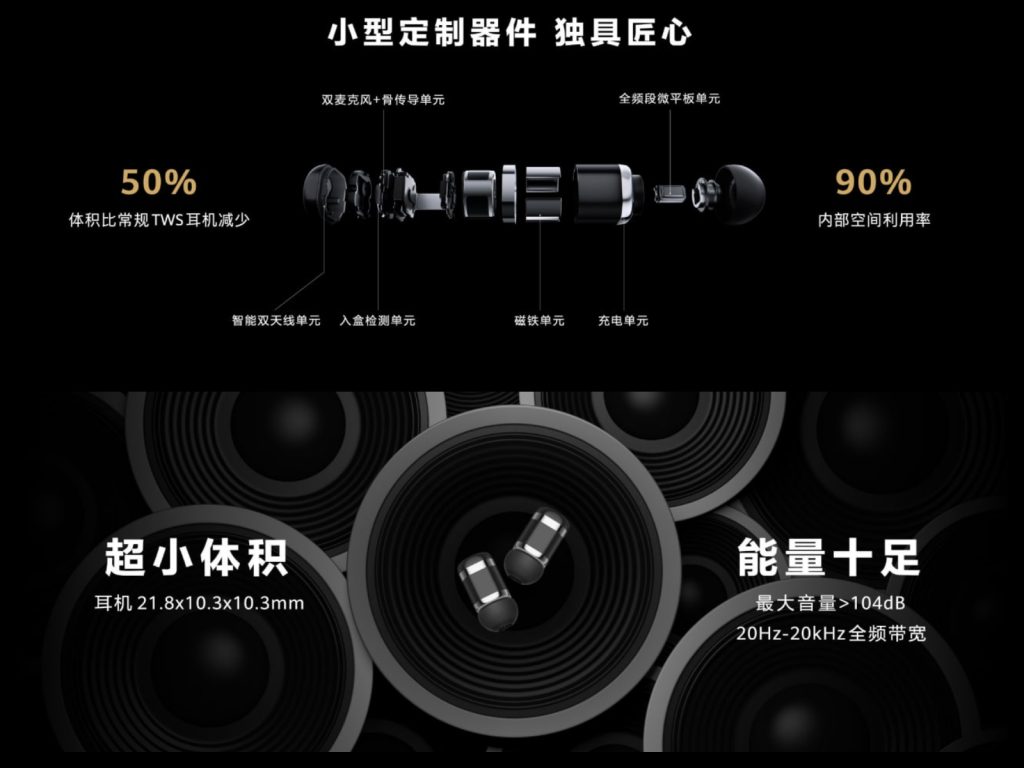 The in-built earphones are ideal, compact, and packed with synchronized energy. The triple needs of real-time listening optimization and sound modification are met by the full-band micro-panel unit. Additionally, these earbuds feature a cutting-edge wide-area touch design, and don't worry, they also feature AI noise cancellation for clearer voice calls and distraction-free music listening.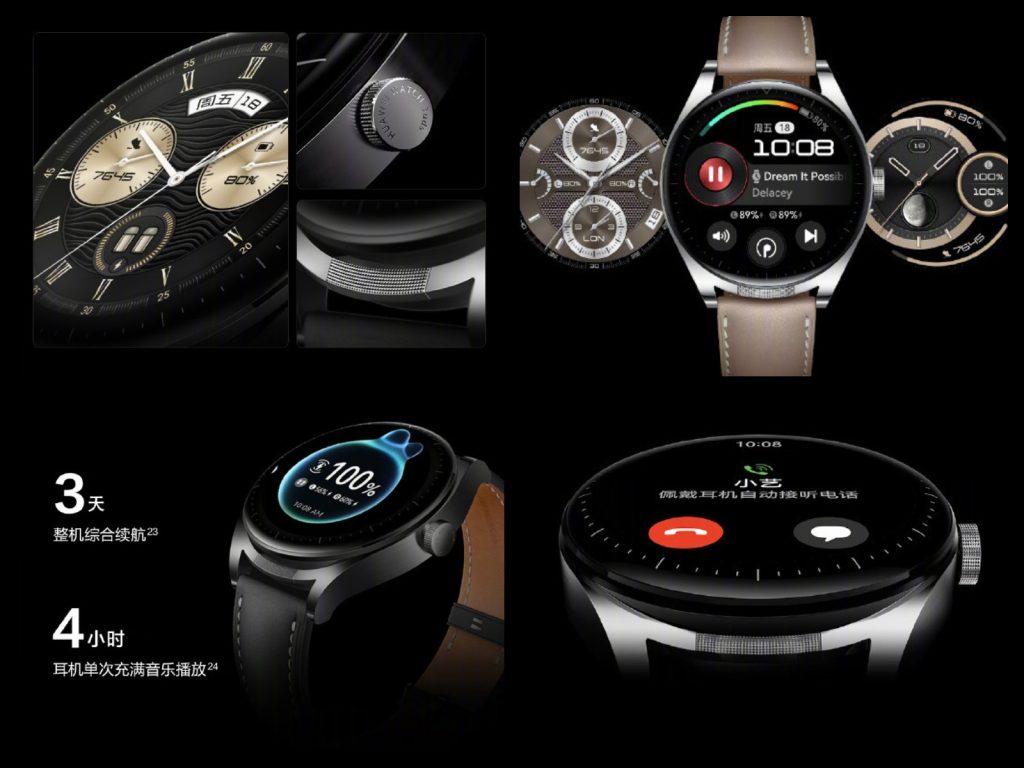 The HUAWEI Watch Buds are health and fitness-focused smartwatches that adhere to the Huawei smartwatch design philosophy. This comprises more than 80 workout modalities and more than 200 health courses with professional health management. In addition, the watch is pre-loaded with the HarmonyOS 3 operating system, which includes smart functions such as shopping, access control, and settings for managing smart devices. It also facilitates prompt responses and payment.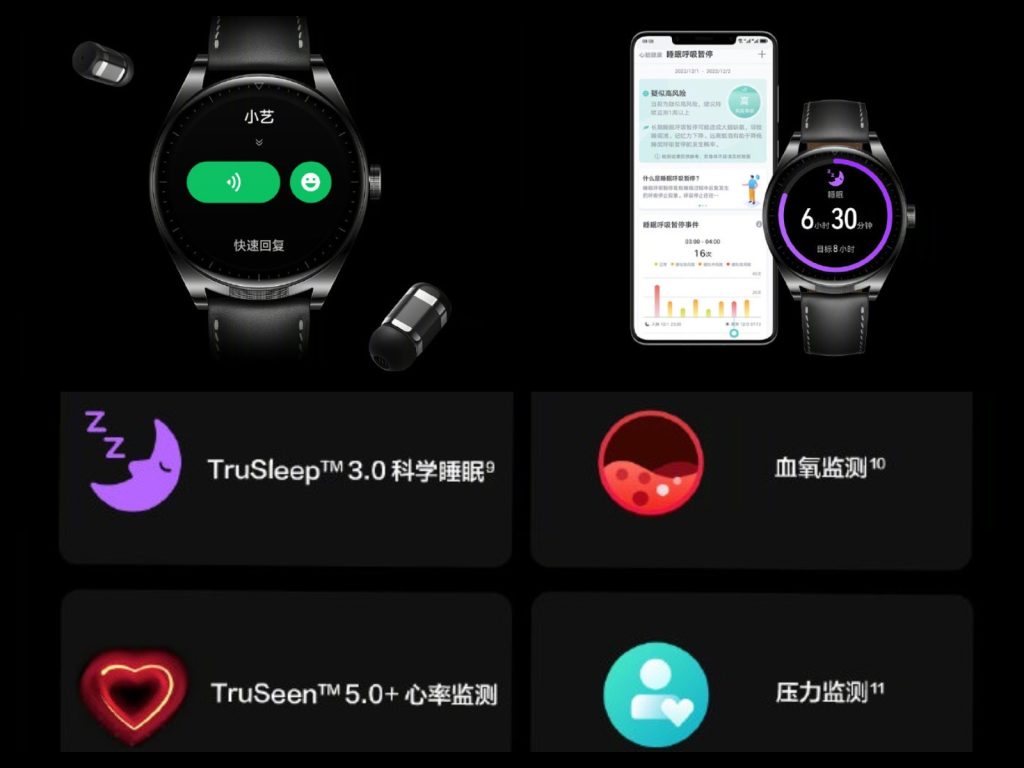 Regarding the battery life, for the first time, the HUAWEI WATCH wireless super fast charging base offers up to 3 days of battery life for the watch, and the earbuds offer 3 hours of music playback with noise cancellation. Furthermore, the device supports software upgrades via OTA, and the earbuds are IP54 water and dust resistant.
Quick Specifications: HUAWEI Watch Buds
Screen size: 1.43″ AMOLED display, 466 x 466 Resolution, 326 PPI
Strap: 22m leather strap
Sensor: 6-axis inertial sensor (acceleration sensor, gyro sensor), optical heart rate sensor 5.0, ambient light sensor, Hall sensor, capacitive sensor, bone conduction device (VACC)
Health Monitoring: SpO2, Female menstrual cycle, Heart rate atrial fibrillation screening, ECG etc.
Motor: Linear
Charging type: Wireless charging
Operating system: HarmonyOS 2 or later; Android 7.0 or later; iOS 9 or above
IP54 Supports for Earbuds
Connectivity: Bluetooth 5.2, NFC
Dimensions: Watch size: 47 mm × 47.5 mm × 14.99 mm
Headphone body size: 21.8 mm × 10.3 mm × 10.3 mm
Weight: Watch 66.5g approx. (without strap); Weight of a single earphone: Approx. 4g
Dial Size: 47mm; Case: Stainless steel
Wrist size: 40-210mm
Battery capacity: 410mAh battery for watch; 30mAh on each earbuds
Battery life: Watch up to 3 days
Headphones single full battery life: Turn off noise reduction: listen to music for 4.0 hours / talk for 2.5 hours; Turn on noise reduction: listen to music for 3.0 hours/call for 2.0 hours
Watches: Wireless Charging
Headphones: Charging in the box
Pricing and availability
The HUAWEI Watch Buds is priced at 2988 yuan (US$ 429 / Rs. 35,310 approx.) and will be available for purchase beginning today in China. Availability in the global market is yet to be announced by the firm.