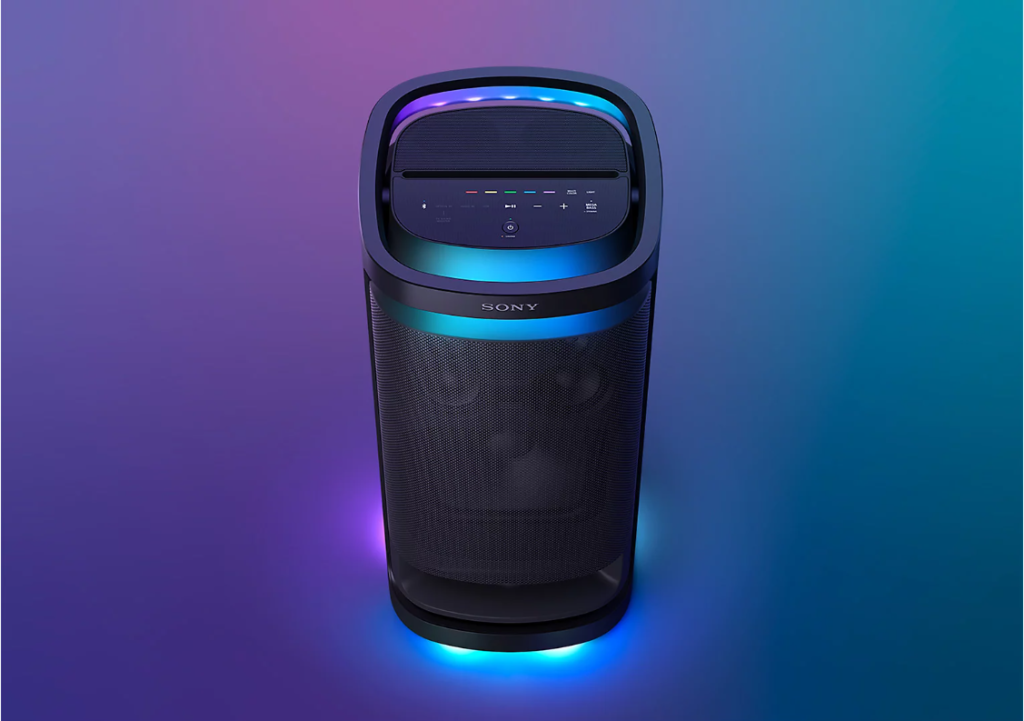 Sony India has launched the latest SRS-XV900 Bluetooth party speaker, which is the most powerful and loudest speaker in the X-series line of wireless speakers.
The speaker is part of the "LIVE LIFE LOUD" promise to give music fans all over the world exciting sound entertainment experiences. Earlier, Sony launched three new portable wireless speakers in India.
Sony India's SRS-XV900 offers omnidirectional party sound. The X-Balanced speaker unit's non-circular diaphragm maximizes speaker area for more sound pressure and less distortion, and the Jet Bass Booster offers deep, punchy bass.
Midrange drivers give superb vocals, while front, side, and back tweeters disseminate high-frequency sound. The SRS-XV900 speaker's TV Sound Booster feature enhances TV sound. Deep bass and realistic high-frequency sound fill the room and boost your TV's sound for a rich audio-visual experience.
The SRS-25-hour XV900's battery keeps the music flowing day and night. Quick charging gives you 3 hours of playtime after 10 minutes, while the Battery Care Mode prevents overcharging, making your speaker more reliable. Mega Bass boosts your speakers' bass for deep, powerful sound. The SRS-XV900 speaker's Live Sound mode lets you relive your favourite musical moments as "LIVE LIFE LOUD."
The product includes a handy handle. Users could relocate the speaker by holding the carry handle and tilting it back. The SRS-XV900 lets you plug in your microphone and belt it out. With mic and guitar inputs, you may use the speaker as an amp. Fiestable's smartphone app Double Tracking enhances vocals. The speaker's top touch panel gives you complete control over function settings and lights.
Party Connect through Bluetooth lets you synchronize up to 100 Sony Bluetooth speakers' sound and illumination. The speaker also supports USB playback. You can charge a low-battery smartphone by plugging it into the speaker. The SRS-XV900 provides immediate Bluetooth pairing with Android smartphones.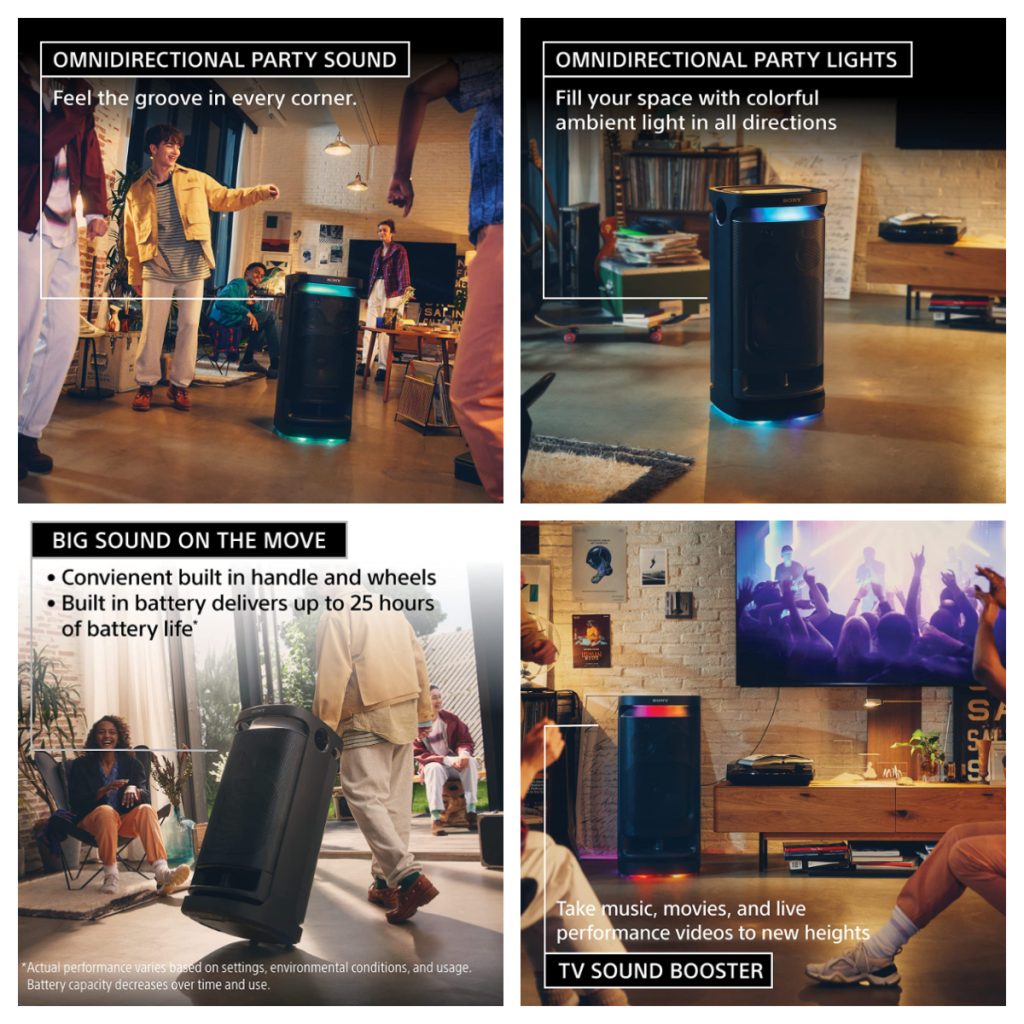 Sony Music Center and Fiestable apps work with the SRS-XV900. Sony Music Center lets you alter lighting patterns, sound settings, and playlists from the dance floor.
Fiestable lets you construct a party playlist, use karaoke functions like Voice Changer and Echo, and add DJ sound effects. Sony's recycled plastic is used in the SRSXV900's front and rear panels and internal parts to lessen its environmental impact.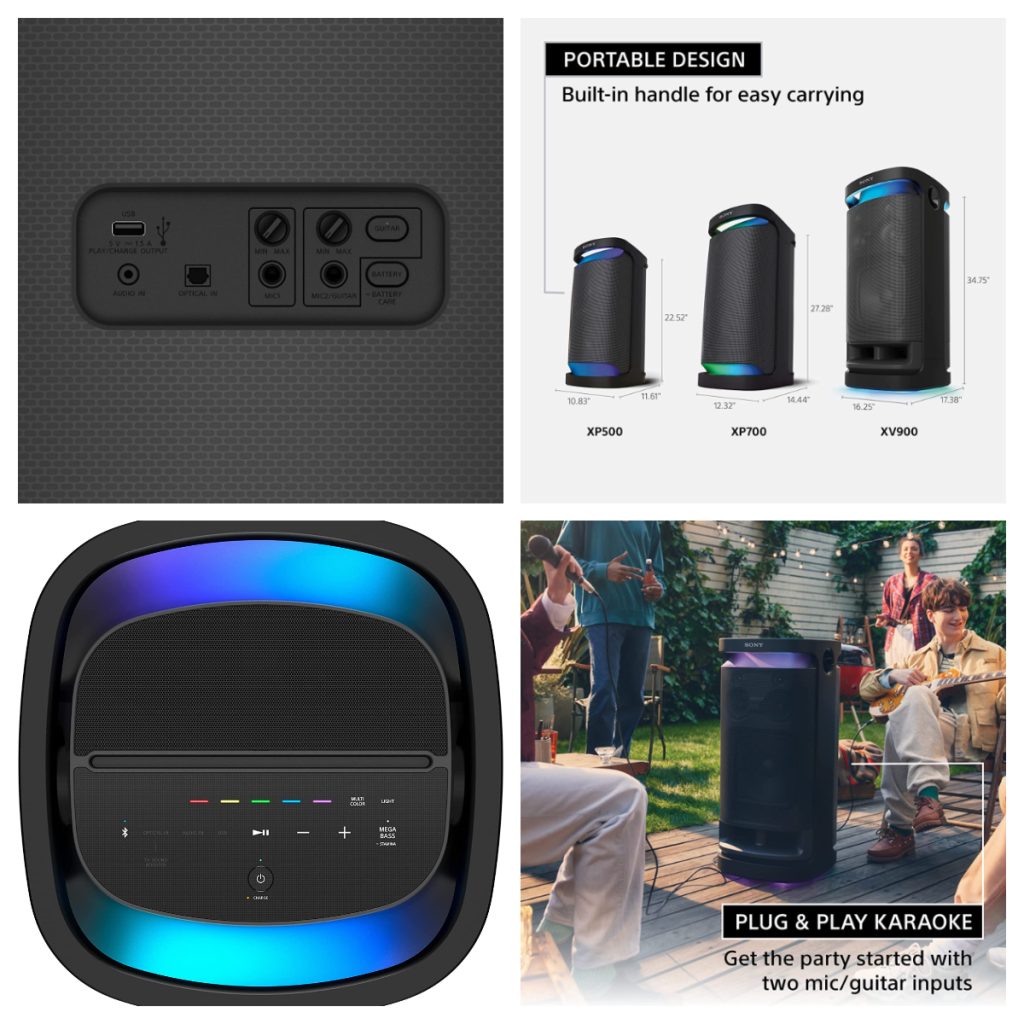 Quick Specifications: Sony SRS-XV900 High Power Wireless Speakers
Speaker Type: 4-way, bass reflex
Speaker Size: Front Tweeter: Approx. 50 mm dia., Side Tweeter: Approx. 40 mm dia., Rear Tweeter: Approx. 40 mm dia., Midrange: Approx. 120 mm dia., Woofer: Approx. 320 mm x 320mm
Sound Modes: Clear Audio+, LIVE SOUND, MEGA BASS, TV Sound Booster
Digital Sound Enhancement Engine
Custom EQ – 3 Band
Bluetooth: Version 5.2 with 30 m range
Bluetooth Profiles: A2DP, AVRCP, SPP
Bluetooth Codecs: SBC, AAC, LDAC
Ports: Stereo Mini Jack (IN), USB A, Optical Digital Input, Mic Input (φ6.3 mm), Mic/Guitar input (φ6.3 mm)
Compatible Apps: Sony Music Center / Fiestable
Battery life: approx. 25 H
Power Supply: AC, Internal rechargeable
USB Power port for smartphone: USB A (5V 1.5A)
Power Consumption: Approx. 100 W
Dimensions (W x H x D): Approx. 410 mm x 880 mm x 439 mm
Weight: Approx. 26.6 kg
Pricing and availability
The Sony SRS-XV900 speaker is priced at Rs. 79,990 and will be available across all Sony Centers, major electronic stores, and e-commerce portals in India from today, December 5, 2022.