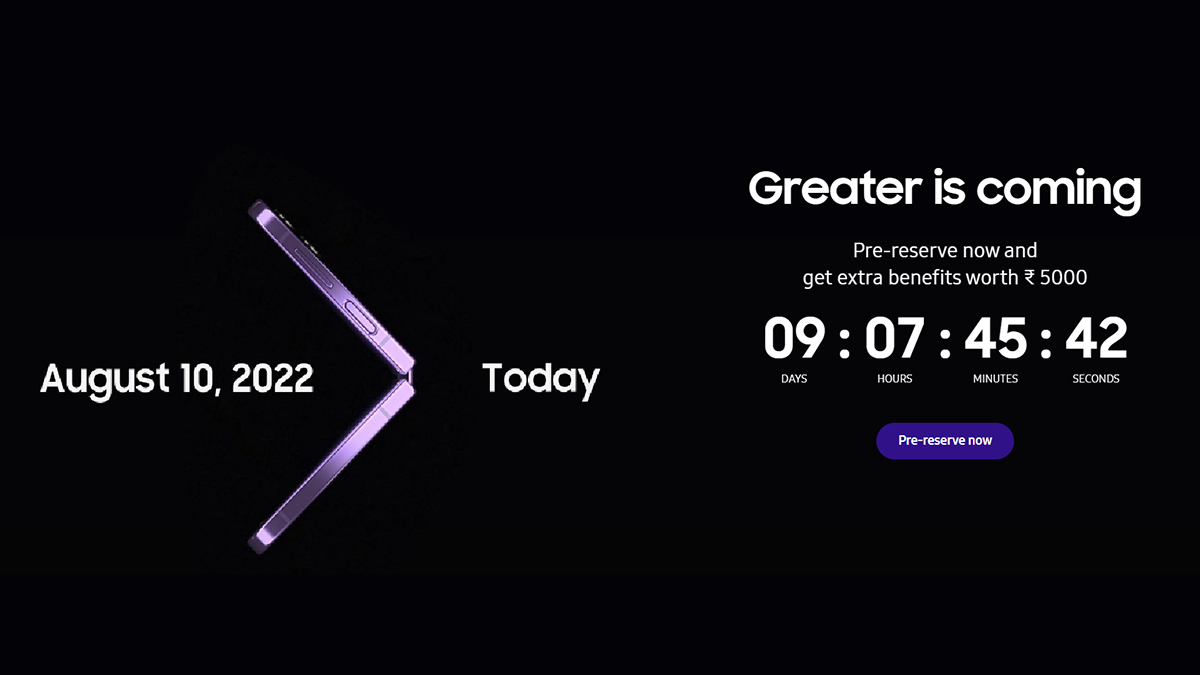 Samsung India announced that customers in India can pre-order the Next Galaxy smartphones starting July 31. Customers who want to get early access to the smartphones can also take advantage of special offers when they place a pre-order.
Samsung just put out the trailer for the Galaxy Unpacked 2022. It starts with the keywords "Some things are greater than others" and "New ways to work and play." The video shows the outline of a Samsung smartphone that can be folded, which looks like the Galaxy Z Fold 4. On the Galaxy Z Flip 4, the camera features of the upcoming phone are shown along with the dual rear camera setup
The side of the phone in the video is flat. The Flex mechanism of the foldable smartphones is also shown in the video trailer. According to reports, Samsung will debut its next-generation foldable smartphones at Galaxy Unpacked. Both devices will have Qualcomm's newest flagship chipset. The Galaxy Z Flip 4 may have a larger display and flat sides. Both phones may have better cameras. Along with it, Samsung will debut the Galaxy Buds 2 Pro and One UI 5.
Next Galaxy VIP-Pass Benefits: Reserve your next Galaxy
Customers will be able to pre-order the Next Galaxy smartphones on Samsung.com and Samsung Exclusive Stores beginning July 31, 2022, for a fee of Rs 1,999. Customers who pre-order the Next Galaxy smartphones will receive additional benefits worth Rs 5,000 after the devices are delivered.
Reserve your device now to receive a Rs. 5,000 discount on your next purchase. Shop for stunning covers, fast chargers, watch straps, Galaxy Buds and much more.
With Samsung Live, be the first to experience the next Galaxy, real-time Q&A, product demos, etc.
Samsung Members who join The Smart Club receive special rewards, early access, and other benefits.
When exchanging your old phone, provide the best possible online deals or offers.
Also, the Samsung Galaxy Unpacked event will be live-streamed on Samsung Newsroom India on August 10, 2022 at 6.30PM IST.