While the original HTC Wildfire was a pint-sized alternative to the flagship HTC Desire, it cut a few too many corners in order to keep its price (not to mention dimensions) down. The screen showcased an awkward 240×320 pixel resolution and as a result many Android apps and games wouldn't even work on the phone. The device was also hindered by an anemic 528MHz processor – practically stone-age in smartphone terms – which made it a poor second to the new generation of 1GHz mobiles that hit the market in 2010.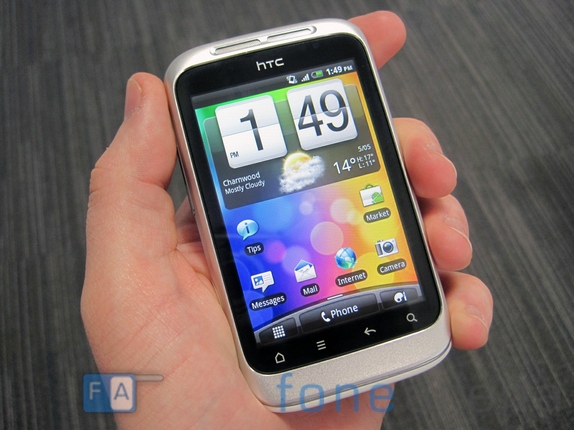 However, despite its numerous problems, the Wildfire proved to be something of a hit with consumers, possibly because its dinky size made it a truly 'mobile' smartphone. Just as it has done with the Desire S, HTC is revisiting the Wildfire concept with a new device that attempts to improve on what has gone before. Lets explore the device in the FoneArena Wildfire S Review.
The Wildfire S is astonishingly small. If you're used to large phones like the HTC Desire HD and Dell Venue Pro then this is going to seem like a child's toy. Despite its tiny stature, the Wildfire S feels as solid as a rock. It lacks the all-in-one metal unibody boasted by the Desire S, but there's enough aluminum on the casing to make a premium impression. When placed alongside Samsung's predominately plastic range of handsets, the Wildfire S feels like a million dollars.

HTC has made some revisions to the standard Android button interface, with the Wildfire's optical track pad being removed in favour of a bank of touch-activated controls. This has allowed the manufacturer to make the Wildfire S a little shorter than its predecessor (101.3mm down from the original Wildfire's 106.8mm) whilst retaining the 3.2-inch LCD screen. Speaking of which, the resolution has been bumped up from 240×320 pixels to 320×480 pixels. Not only does this result in a clearer, more detailed display, but it also means the Wildfire S is able to play pretty much any app you throw at it.
Sticking with the positives, the Wildfire S is packing Android 2.3.3 and the latest version of Sense. Unfortunately, many of the features introduced by these respective pieces of software aren't accessible on this phone – there's no front-facing camera for video calls, for example.


Although the Wildfire S improves on its ancestor in many ways, it's still unable to shake off its entry-level lineage. The processor is now running at 600MHz instead of 528MHz, but that's still way behind the cutting-edge. We would have preferred to have seen a 1GHz CPU, which would have at least allowed the Wildfire S to keep up with the rapidly-evolving world of Android smartphones. As it stands, you can expect the Wildfire S to feel pitifully weak in about six month's time. It already struggles with games like Angry Birds and won't even play many of the new 3D titles.

Still, such criticisms are perhaps missing the point. The Wildfire S is intended to fill that gap between bargain-basement Android phones and top-of-the-range devices, and in this regard it's reasonably successful. We love the small size and inclusion of Android 2.3.3, and HTC's Sense user interface continues to charm us with its intuitive nature – even if it is looking a bit tired these days.


If you're looking for a small Android phone that runs Gingerbread but aren't concerned with having the very latest in mobile tech, then the Wildfire S is certainly worth a look – just bear in mind that you may be flashing envious glances at the many dual-core powered handsets that are due to be released in 2011.
Camera Samples
Pros
+ Tiny size
+ Robust case design
+ Improved screen
Cons
– No front camera
– Sluggish processor
– Poor camera and video recording
---
Damien McFerran is a tech and video game journalist who has contributed to Eurogamer, Pocket Gamer, GamesTM and Retro Gamer. He's also the editor-in-chief of Nintendo Life, one of the net's biggest Nintendo-centric websites