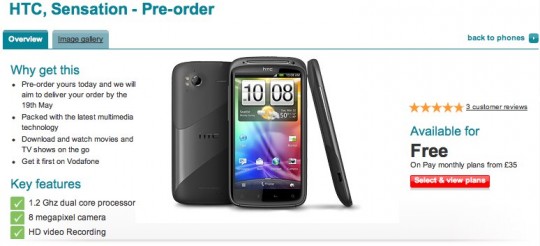 HTC Sensation was announced by HTC last month and it's their new flagship device. It comes with a dual-core processor and it's an amazing looking phone, and it's HTC's answer to devices like iPhone 4 and Samsung Galaxy S II. Recently, HTC launched the sign-up page for it, which indicated that the device is around the corner. Now Vodafone UK has officially announced it that they will be launching it on May 19th and now it's up for pre-order. So if you live in UK and you just can't wait for HTC Sensation, then head-over to Vodafone UK and order your dream device now. Just like all the smartphones on Vodafone, they are also offering the HTC Sensation for free on selected plans. You can get it for free with 2 yr contract, starting for £35 per month or you can get it for £199 with 2 yr contact, starting for £25 per month. Check out more options over here.
HTC Sensation is overall an amazing device and T-Mobile USA will be launching it in USA this summer, where it will be known as HTC Sensation 4G. Have a look on the specs of the phone:
4.3-inch qHD (540 x 960 pixel) SLCD display
1.2 megapixel front-facing camera, 8 megapixel rear camera w/ dual-LED flash
1.2GHz Qualcomm Snapdragon dual-core processor
4GB of internal flash memory w/ 8GB MicroSD
Android 2.3 running Sense 3.0
So Vodafone customers, are you going to pre-order the device now or you are waiting for some initial reviews to come out?