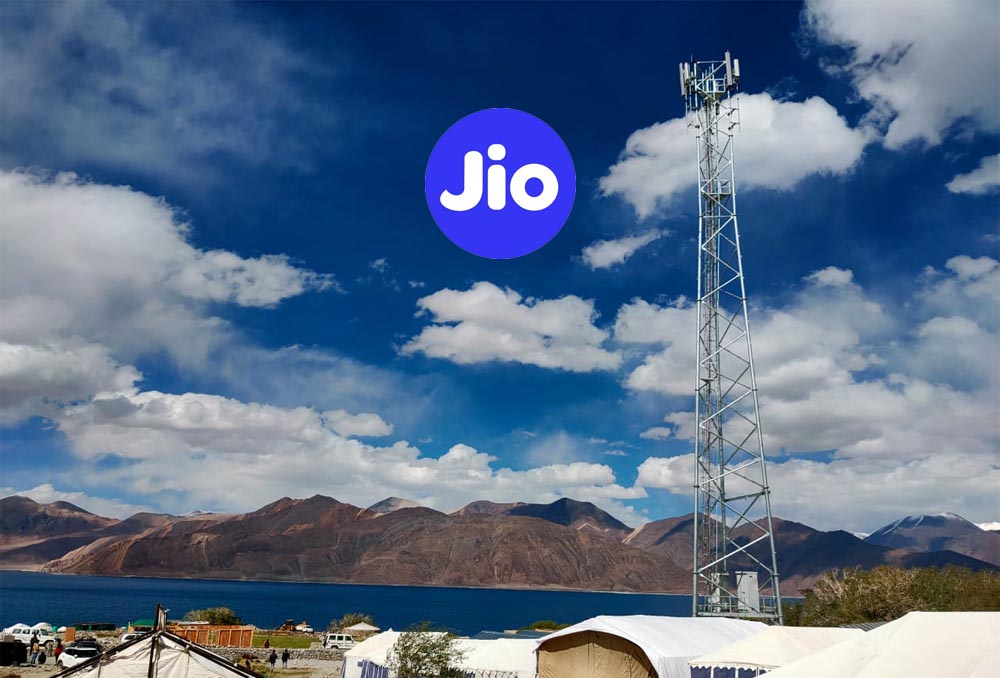 Reliance Jio has officially launched 4G mobile services in Spangmik village near Pangong Lake in Ladakh and the company claims it is the first to provide 4G mobile connectivity in the area. Mobile Connectivity in the Ladakh and Leh regions is limited due to the geography, extreme weather, and government restrictions due to proximity to the international border.
Jamyang Tsering Namgyal Member of Parliament inaugurated Jio Mobile Tower at Spangmik village near Pangong Lake. On the occasion, he congratulated the people of the area and asserted that with this launch, the long pending demand of people has been fulfilled by Jio. This launch will boost the economy of the region besides providing seamless connectivity to the tourists and the troops in the area.
According to Reliance Jio, overcoming the challenge of extremely difficult terrain and harsh weather conditions, Team Jio continues with its efforts of reaching the remotest parts of the Union territory to ensure that people remain in touch in the areas which otherwise remain cut off from the rest of the country for months.
Previously in May, Jio had started its services in Kanji, Urbis & Hanupatta villages in Khalsi Block and Chunglungkha village in Diskit Block . Jio already has its 4G footprints in areas like Kargil, Zanskar and Demchok in the region. Jio is also providing JioFiber broadband services in Leh town.
Back in 2020, Airtel had rolled out 4G services in the Ladakh region but did not cover the area around the Pangong lake.  BSNL, Airtel and Jio are the operators which have decent coverage in region while other operators have extremely limited coverage. Due to security restrictions, only postpaid SIM cards from other circles work in this region and prepaid SIM cards are blocked unless purchased locally from the operators after providing relevant ID proofs. Entry to this region requires an Inner Line Permit for most visitors.