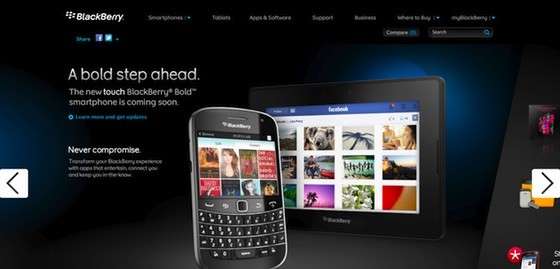 RIM has accidentally revealed the details of Blackberry Bold Touch on their official site ahead the launch of the device in Blackberry World next week. The phone is just called Blackberry Bold which was Previously known as Blackberry Bold Touch Dakota. This comes with the new Blackberry 7 OS, Fluid Graphic touch screen and a QWERTY keyboard.
Images and tutorial videos of the phone were leaked recently.According to the leaked spec sheets the phone is expected to have 2.8 inch touch screen and Full QWERTY keyboard , 1.2GHz Qualcomm QC55 processor, 768MB RAM, 8GB internal memory, 5MP auto focus camera with 720p video recording, 3G, Wi-Fi b/g/n, Bluetooth v 2.1 and 1230mAh battery.
According to BGR, this might be the only device that would be launched at Blackberry World. They will also launch new App players app that will support Android apps on Blackberry Playbook and native Blackberry OS SDK (NDK) for developers at the Blackberry World next week (May 3rd to 5th 2011) in Orlando, Florida.
Source: BGR