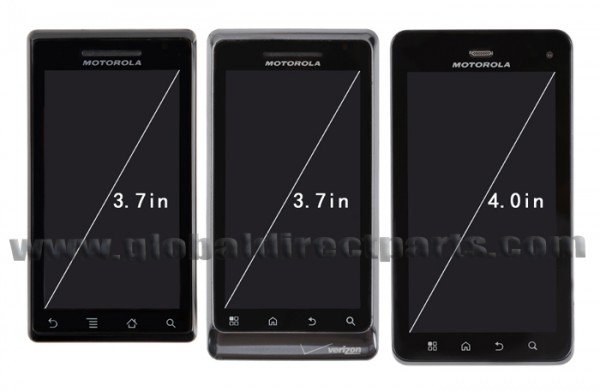 Last month, we saw the first leaked shots of Motorola Droid 3 which is actually a successor to the famous Droid series. First we saw the shot of the front panel, and then later we also saw the keyboard along with the front panel. Now more information about the Droid 3 is leaked and it looks like this device will change the way people think about the Droid series. OEM retailer known as Global Redirects Parts has leaked several shots of Droid 3, also comparing it with predecessors of it. Well, only confusion here is that they are also calling it Targa but it's actually a codename of Droid Bionic, so I think it's just a little confusion. Droid 3 is totally different from previous models, and as you can see an image above, it will come with a 4-inch touchscreen display. Now a days, people are picking phones with bigger display and it's getting common. I am pretty sure that a lot of Droid lovers are looking forward to a Droid with a bigger display, so this one is for you.
At the moment, there is no further information about the specs of this leaked device. But my guess is that this device will feature a dual-core processor, 5 or 8 Megapixel camera, and it's possible that the device will be 4G enabled because it's hitting Verizon Wireless and their all future smartphones are 4G enabled. As it comes with 4-inch display, I am sure the display will come with qHD resolution. Verizon will be launching this device around summer, so may be the device will be out in few months.
So current Droid owners, are you going to upgrade to Droid 3 or you are looking forward to something else?