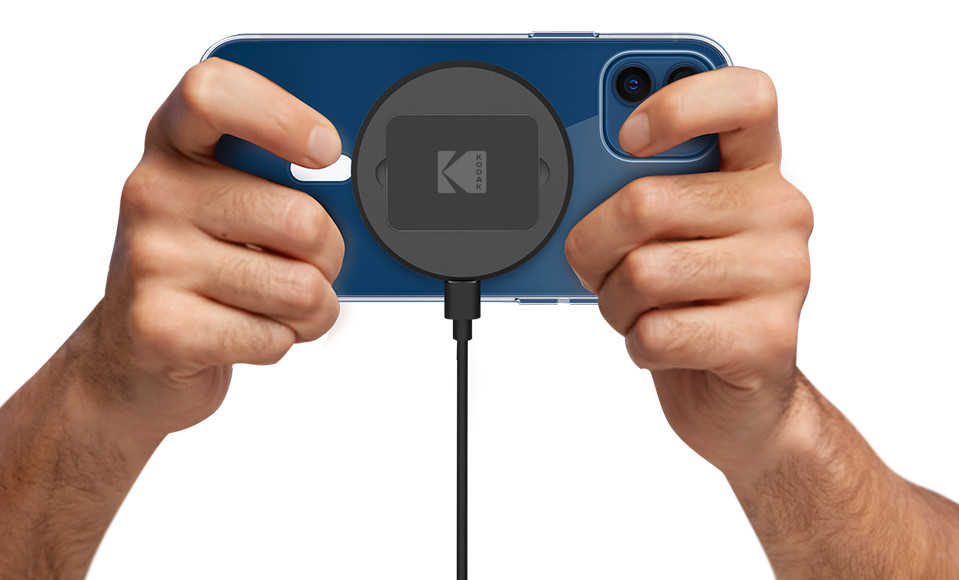 Kodak has partnered with Bengaluru-based accessories maker Georgian Enterprises to launch two new Magnetic wireless chargers for Apple's iPhone 12 & 13 series.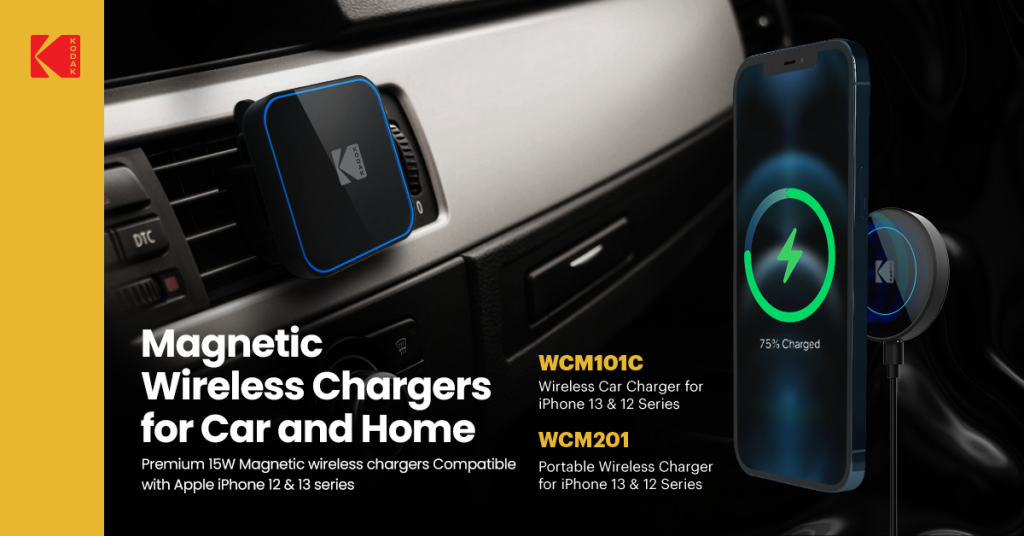 The new KODAK Magnetic Wireless Charger (Car WCM101C) can be mounted on any standard Car AC vent with easy to detach vent hook and grip-locking ring.
The wireless charger sports a square, flat body with neodymium magnets around its edges, ensuring it holds on to your iPhone. The body also sports a 360-degree rotating ball mount that allows you to position your iPhone in any orientation – horizontal or vertical.
This helps create a suitable and optimal viewing angle with the best display position when using your phone for navigation. The Magnetic Wireless Charger comes with an intelligent charging chip that ensures your phone is safely charged quickly with a maximum power of 15 watts.
As per the company's claims, it is certified with high protection features such as over-voltage, over-current, over-temperature, and over-charging.
On the other hand, KODAK Magnetic Wireless Charger (WCM201) features a high-speed 15W desk charger-cum-stand for those who need a wire-free charging solution for home or office. The wireless desk charger features a robust body with a premium finish and sports powerful neodymium magnets for a secure hold. The device also features a tiny kickstand that enables you to position your phone upright while being charged.
Both KODAK Magnetic Wireless Chargers for car and home are compatible with Apple's iPhone 13 Series (iPhone 13, iPhone 13 Pro, 13 Pro Max, iPhone 13 Mini) and iPhone 12 Series (iPhone 12, iPhone 12 Pro, iPhone 12 Pro Max, iPhone 12 Mini). The chargers are bundled along a USB cable and include a 1-year standard warranty period.
Pricing and availability
The KODAK Magnetic Wireless Charger for car (15W) and for home (15W) will be available for an introductory price of Rs. 2499, exclusively on Amazon and Flipkart, starting January 2022.
Commenting on the laynch, Ajesh George, MD at Georgian Enterprises said:
We are very happy with our new licensing partnership with Kodak and moving ahead, we are confident to grow multifold into the premium smartphone accessories market. Kodak is one of the world's most trusted brands and through this partnership with Kodak we will be able to utilize our strong expertise and relationships within the mobile accessories industry to ensure that every product meets the incredibly high standard that Kodak is known for and benefits the Indian consumer. Along with the new KODAK Magnetic Chargers, there will be many more exciting offerings in the weeks and months to come ahead. The new KODAK Magnetic Wireless Chargers are well suited for those who intend making work from home convenient or are seeking comfortable smartphone use whilst traveling.
Clara Fort, Vice President of Global Brand Licensing for Kodak, said:
We are excited to announce this licensing agreement with Georgian Enterprises to further expand Kodak's consumer electronics presence in the Indian market.