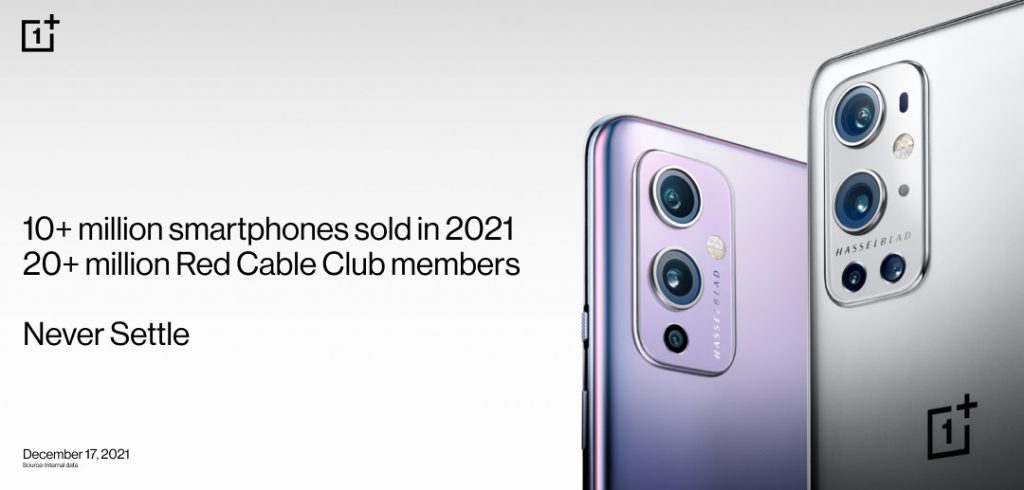 OnePlus is celebrating its 8th anniversary this week. Today the company has announced that it has sold over 10 millions globally in 2021 as of December 17th. It has also announced that it now has over 20 million Red Cable Club members globally.
OnePlus founder and CEO Pete Lau said that that company also achieved a number of other significant milestones in 2021. In 2021,
OnePlus Community forum members grew to 11 million, with over 116 million messages sent on the platform.
In North America, OnePlus grew 712% year-on-year in the third quarter of this year.
In India, OnePlus saw 29% year-on-year growth, taking a 30% market share in smartphones priced over ₹30,000 in the third quarter of 2021.
OnePlus is officially the fastest-growing smartphone brand, among the top 5 smartphone brands in Europe, with an annual growth rate of 131% in the third quarter of 2021, according to Counterpoint
The CEO said that OnePlus can't wait to share everything it has been working on. As we already know, OnePlus 10 series is expected to launch in early 2022, and in Q1 2022, the company could launch the OnePlus Nord 2 CE, a mid-range phone.