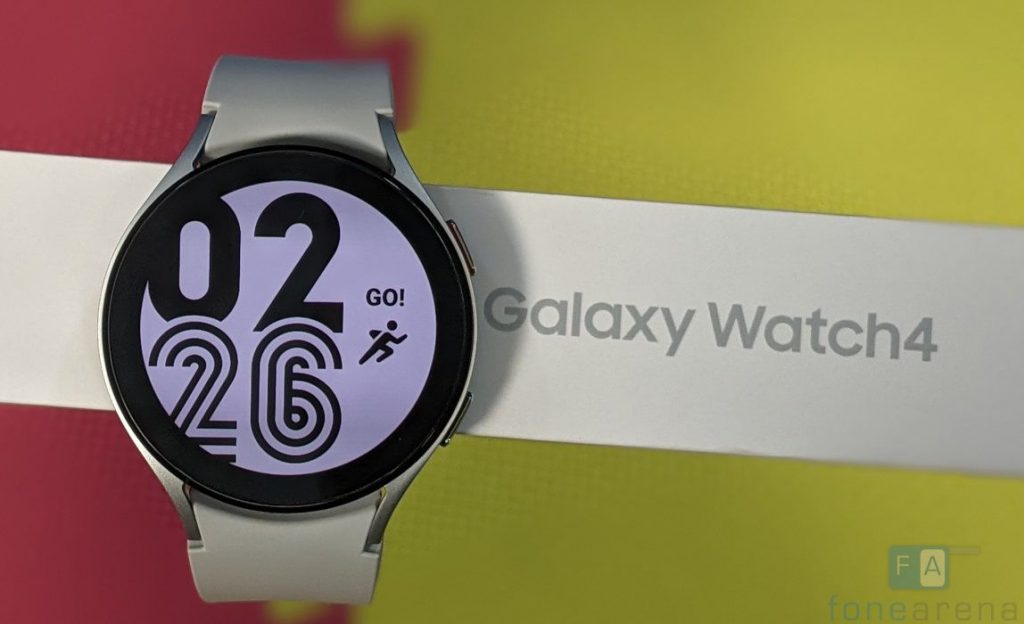 Samsung launched the Galaxy Watch4, the company's latest smartwatch, last month as the successor to last year's Galaxy Watch 3. This time Samsung has partnered with Google for WearOS with Samsung's own One UI  Watch. The new Galaxy Watch4 comes in several options in normal and Classic models, is powered by new Exynos W920 5nm processor, and features Samsung's BioActive Sensor. Is this Samsung's best smartwatch yet? Should get it? Let us dive into the review to find out.
Box contents
Galaxy Watch4 44mm Bluetooth in Silver Color with 20mm, M/L strap
Magnetic Charging dock
User manual
Design and Build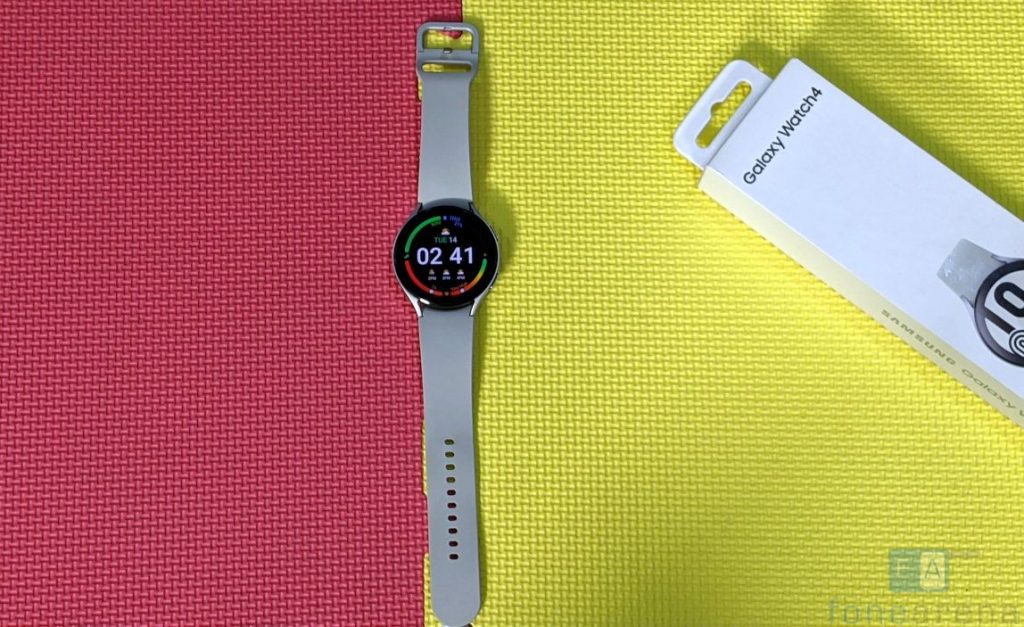 The Galaxy Watch4 has a circular dial. It weighs just 30.3 grams without the strap, thanks to Aluminium  casing with a smooth finish. It still looks and feels premium, and the matte finish doesn't attract fingerprints. The smartwatch has 5ATM + IP68 water resistance, so you can even wear when swimming, and it also has MIL-STD-810G certification, making it durable.
There is Optical Heart Rate, Bioelectrical Impedance Analysis, Accelerometer, Barometer, Gyro Sensor, Geomagnetic Sensor, Light Sensor. It uses Bluetooth 5.0 to connect to Android devices, and doesn't work with iOS. The LTE model has LTE support, and both the models come with Wi-Fi 802.11 a/b/g/n 2.4+5GHz, NFC, GPS/Glonass/Beidou/Galileo.
Coming to the strap, it is made of skin-friendly Fluoroelastomer that is durable and sweat resistance. The 20mm straps are also interchangeable with more colour options.  The model we have has M/L size strap that might be too big if you have small hands, so you might have to choose S/M size. You can buy the strap separately in Black, Navy, Green, Olive, Silver, Mustard, Pink and Red colours, in addition to White.
There are Home and Back buttons with a metal finish on the right side. You can also press and hold the home button to turn the watch on or off. You can also see the tiny microphone on the back part on the left side, and the speaker is on the right side. You can take calls directly from the watch when you connect it to the smartphone over Bluetooth. The LTE model works as a standalone device to make and receive calls.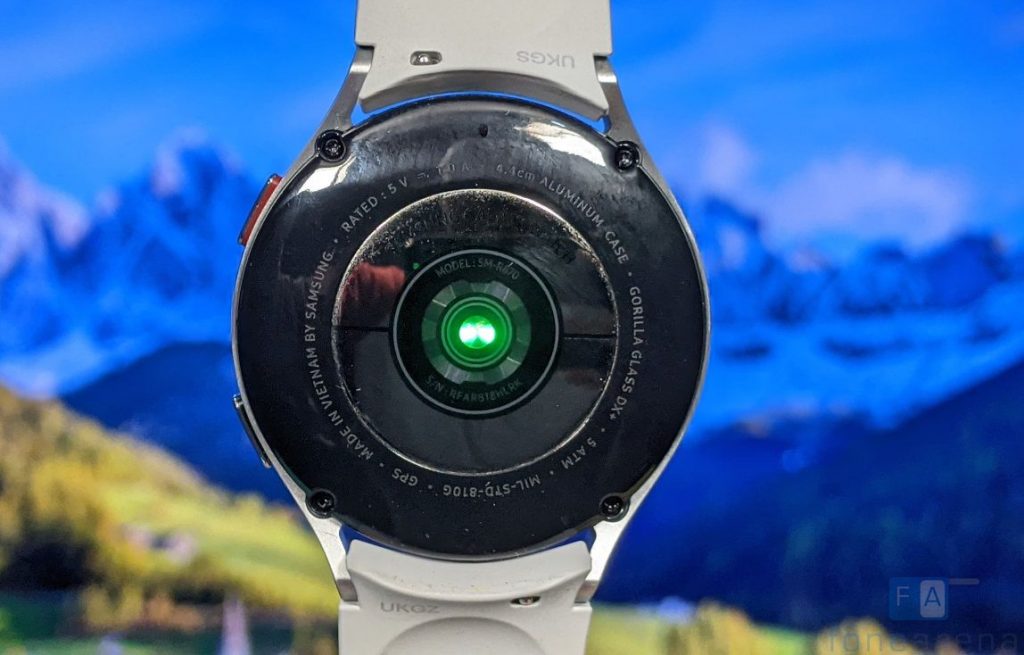 On the back, there are heart rate sensors with glowing green LED lights when you are using it to measure heart rate, and the SpO2 sensor has glowing red lights when you start measuring. There is Made in Vietnam by Samsung branding on the back. Since it has wireless charging, you don't see any contact points.
The watch is powered by 1.18GHz Exynos W920 Dual Core 5nm processor that is more power effectient compared to the older Exynos processors used in older models. It has 1.5GB RAM and 16GB of internal storage.
Display and features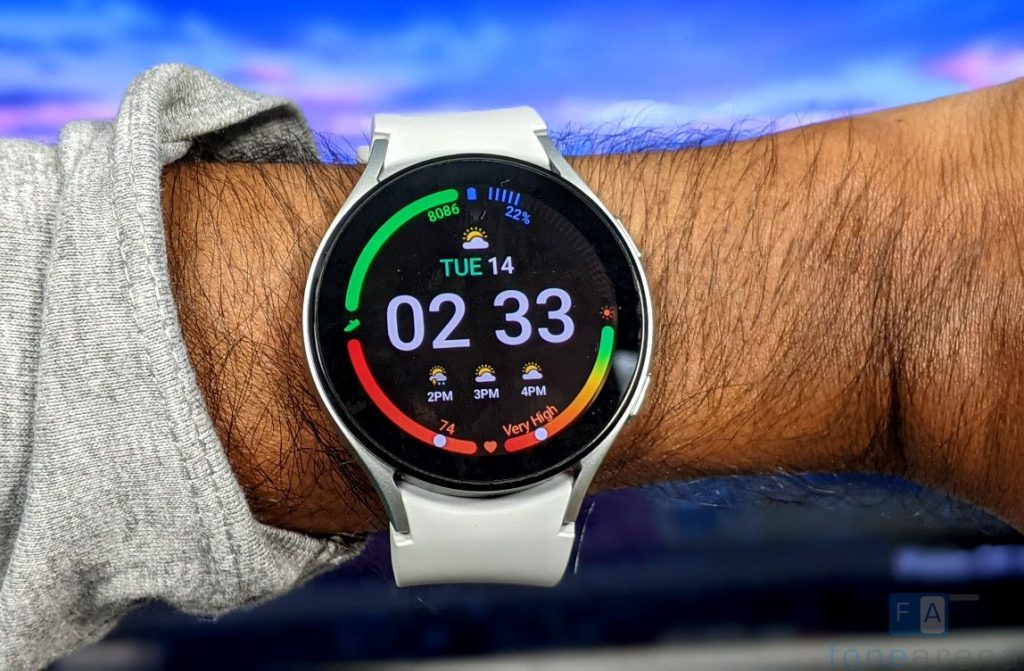 Coming to the display, the Galaxy Watch 4 44mm model that we have has a large 1.4-inch (450×450 pixels) AMOLED colour touch screen display with a curved screen. You can set it to turn on when you lift your hand, and the screen turns off in a few seconds to save power. It attracts fingerprints, but the company says that it has Corning Gorilla Glass with DX+ protection. I didn't notice any scratches during my use. The touch screen is smooth to use, has good viewing angles, and the outdoor visibility is good as well. You can adjust the brightness from Settings → Display → Brightness or directly swipe down to access the brightness settings. You can adjust it from level 1 till level 5, but the ambient light sensor is helpful in settings up the brightness according to the condition.
The Galaxy Watch4 Classic features a physical bezel that you can rotate with your fingers, but the standard Galaxy Watch4 model has a digital bezel, you need to lightly press and drag your finger clockwise or counterclockwise using the digital bezel on the edge of the screen to move through a list.
There is also an easy notification shade option when you swipe from the top. This has Bedtime mode, Power option, Settings, Alarm, Sound / Vibration, Flashlight, DND, Brightness toggle, Power Saving, Theater mode, Wi-Fi, Water lock mode that lets you shake the watch to remove any water from the pressure sensor that is present on the back, Airplance mode, Bluetooth headset connection, Find my phone, GPS, NFC and Volume control.
Software
The Galaxy Watch4 runs One UI Watch 3 on top of WearOS in partnership with Google. This brings support for watch-compatible apps on your smartphone, so they will be downloaded onto the smartwatch. If you've customized your clock app on your phone to show the time in different cities around the globe, this will be automatically reflected on your watch as well. And if you block calls and messages from your watch, they will now be blocked on your smartphone, too.
You can customize these using the Galaxy Wearable that needs to be downloaded from Google Play. This also allows you to manage notification, customize home or back key functions and gestures. You can also customize press and hold the Home key, which by default is set to wake Bixby. Option to launch Google Assistant is coming, but it is not available right now.
Coming to gestures, the watch has an option that lets you receive calls when you move your forearm up and down twice and rotate your wrist twice to reject calls or dismiss alarms. For notifications, there is a small keyboard to reply, which is useful.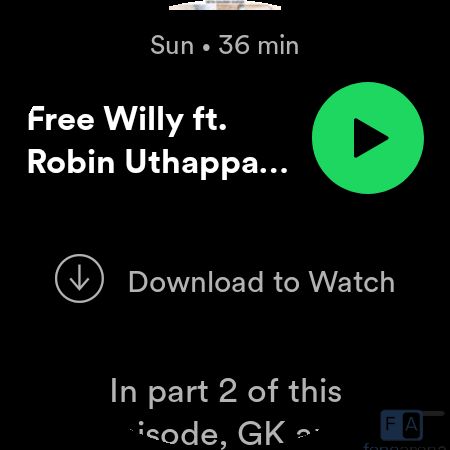 You can also install apps such as Strava, Calm or Sleep Cycle, Spotify and YouTube Music, and Google Maps directly from Google Play in the Galaxy Watch. Finally, there is offline music playback support for both Spotify and YouTube Music to make use of 16GB internal storage. However, there is no 2x option, which I usually use when listening to podcasts.
The Watch4 app also lets you customize watch faces. There are a lot of customizations, you can also get more watch faces using third-party apps. Complications offer quickly access important information at-a-glance and launch the apps you use the most.
Samsung keeps pushing updates to the Galaxy Watch4, adding new features. The latest update that was pushed earlier this week brought new watch faces, improved fall detection and more. After the update, you can mix and match up to four complications to display on Animals watch face – from battery life to reminders, messages, your step count and much more.
The new update also includes a new hand motion that can act as a helpful shortcut to activate a chosen app or feature. By doing a simple 'knock, knock' motion with your wrist, you can open a pre-selected app, open the list of workouts, turn on a light or even create a new reminder. I can't wait to try the feature.
Fitness and sleep tracking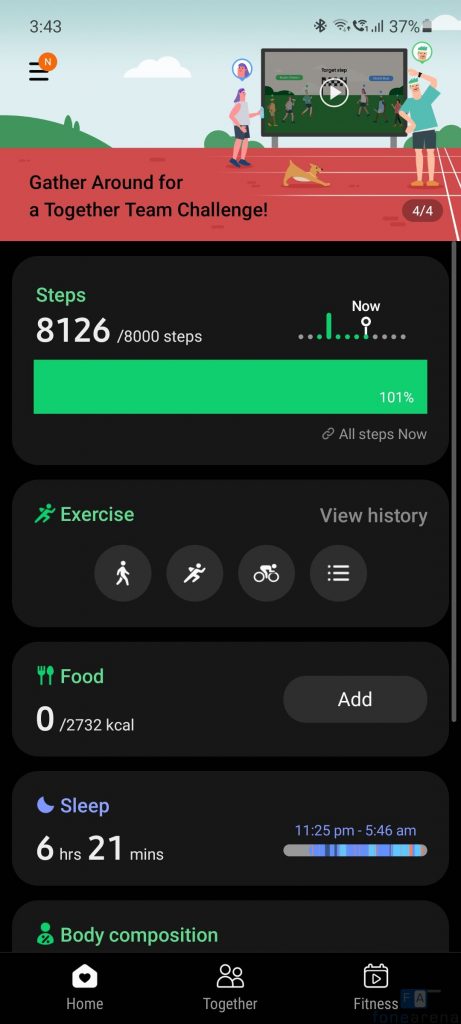 The Samsung Health app needs to be downloaded from the Google Play to get more details about your activities, fitness, food and sleep tracking. The Watch4 has support for 90 exercise modes. Steps tracking is accurate compared to data from a phone. Even GPS tracking is accurate compared to Strava and Nike running apps on the phone, and the GPS tracking doesn't cut out if there are some intrusions like trees or bridges. GPS lock takes 5 to 10 seconds.
For running, it shows a lot of data such as pace, elevation, heart rate, Vo2 Max, advanced running metrics, and lots more. You can swipe to pause a workout in the middle, and resume it or stop it. You can also compare these with recent runs.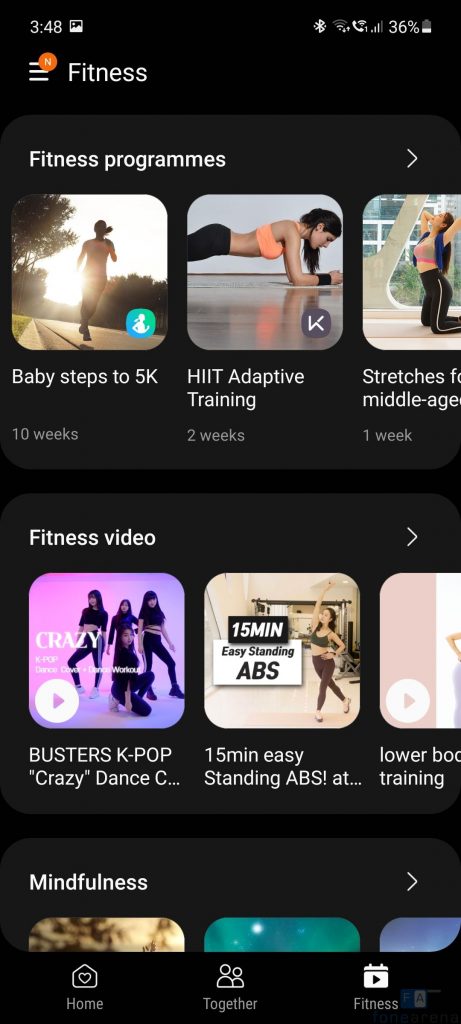 There is also a coaching feature in health apps, which is helpful for training or if you want to do some workouts. You can share the workout data as an image, and there is Strava support and Technogram sync, which can be enabled from Settings and Selecting Connected services. Hope we can expect Google Fit integration, My Fitness Pal and more in the future.
You can view Fitness activities clearly in the app. This is the first Watch from Samsung to use Samsung's BioActive Sensor that uses a single chip to precisely run three powerful health sensors — Optical Heart Rate, Electrical Heart and Bioelectrical Impedance Analysis, but the blood pressure and AFib irregular heartbeat detection doesn't work it India since it needs approval by the medial body in India.
But the Body composition feature works in India. You need to place middle and ring finger on the home and back buttons and keep still during measurement. This takes a few seconds to measure, and you need to enter the weight manually. Just like the digital weighing scales, this has sensors in the home and back buttons to send electrical signals into the body and receive it back to get back  details such as body fat, skeletal muscle, body water, BMI and BMR. You can't say this is 100% accurate, since there are slight changes between the data from this and the Mi Body Composition Scale.
Sleep tracking is accurate and there is also data for different stages such as REM, Light and Deep with a chart. It also shows when the blood oxygen went below 90%. It also says the watch can detect Snoring when you place the phone near your face during sleep, but it didn't work for me in both Samsung and third-party smartphones. Overall, the watch has the best fitness and sleep tracking for the price.
Heart rate and SpO2 monitoring
The smartwatch uses LED lights and photo-diodes to illuminate the blood vessel for a while and monitors the heart rate via the change of green light absorbed. You can't say this is 100% accurate, but heart rate recordings — both resting and active, are good.  It stores the data with date and time. There is also Vo2 Max data. Compared to pulse oximeter, this is almost accurate. It can also measure stress.
Battery life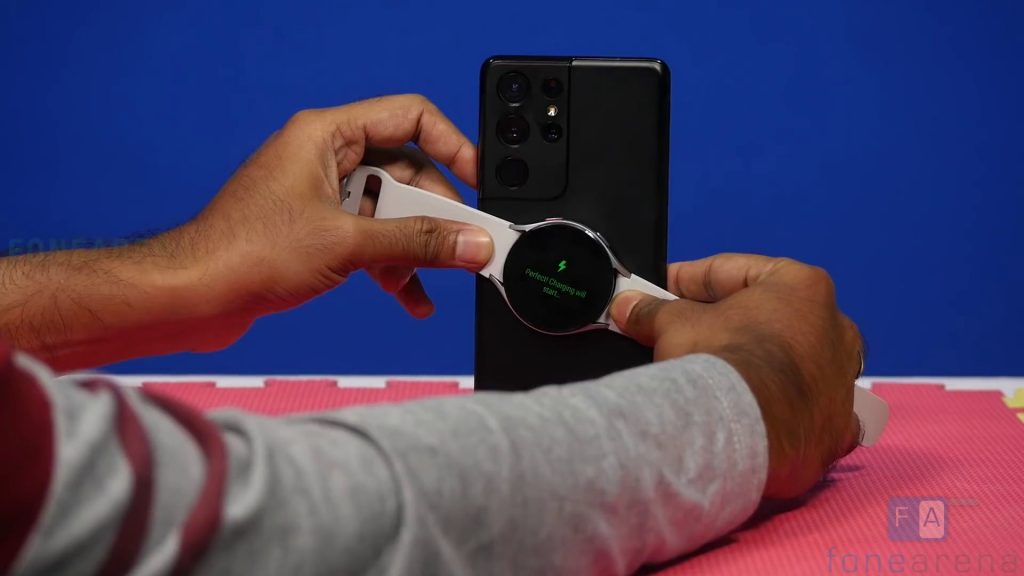 It has a 361mAh battery, and the company promises 40 hours or close to 2 days of battery life with typical use. I have been using it for over a month now. At the start, it didn't last even for 24 hours, but after a recent update I get more than a day of battery life, which is almost 35 hours. Hope it gets better with future updates. I have not enabled notifications, but I have enabled call notifications, GPS for outdoor runs of 30 minutes a day. Battery life might vary depending on frequent use of the display with increased brightness, use of GPS, heart rate monitor during workouts, Spo2 monitoring during sleep and all the notifications turned on.
The watch WPC-based wireless charging that works with any Qi-Certified devices, in addition to bundled magnetic charger, and you can also use Wireless PowerShare feature in Samsung phones, including the S21 series, but it requires minimum 30% battery to share. It takes about 2 and half hours to charge the watch fully from 0% which is too much, but this is to conserve the battery health, according to the company.
Conclusion
Overall, the Galaxy Watch4 ticks all the boxes. You have a brilliant AMOLED screen, a powerful processor and 16GB of storage and several sensors that gives a lot of data. Even though the battery life is better compared to the Galaxy Watch3, it still lasts only for a day or a day and half, and the charging is super slow.
Pricing and availability
Galaxy Watch4 40mm Bluetooth (Pink Gold, Black & Silver) – Rs. 23999
Galaxy Watch4 40mm LTE (Pink Gold, Black & Silver) – Rs. 28999
Galaxy Watch4 44mm Bluetooth (Black, Green & Silver) – Rs. 26999
Galaxy Watch4 44mm LTE (Black, Green & Silver) – Rs. 31999
Galaxy Watch4 Classic 42mm Bluetooth (Black & Silver) – Rs. 31999
Galaxy Watch4 Classic 42mm LTE (Black & Silver) – Rs. 36999
Galaxy Watch4 Classic 46mm Bluetooth (Black & Silver) – Rs. 34999
Galaxy Watch4 Classic 46mm LTE (Black & Silver) – Rs. 39999
These will be available from Samsung.com and across leading online and offline retail stores. Amazon.in offers Rs. 2,000 discount coupon as a part of limited-period offer, and there is instant cashback with all leading bank cards when you buy it on Samsung.com and Samsung stores.
Pros
Brilliant AMOLED display
Powerful Exynos W920 5nm Processor, 1.5GB RAM and 16GB internal storage
Good build quality
Samsung BioActive Sensor with Bioelectrical Impedance Analysis
5ATM + IP68 water and dust resistant
Cons
Battery life could have been better
Takes over 2 hours to charge
No Google Assistant
No Samsung Pay, Blood pressure support in India yet