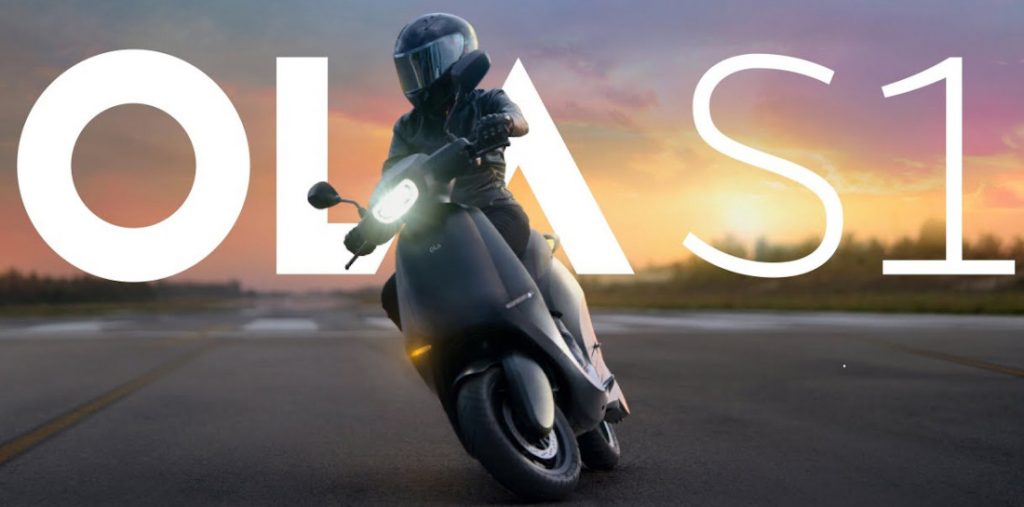 Ola Electric just launched its first electric scooter, the Ola S1 in India. There is also an S1 Pro model with upgraded specifications. It has a powerful Hyperdrive motor with up to 8.5kW peak power and 58NM peak torque that can go from 0 to 40kmph in just 3 seconds, 0 to 60kmph in just 5 seconds and has a top speed of 115kmph, faster than the Ather 450X. There are three modes – Normal, Sport and Hyper, and there is also cruise control that maintains the same speed with a press of a button.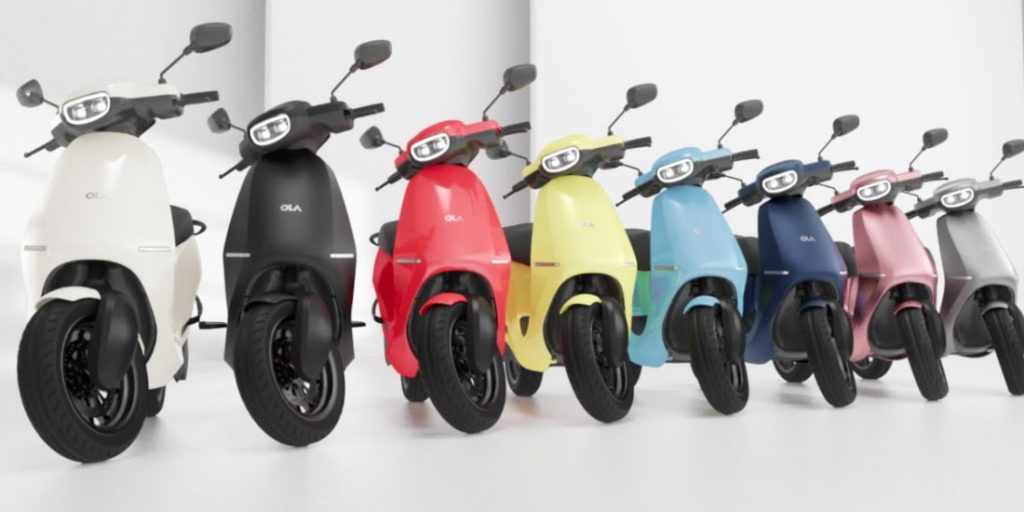 It has a monoshock absorber on the front, disk brakes on the front and the back, and extra wide 110/70-R12 MRF tyres that promise uncompromising riding control even in peak speeds in hyper mode. There is a 7-inch touch screen shatter-proof display that is powered by an Octa-Core processor with 3GB of RAM. There is also 4G, Wi-Fi and Bluetooth support.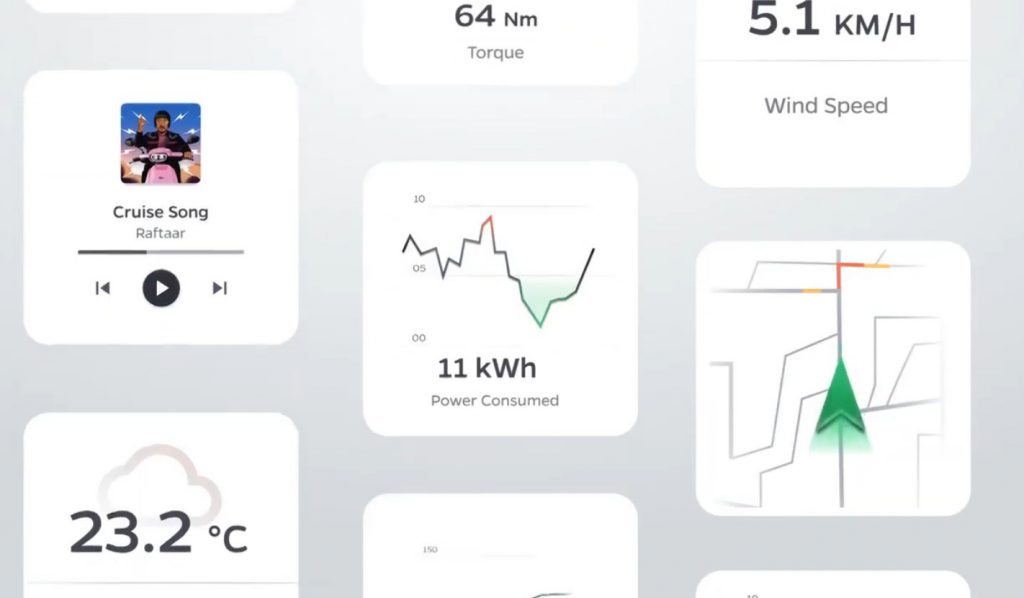 It runs properitary MoveOS. Ola says that it doesn't have any keys, and it uses proximity unlock that senses when you move near it and unlocks itself by communicating with your phone and locks when you move away. You can also use the app or the screen in the scooter to lock and unlock it. It also has voice recognition that lets you play music, since it has built-in speakers. You can also increase volume, take calls and more with voice commands. The Ola Electric app offers battery and health alerts, and book an appointment from the app for in-home service.
It has built-in maps for turn-by-turn navigation and real-time traffic information. Maps even work when you are offline. You can set a personal profile for the person riding. It has something called moods that show different data on the screen when riding. For example, the Bull mood shows speed and power right at the centre, and the vintage that brings the 1950s look, and the wonder mood offers a sci-fi look with a sound to match. You can set a custom mood based on your choice with widgets such as music, weather, and more.
Other features include, access to contacts on the phone, option to message contracts, side stand alert, anti-theft alarm, Limp home, OTA updates, Dark mode, auto brightness control, router via charger, take me home lights, auto indicator off, remote boot unlock, roadside assistance, share location from any app, get home mode, share key, ride journal, predicative maintenance and emergency contact alerts.  It has twin headlamps, ergonomic and fluidic body, alloy wheels, sculpted seating, and the largest boot space that fits two helmets comfortably. There is reverse mode.
With 3.92kWh (2.98kWh in S1) battery, the company says that it has Indian Drive Cycle (IDC) range of 181 KM (121 KM in S1) compared to 116 KM IDC range in Ather 450X. The 750W portable home charger can charge the scooter fully in 6 hours (4.48 hours in S1). The Ola HyperCharger can charge up to 50% in 18 minutes, and the company says that it is building HyperCharger network with 100K+ charging stations in 400 cities across India. The Ola S1 wighs 121 kg  and the S1 Pro weighs 125 kg.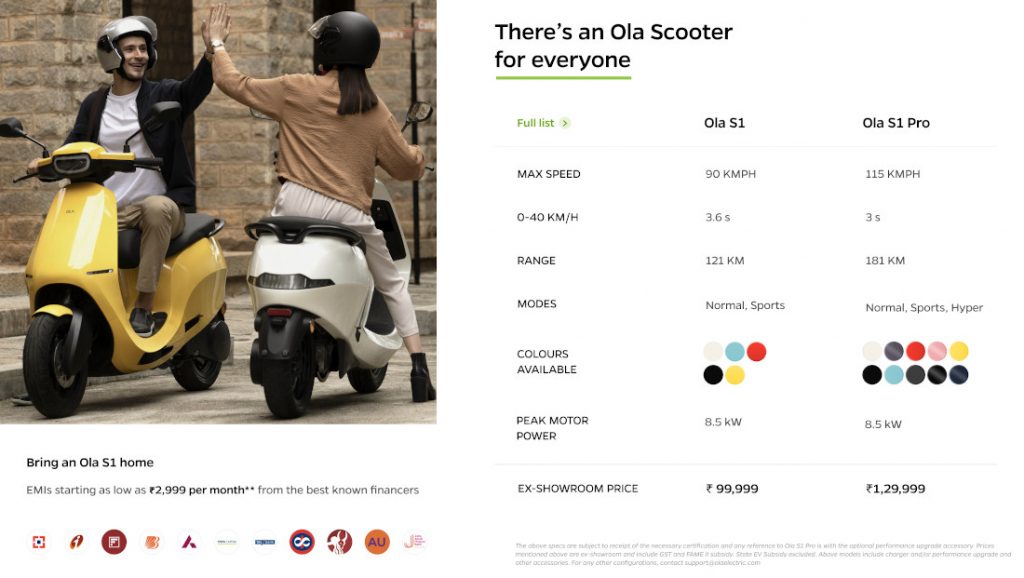 The Ola S1 comes in Red, Yellow, Blue and White colours, has up to 90kmph top speed and up to 121km IDC range and has only normal and sports modes. It is priced at Rs. 99,999 (ex-showroom).
The Ola S1 Pro with the top specs and up to 181km IDC range comes in more colours including matte and gloss shades from options in black, the vibrant hues of pink, as well as silver. It is priced at Rs. 1,29,999 (ex-showroom). The company is also offering EMI options starting at Rs. 2,999 per month.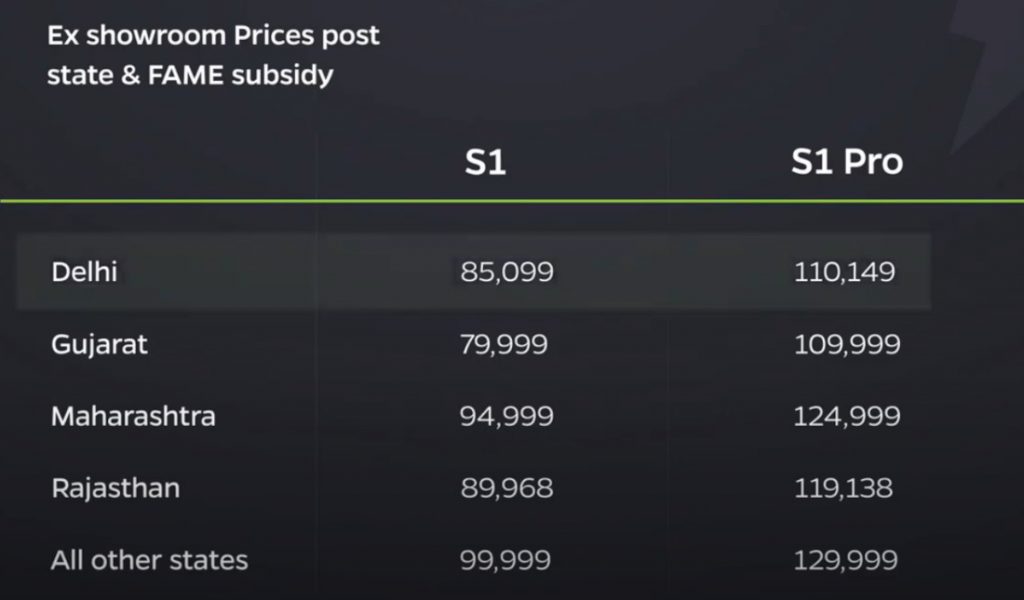 The company says that these will be even cheaper with state subsidies. Those who have already reserved the scooter by paying Rs. 499 can purchase it starting from September 8th, and the deliveries begin across 1000 cities and towns from October. The company did not reveal details about after sales service and the battery warranty.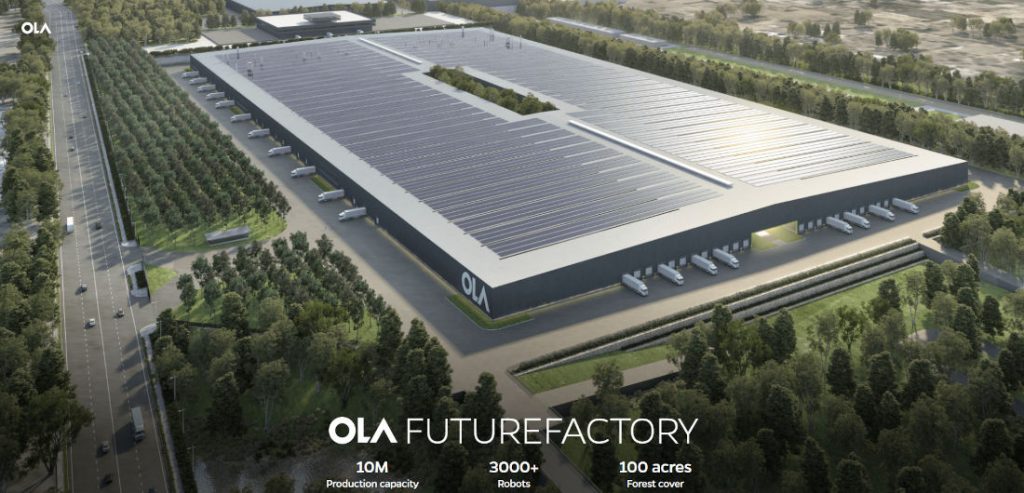 Ola CEO Bhavish Aggarwal that the company is building the Ola FUTUREFACTORY which will be the world's largest two-wheeler factory and India biggest building that will fit both Mumbai and Delhi airports in it. It will have 15% of global two-wheeler production and will produce 10 million scooters in a year at 1 scooter every two seconds.