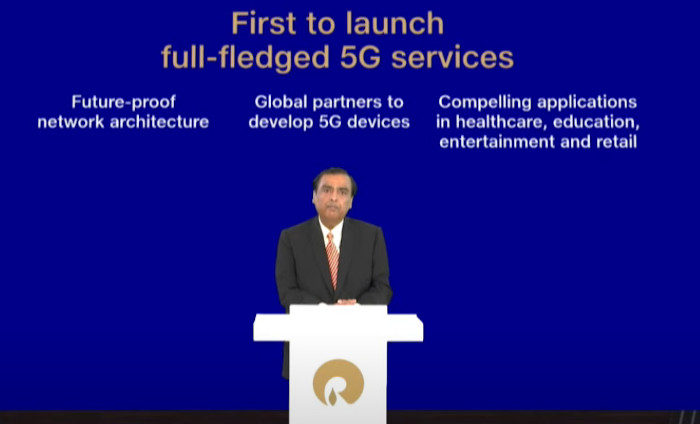 At the 44th AGM, the RIL chairman Mukesh Ambani said that the company has tested the Jio 5G solutions in India and has successfully demonstrated speeds well in excess of 1 GBPS. "Our 'Made in India' solution is comprehensive, complete and globally competitive," he said.
After receiving approval from the Department of Telecommunications (DoT) to begin 5G trials in India last month, he said that 5G Standalone Network has been installed in its data centres across the nation and also at its trial sites in Navi Mumbai.
We are confident of being the first to launch full-fledged 5G services. And because of our converged, future-proof architecture, Jio's network is uniquely positioned to quickly and seamlessly upgrade from 4G to 5G.
To develop the end-to-end 5G ecosystem, Jio is now working with leading global partners to develop a full range of 5G-capable devices. "The Jio 5G technology is well positioned to create compelling applications for consumers and enterprises spanning Healthcare, Education, Entertainment, Retail and other key verticals of the economy," said Mukesh Ambani.
The company is developing 5G-enabled state-of-the art Connected Ambulance with Sir H. N. Reliance Foundation Hospital. With real-time, high-fidelity Telemedicine and remote doctor access, each Connected
Ambulance can become a virtual extension of a hospital emergency room even while on the move.
It is also developing with Reliance Foundation schools to use 5G to deliver immersive and interactive AR/ VR content to students and classrooms, making the learning process a delightful, memorable and enriching experience. "So, Jio is not just working to make India 2G-MUKT… but also 5G-YUKT," he said.
And, once Jio's 5G solution is proven at India-scale, the company will prospect of exporting Jio 5G solutions to other telecom operators across the world.
The company has developed deep expertise in multiple emerging technologies like 5G, AI/ML and blockchain and Mixed Reality.
We are developing 100% owned Intellectual Property. We have access to deep domain knowledge and operational experience within the Reliance Group across key Industry verticals. Furthermore, we have a passionate and talented team and world-class partners, and we have the opportunity to serve a global audience.