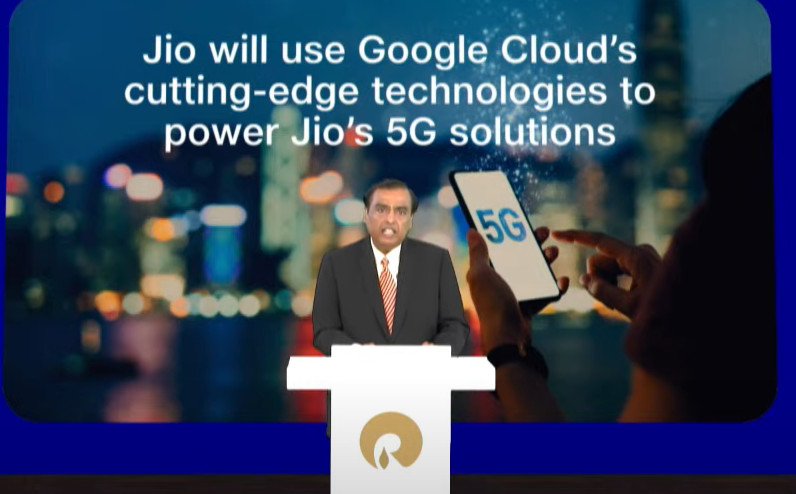 During their 44th annual general meeting (AGM), Reliance Jio announced a new partnership with Google, where the two companies will collaborate to integrate Jio's 5G technologies with Google Cloud's scalable infrastructure. As a part of their partnership, Reliance will also be moving many of their their core retail businesses to Google Cloud.
By integrating with Google Cloud, Reliance Jio will be able to advance their 5G networks and technologies by taking advantage of Google Cloud's telco-specific capabilities for security, performance, and resilience. The partnership will result in a better 5G edge computing solutions as Jio develops services in gaming, healthcare, education, and entertainment.
As mentioned earlier, Reliance will also be moving many of their core retail businesses, which include Reliance Retail, JioMart, JioHealth, JioSaavn and others, over to Google Cloud. This will enable Reliance to utilize Google Cloud's capabilities such as AI/ML, ecommerce, and demand forecasting offerings. Using Google Cloud infrastructure should also result in improved reliability and performance for these businesses.
Commenting on the partnership, Sundar Pichai, CEO of Google and Alphabet said:
We are delighted to announce a new 5G partnership with Reliance Jio to help Indian consumers connect to a faster and better internet and support businesses in their digital transformation and help Jio build new services in sectors like health. education and more. As part of this collaboration, Reliance will also shift its core retail businesses to Google Cloud infrastructure which will enable them to scale up and improve customer experience
Mukesh Ambani, Chairman and Managing Director, Reliance
Industries Limited, said:
Cloud solutions is a key area where we are collaborating with Google. Jio will use Google Cloud's cutting-edge technologies to power Jio's 5G solutions and for powering the internal needs of key Reliance growth businesses like Reliance Retail, JioMart, JioSaavn and JioHealth.