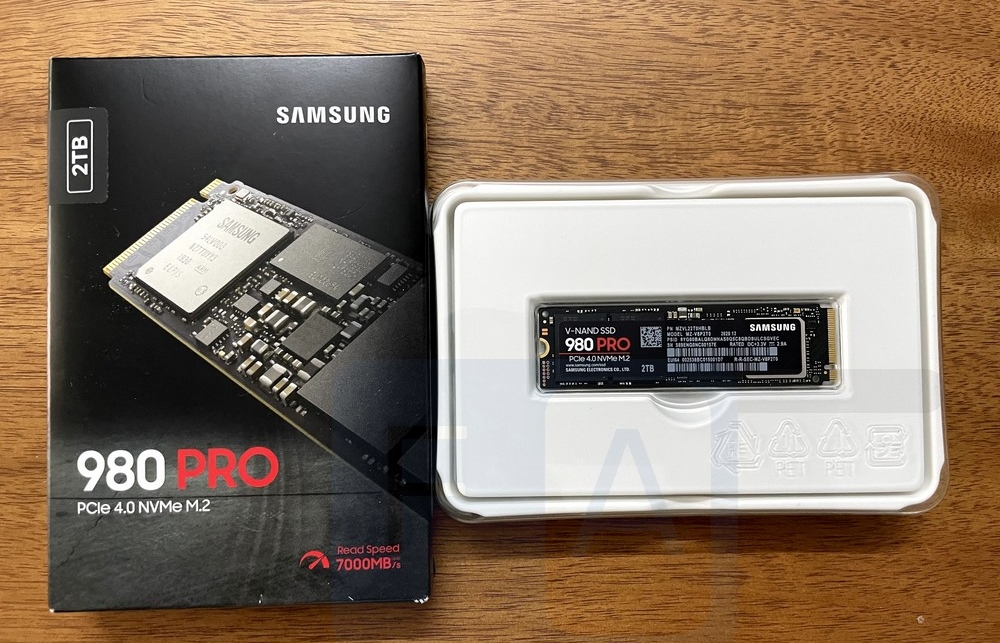 Samsung had announced the 980 Pro SSD which is their first consumer grade PCIe Gen 4 SSD back in September last year.  It had launched in 3 capacities 250GB, 500GB and 1TB but recently Samsung also announced a 2 TB version which we managed to test in this review. We have tested both the 500GB version and the 2TB version for the purpose of this review.
Specifications
Category
Samsung SSD 980 PRO
Interface
PCIe 4.0 x4, NVMe 1.3c
Form Factor
M.2 (2280)
Storage Memory
Samsung 1xx-layer V-NAND 3-bit MLC
Controller
Samsung Elpis Controller
DRAM
2GB LPDDR4(2TB)
1GB LPDDR4 (1TB)
512MB LPDDR4 (500GB, 250GB)
Capacity
2TB, 1TB, 500GB, 250GB
Sequential Read/Write Speed
Up to 7,000 MB/s, Up to 5,100 MB/s
Random Read/Write Speed
(QD32)
Up to 1,000K IOPS, 1,000K IOPS
Management Software
Samsung Magician Software
Data Encryption
AES 256-bit Full Disk Encryption, TCG/Opal V2.0, Encrypted Drive (IEEE1667)
Total Bytes Written
1200TB (2TB)
600TB (1TB)
300TB (500GB)
150TB (250GB)
Packaging and Box Contents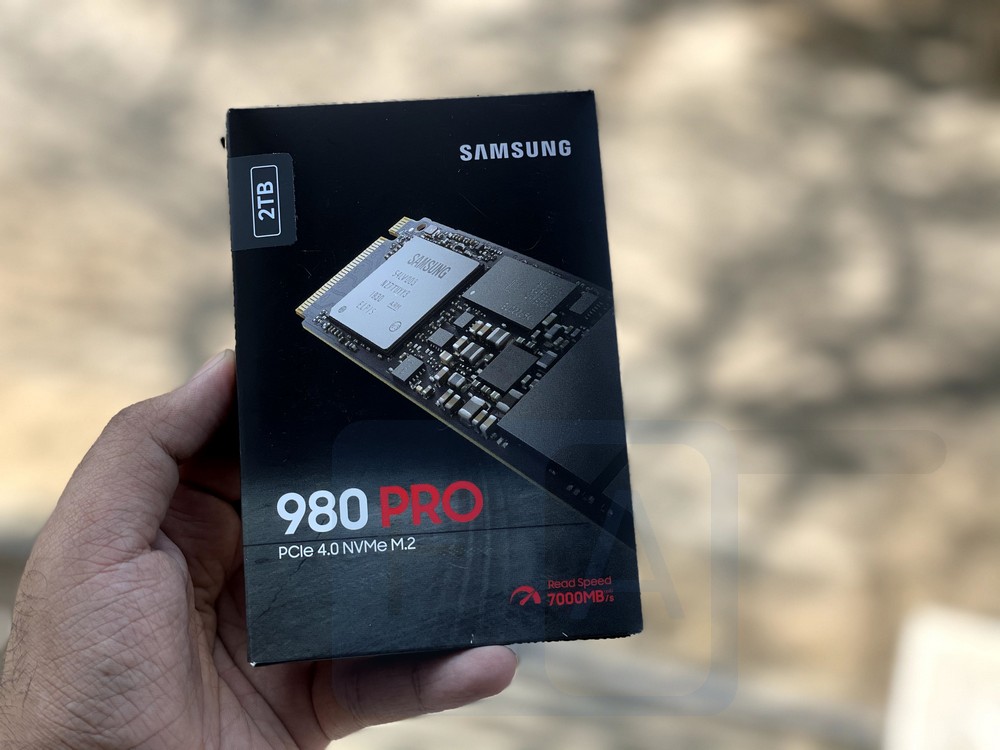 The SSD ships in the familiar box which securely holds the drive and some paperwork. You don't get anything else in the box, and you would have to rely on your motherboard for the m.2 screw to secure the drive.  You see a mention of 7000MB/s read speed on the front and the 5-year warranty on the back.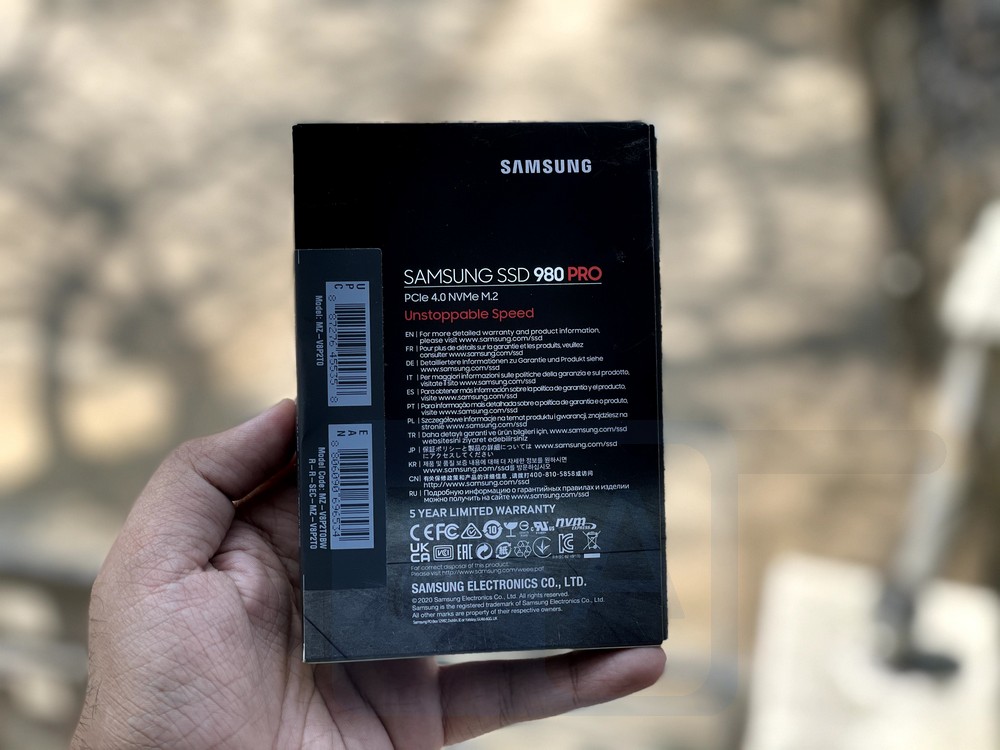 The model  we tested was the MZ-V8P2T0BW (2TB) and the drive was made in South Korea
Test System
AMD Ryzen 7 5800x 8-core CPU
ASrock Taichi X570 Motherboard with PCIe gen 4.0 support
32GB DDR4 3200MHz RAM
750w SMPS
Windows 10 Pro 64bit
Design and Thermals
The Samsung 980 Pro uses the new Samsung Elpis controller and is built on the newer 8nm process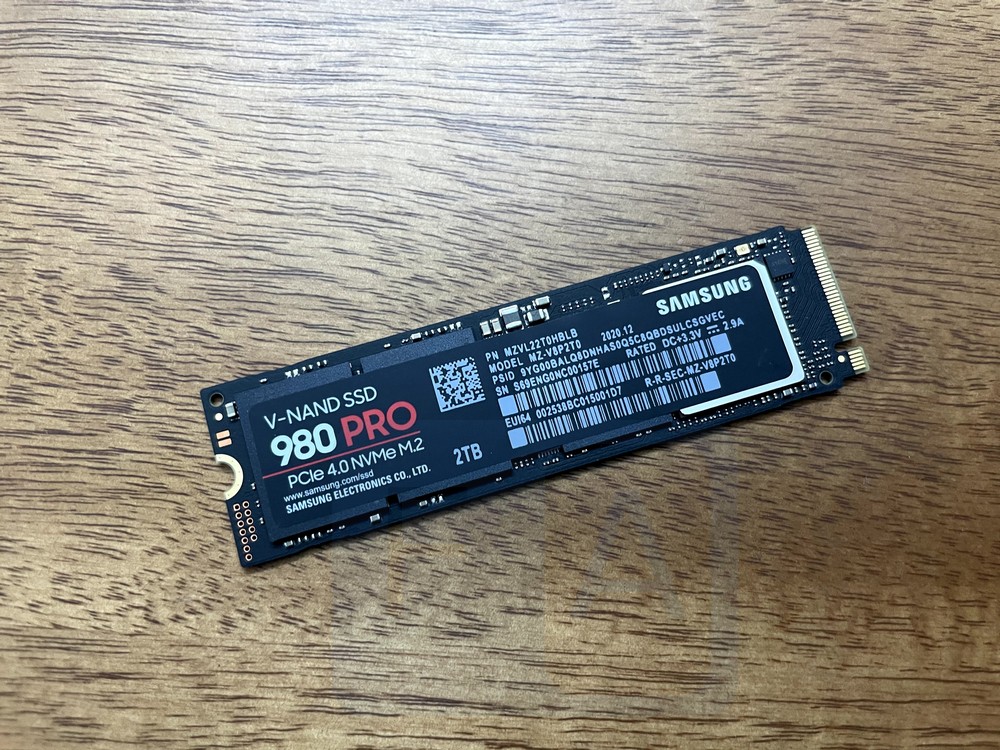 Samsung claims to have used a Nickel coating on the drive for better thermal performance. Most newer motherboards have good heat sinks for m.2 SSDs unlike in the past. The 980 Pro also features Dynamic Thermal Guard technology to reduce thermal throttling and sustained peak performance.
Here is a comparison of drive temperatures.
| | |
| --- | --- |
| Drive | Temperature |
| Samsung 950 Pro NVMe SSD | 50 |
| Samsung 960 Evo NVMe SSD | 45 |
| Crucial P1 NVMe SSD | 41 |
| Samsung 980 Pro NVMe SSD | 50 |
| Samsung 860 Evo SSD | 31 |
Samsung continues to use copper for heat dissipation on the back.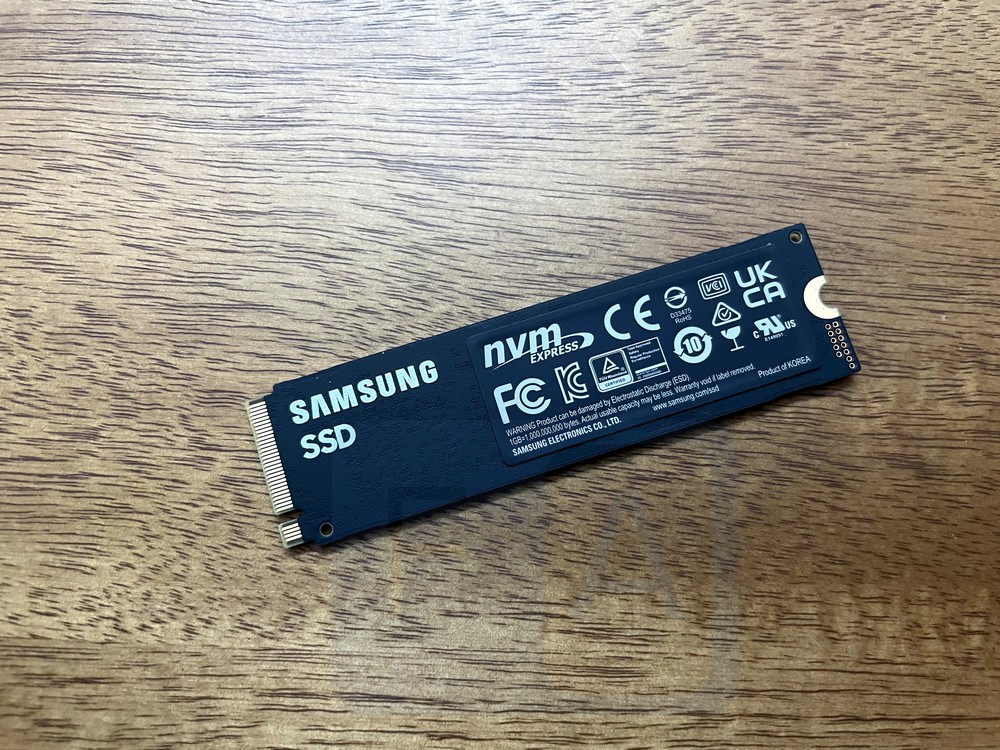 Benchmarks
Here are a few benchmarks of the drive :-
Samsung Magician

Samsung Magician is the company's own disk management software  and lets you update the firmware,  monitor the health and also perform benchmarks. It works only with Samsung SSDs. Here we see that the Sequential Read Speeds were over 6562 MB/s and write speeds were over 5180 MB/s. You can also see the 2X jump in performance when compared to a PCIe gen 3 drive for read and write speeds.
CrystalDiskMark 8.01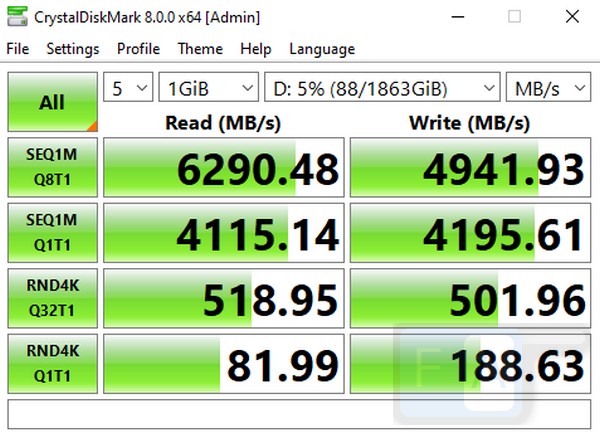 Crystal Disk Mark is one of the most popular tools for assessing drive performance and the drive showed good sequential read(6.3GB/s)/write (4.9GB/s) speeds.
Blackmagic Disk Speed Test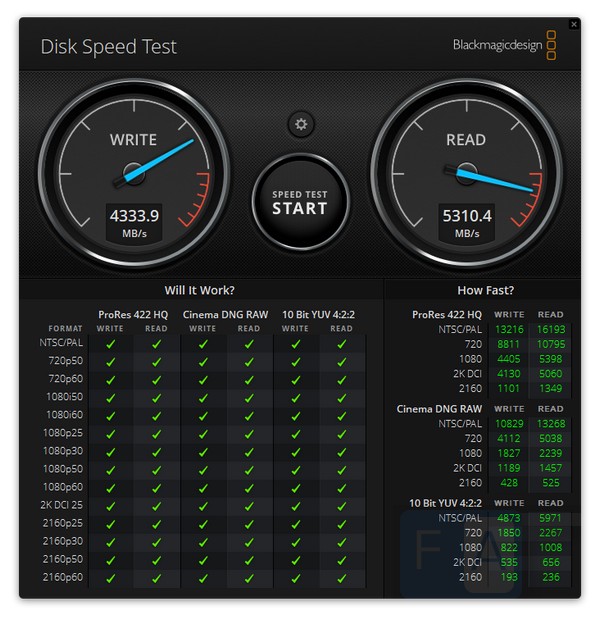 In Blackmagic Disk Speed Test which is generally used to measure video editing capabilities, the Pro Pro came up with 5310 MB/S Read and 4334 MB/s write speeds
PC Mark 10 Drive Benchmark

In the PC Mark 10 Quick System Drive benchmark, the drive scored 2857 points.
ATTO Disk

Atto Disk is another good tool to measure sustained performance and the 980 Pro shows 5.97 BB/s read and 4.62 GB/s write speeds
AS SSD Benchmark

The Samsung 980 Pro scores 8692 in the AS SSD benchmark on the whole and 4067 for write and 3097 for read.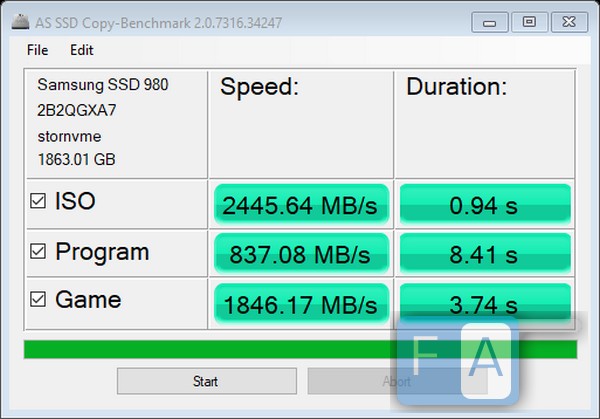 In  the file copy benchmark, the drive scored 2446MB/s in ISO copy, 837 MB/s in program and 1846 MB/s in games.
Apart from benchmarks, the real world performance for applications which are very data intensive such as games, video editing and programming, the 980 Pro does offer a good experience. If you are planning to build a PC for gaming, the 980 Pro can be at the top of your list.
Conclusion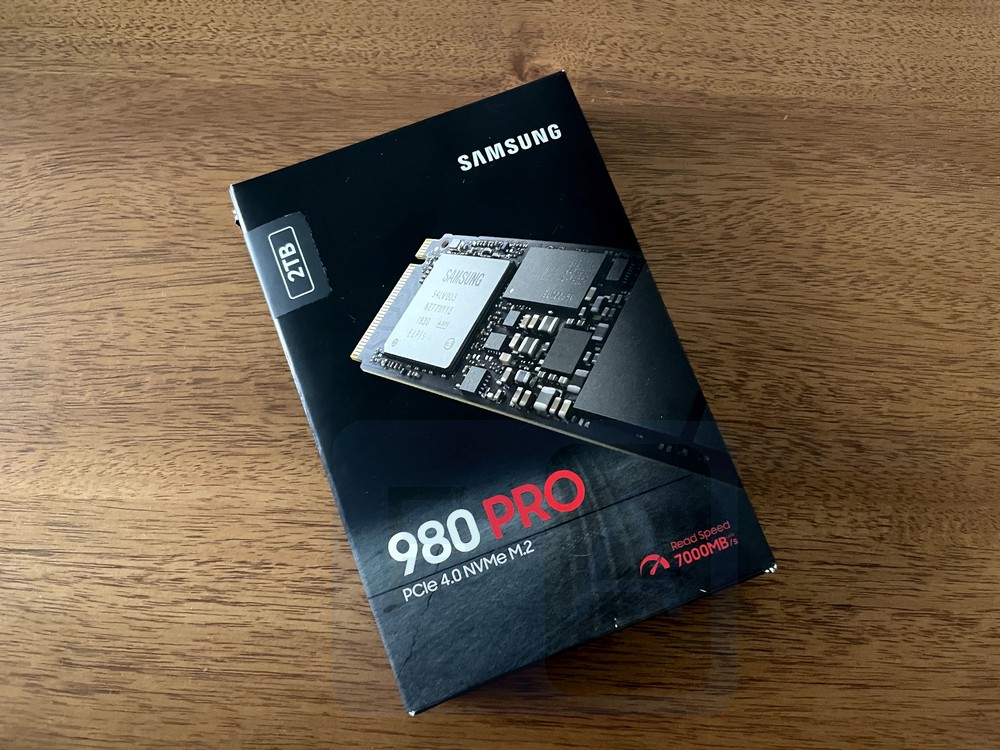 Ever since Samsung announced the 980 Pro, it expanded the market for PCIe gen 4 SSDs. Thanks to the popularity of the Ryzen platform, more and more consumers are looking to move towards these faster drives for improved performance. The market will grow further once Intel also joins the PCIe 4 bandwagon. The Samsung 980 Pro is not only one of the fastest NVMe SSD drives we have tested, it is also one of the best performing drives. The million dollar question here is, can you utilize all that performance for your workflow? The short answer for most consumers is no. But if you want to invest in the best NVMe storage for your workstation,  the Samsung 980 Pro is one of the best offerings in the market currently.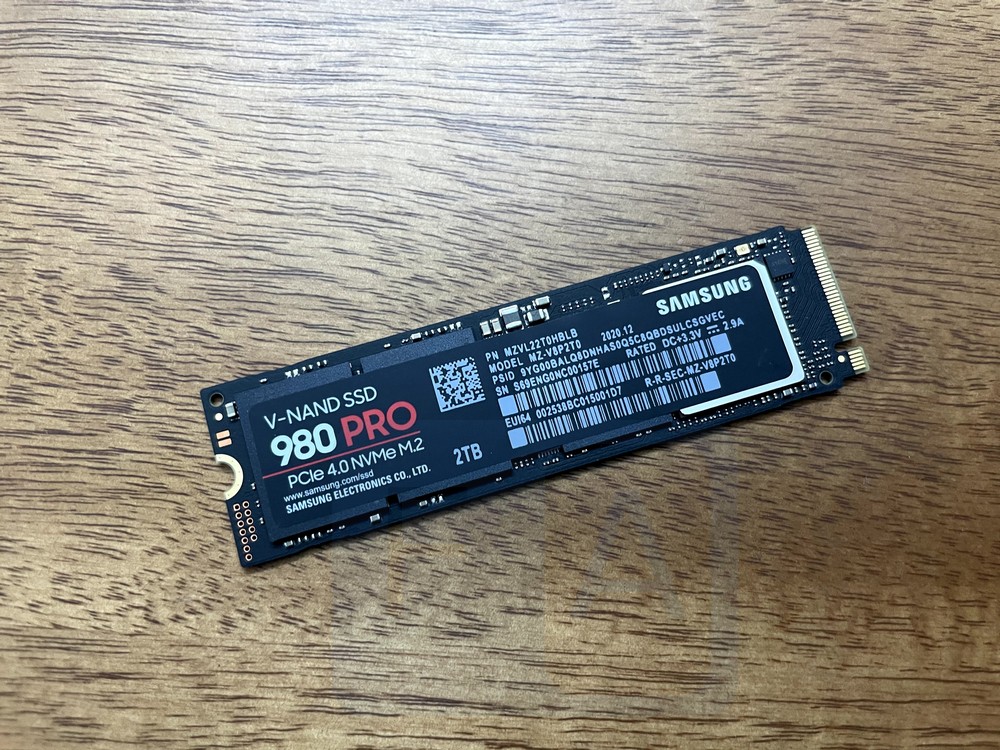 If you don't want to get the absolute best drive you can consider the Samsung 970 EVO Plus or 970 Evo as well which are not as fast but still offer a great value for money and great performance.
Pricing and Availability
The Samsung 980 starts at INR 10999 for the 250GB and goes all the way up to INR 56999 for the 2TB version.  The India pricing is comparatively higher than US pricing due to import duties probably. This is more evident on the higher end SKUs compared to entry level ones.
Samsung does offer a 5-year limited warranty for the drives in India so the cost the partly justified. But Samsung needs to get more aggressive on the pricing to increase adoption. Good news is that I did check with offline market and 500GB model is available for close to INR 12500 and the 1TB version is available for close to INR 20500 which makes the drive a more attractive offering.
| | | | |
| --- | --- | --- | --- |
| Capacity | India Launch  Price | Current Price | Link |
| 250GB (MZ-V8P250BW) | INR 10999 | – | – |
| 500GB (MZ-V8P500BW) | INR 17999 | 14000 | Amazon  |
| 1TB (MZ-V8P1T0BW) | INR 27999 | 25750 | Amazon  |
| 2TB (MZ-V8P2T0BW) | INR 56,999 | 52999 | Amazon  |
Pros
Really fast read and write speeds
Samsung 980 Pro has an edge over competition
5 year warranty
Cons
Lower endurance versus Samsung 970 Pro
A lot of PCIe gen 4 products are starting to hit the market at lower price points