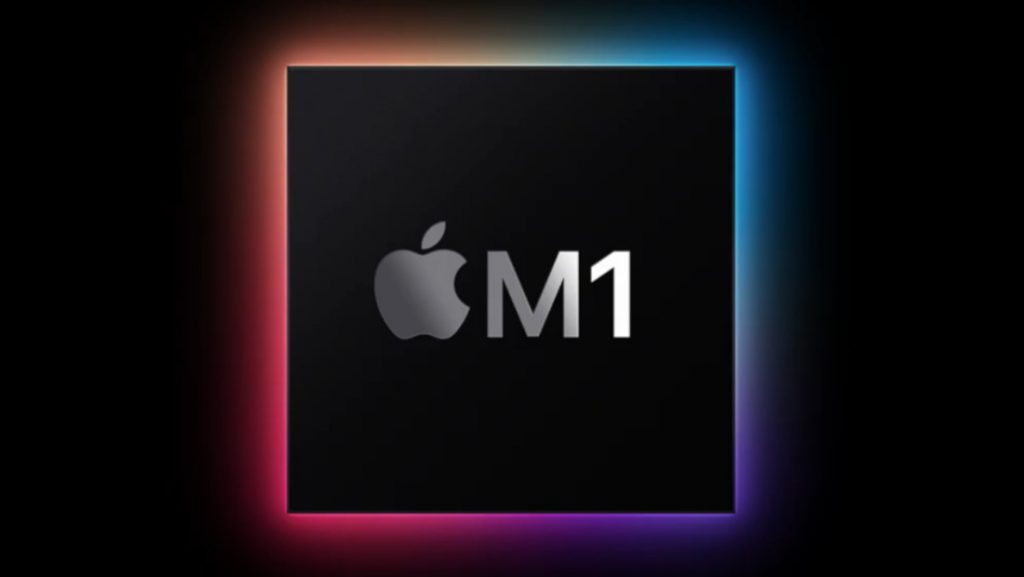 Apple just announced M1, the company's first ARM-based SoC, also known as Apple Silicon designed specifically for the Mac, as expected. The company says that it is the most powerful chip it has ever created. It is the first chip for the PC to be built on 5-nanometer process technology, and has 16 billion transistors, the most Apple has ever put into a chip. This combines CPU, I/O, security, and more into a single SoC for greater performance and power efficiency.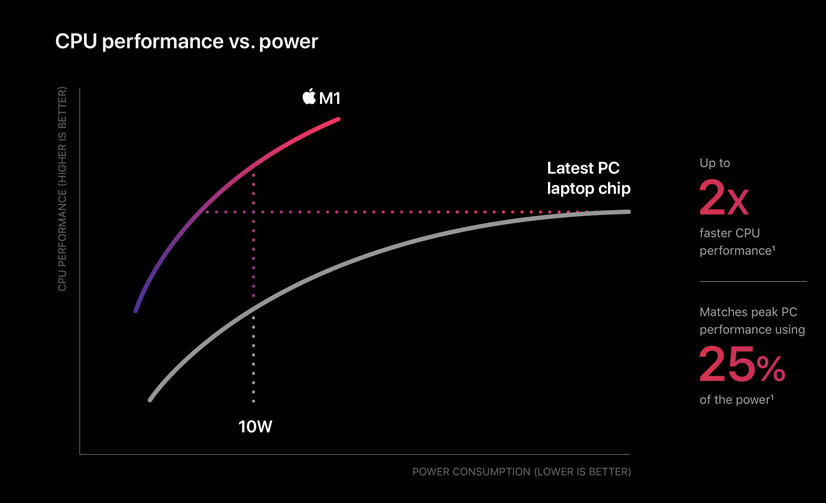 Apple said that it features the world's fastest CPU core in low-power silicon, offering up to 3.5x faster CPU performance, packs the world's fastest integrated graphics in a personal computer offering up to 6x faster GPU performance, and breakthrough machine learning performance with the Apple Neural Engine with 16-core architecture capable of 11 trillion operations per second, offering up to 15x faster machine learning.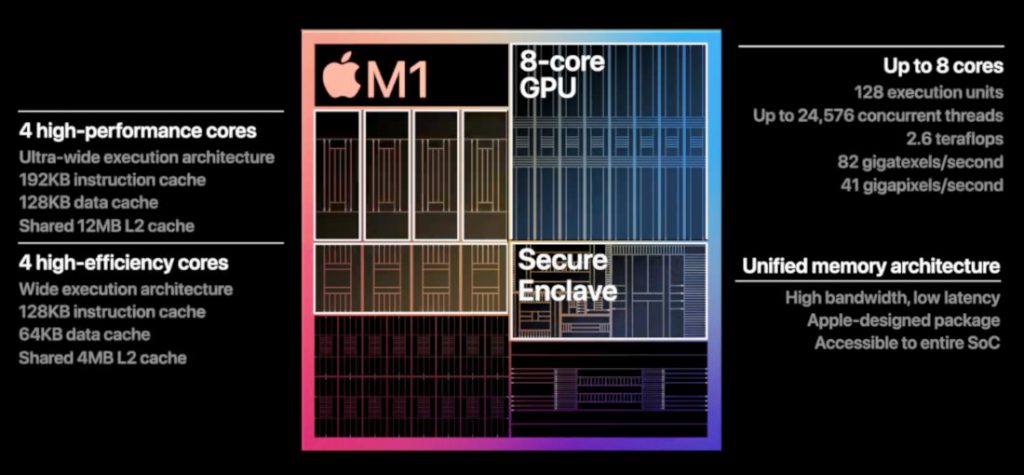 The M1 features an 8-core CPU consisting of four high-performance cores and four high-efficiency cores. They are the world's fastest CPU cores in low-power silicon, says Apple, but doesn't reveal the exact clock speed. The M1 features four performance cores, each designed to run a single task as efficiently as possible while maximizing performance and the four efficiency cores can handle lighter workloads. They use a tenth of the power while still delivering outstanding performance, says Apple.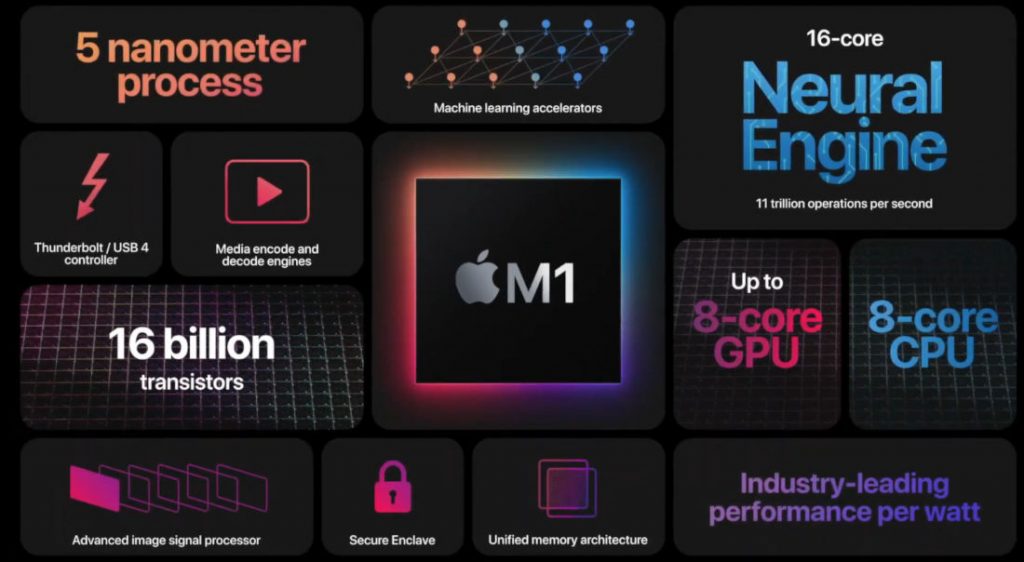 The eight powerful GPU cores are capable of running nearly 25,000 threads simultaneously and can handle extremely demanding tasks with ease, from smooth playback of multiple 4K video streams to rendering complex 3D scenes. With 2.6 teraflops of throughput, M1 has the world's fastest integrated graphics in a personal computer. The M1 also features a unified memory architecture that brings together high-bandwidth, low-latency memory into a single pool within a custom package.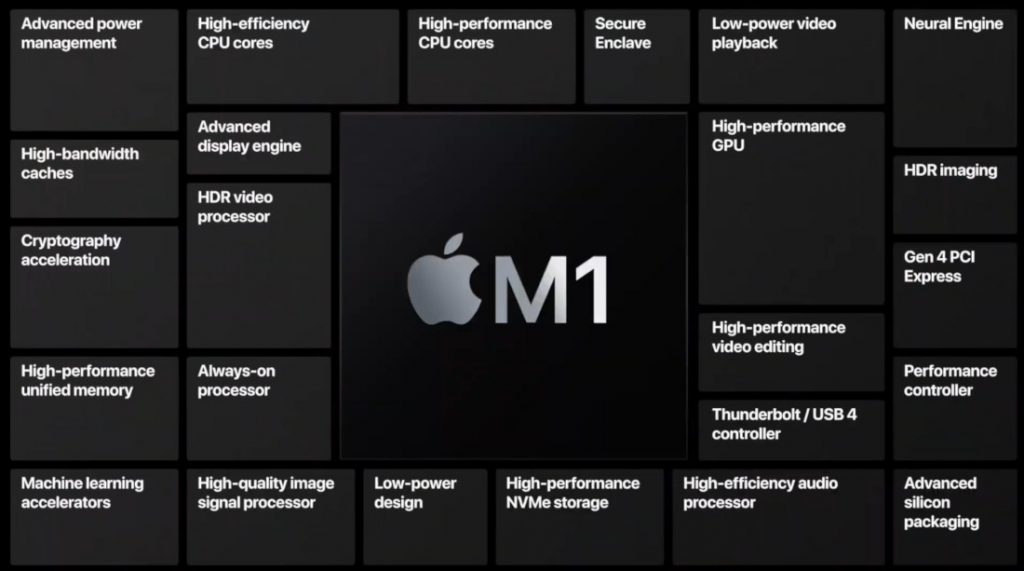 The M1 chip uses powerful custom technologies, including:
Apple's latest image signal processor (ISP) for higher quality video with better noise reduction, greater dynamic range, and improved auto white balance.
The latest Secure Enclave for best-in-class security.
A high-performance storage controller with AES encryption hardware for faster and more secure SSD performance.
Low-power, highly efficient media encode and decode engines for great performance and extended battery life.
An Apple-designed Thunderbolt controller with support for USB 4, transfer speeds up to 40Gbps, and compatibility with more peripherals than ever.
Apple also said that the macOS Big Sur is engineered, down to its core, to take full advantage of all the capability and power of M1. All of Apple's Mac software is now Universal and runs natively on M1 systems. Existing Mac apps that have not been updated to Universal will run seamlessly with Apple's Rosetta 2 technology. And iPhone and iPad apps can now run directly on the Mac.
The Apple M1 chip powers the new MacBook Air, 13-inch MacBook Pro, and Mac mini that were introduced today. Apple said that the transition to Apple silicon will take about two years to complete.