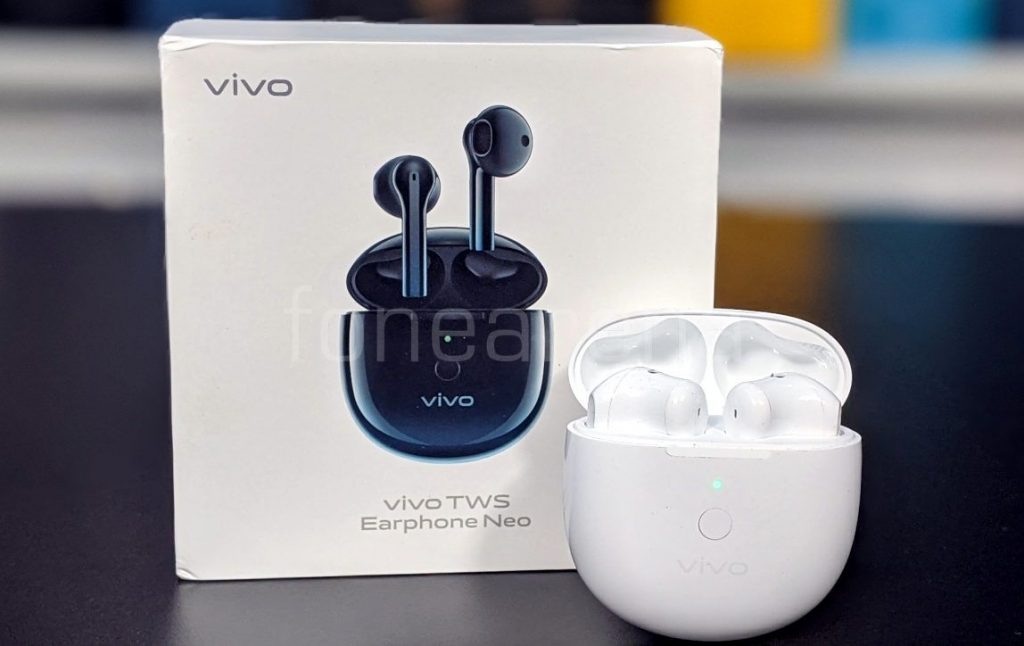 Vivo launched TWS Neo, the company's true wireless earphones in India back in July, soon after was introduced in China as in June. The earbuds feature IP54 splash-resistant body, Bluetooth 5.2 with Qualcomm aptX Adaptive with low latency gaming experience. Does it live up to the expectations? Let us dive into the review to find out.
Box contents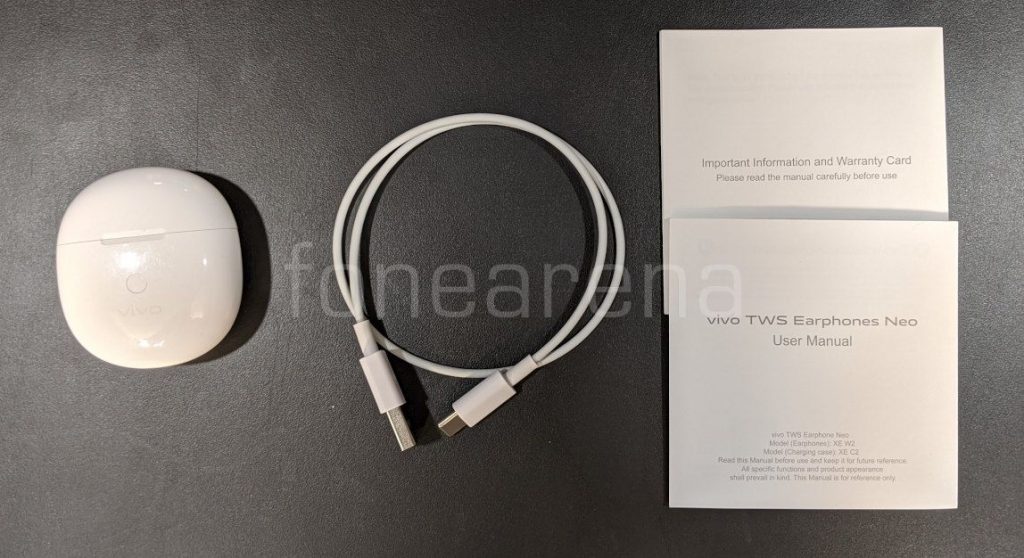 Vivo TWS Neo in Moonlight White colour
USB Type-C Cable
User manual
Design and Build Quality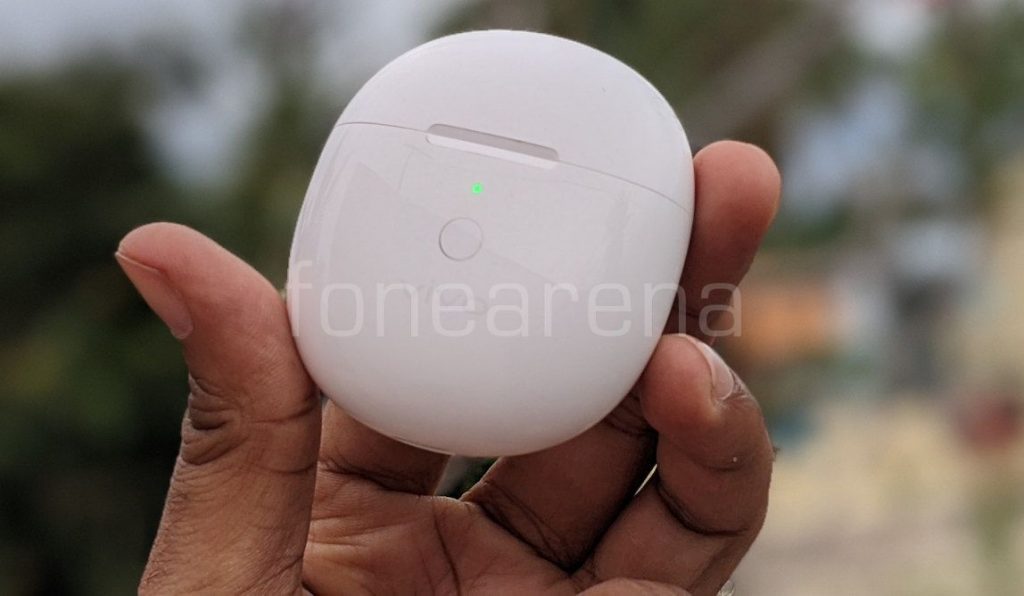 Starting with the design, the headset comes in an egg shaped box that fits in your pocket. There is a function key on the front and a status light. The Vivo branding is also present on the front that is hardly visible in the white colour.  The headset has a plastic finish that is shiny which is prone to small scratches.  The case measures 58.1×51.6×24mm and weighs 45.7 grams , and the earbuds measure 33.95×18.6×16.5mm and weigh about 4.7 grams, which is light.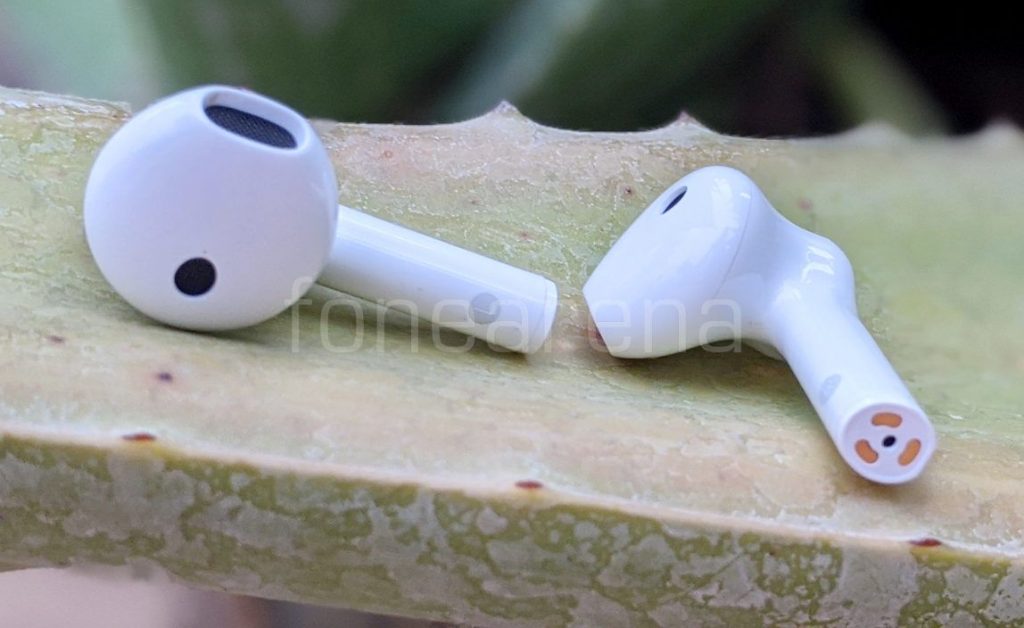 The earbuds feature a half in-ear design that look a lot like Apple Airpods. Unlike the case, the earbuds don't have a shiny finish. The primary microphone is present on the bottom of the headset and the secondary microphone is present on the back. There are touch controls on the back of both the earbuds that lets you control volume, play or pause or skip music, launch voice assistant and accept or reject calls. Since the headset has Optical Sensor for Wear Detection, it can automatically pause the audio when you remove it from your ears and play when you put it back. The earphones also have IP54 ratings for water resistance so that it can withstand splashes or light rain.
Connectivity, Pairing, and Controls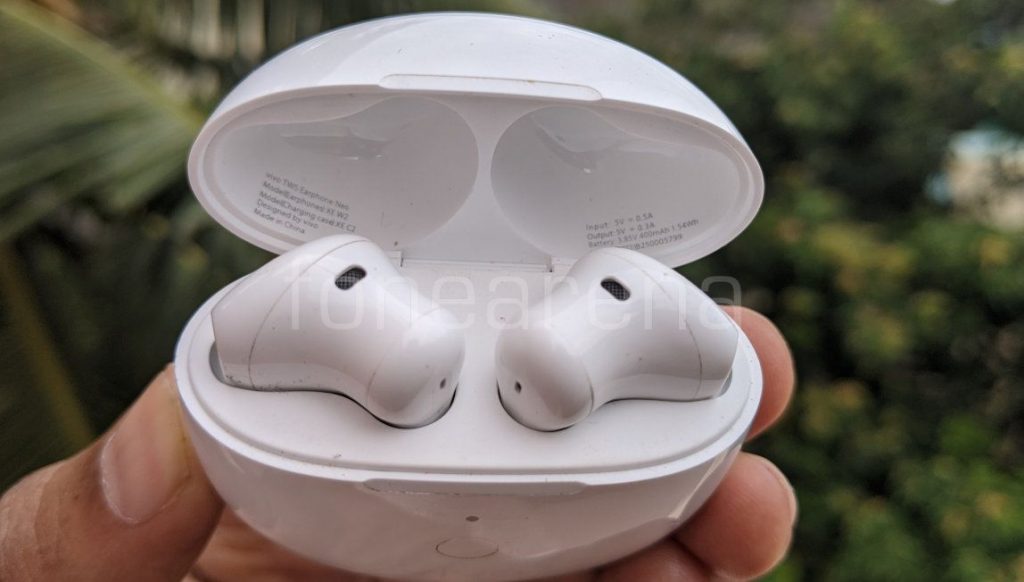 The Vivo TWS Neo supports Bluetooth 5.2 with multi-point connectivity for up to two devices, and the connection range is around 10 meters, which is common in most headsets.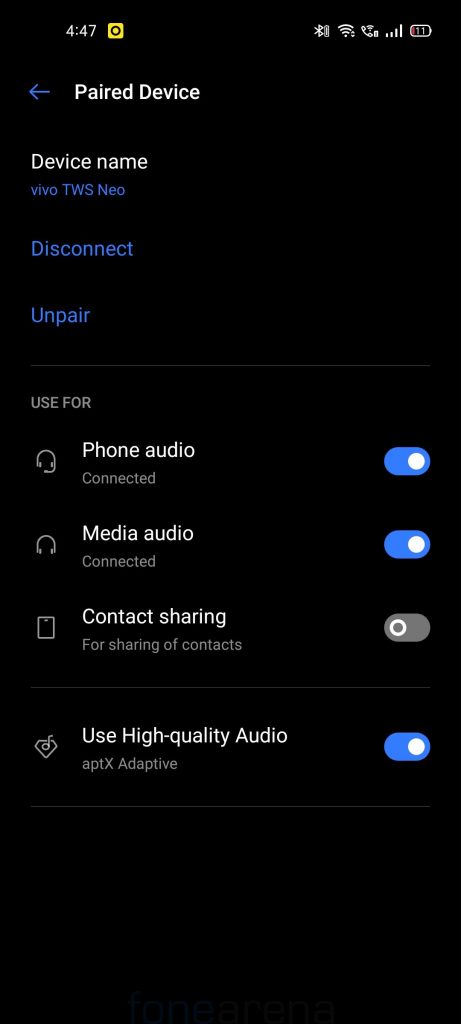 The pairing process is very easy, simply press and hold the function button on the case for 2 seconds, after which the LED on the case should start blinking, this means that Vivo TWS Neo is now ready to be paired to a device. Now open the Bluetooth settings on the phone and it shows up as Vivo TWS Neo, and you can connect to it. As soon as the connection is established, the blinking LED should go off. You can take the earbuds out of the case and start using.
With the Instant Connection feature available in select vivo phones, you just open the charging case to pair them with just one easy click. It also shows the battery life in the case and the earbuds. Find My TWS Neo feature available in select vivo phones lets TWS Neo call for your attention when you've lost it. Find My TWS Neo remembers where your Neo last was and will make it beep through your phone once it comes in range. It has Dual-Channel Transmission 2.0 that allows the left and right earphones to be connected with mobile phone independently, receiving the single channel information from the mobile phone respectively, and keeping the sound synchronized.
We tested it on the Redmi K20 Pro and realme 7 Pro and never faced any pairing related issue. Since the phone pairs with the case and not the headset, you will need the case if you want to reconnect it. The touch controls are easy to access.
Function
Left earphone (L)
Right earphone (R)
Attend Incoming  calls / Hang up during call
Double Tap
Rejecting calls
Press and hold for 1.5 seconds
Call mute / unmute
Press and hold for 3 seconds during call
Volume adjustment
Slide down
Slide up
Play/Pause (default) or Music control
Double tap
On vivo phones that support custom touch settings (slide and double tap), you can customize left and right ear double-tap and slide operations in Settings→Bluetooth→device info. Otherwise, you can use vivo earphones app for Android to change them. You can turn off wear detection by the same way. You get frequent firmware updates for the earphones that are pushed through the app. The touchpad implementation with customization option is good, and the touch area is large enough.
Audio Quality and Call Performance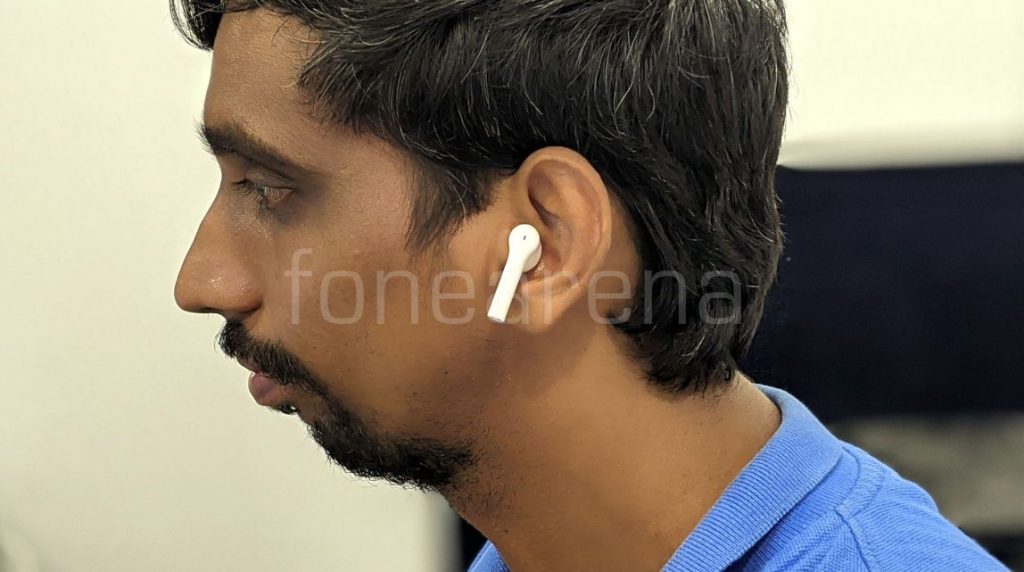 The Vivo TWS Neo pack large 14.2mm driver unit, and further supported by a bio-fiber composite diaphragm and a pure copper voice coil from Daikoku Japan. You can definitely feel the bass when listening to low frequency audio, and also handles the treble quite well even on higher volume, but bass is on the heavier side. It has aptX Adaptive codec that can bring down the latency down to 88ms, which is useful especially when playing games, but the aptX Adaptive codec support is not available on all the phones, so these phones get AAC support. Also, enabling aptX Adaptive will drain the battery quickly
The earbuds offer decent amount of noise isolation, and dual microphones also helps when it comes to voice clarity during calls, which is good even when you are in a crowded, noisy environment, thanks to intelligent noise cancellation algorithm and new aerodynamic duct that effectively alleviates wind noise, even when running or cycling. Audio of the caller is also loud and clear during calls.
It has DeepX Stereo Sound Effects that has been developed for video earphones. It offers three sound effects – Mega Bass, Clear Vocal and Clear High Pitch – and supports most audio apps, says Vivo. These are available
Battery Life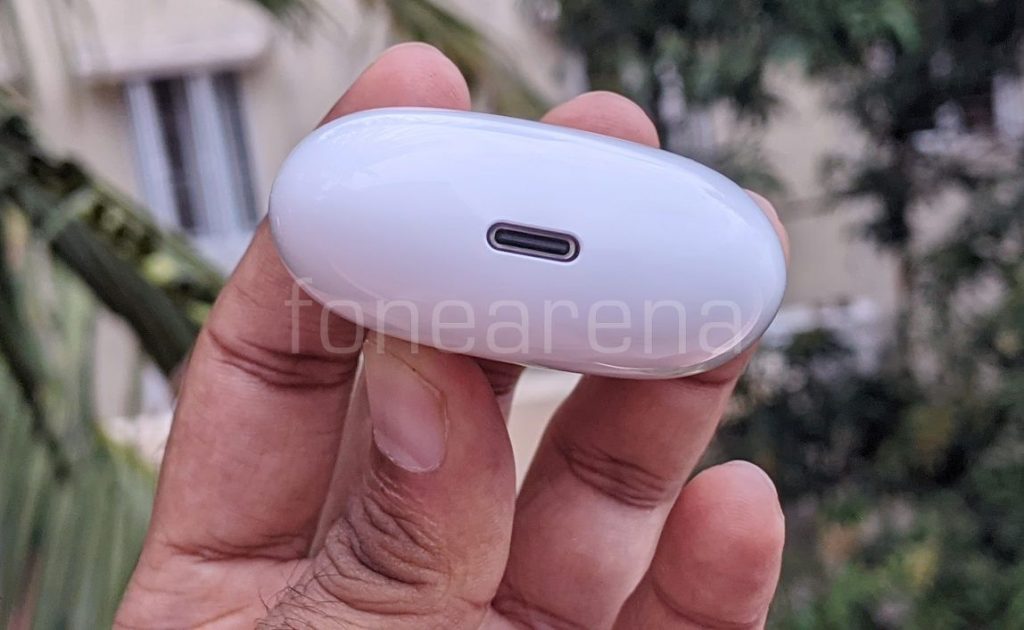 The earphones pack 25mAh  battery that promises about 4.5 hours of standalone battery life with AAC and 2.9 hours with aptX adaptive when listening at 50% volume. Vivo says that the headset uses new Qualcomm low-power wireless chip and new high-performance TI power supply chip for long battery life. During my run with aptX adaptive enabled, I used the headset for over 2 hours with about 60% volume, and had 30% charge left. However, 3 hours of battery life for wireless earbuds is less, mainly when you travel, so you will have to disable aptX adaptive if you need over 4 hours of battery life.
With the 400mAh charging case, it promises up to 22.5 hours of battery life. We got about 18 hours or four additional charges with mixed aptX adaptive and AAC use. The orange light in the case indicates that the remaining battery  is<50% and the green light represents it is ≥50%. It takes about one and half hours to charge the headset fully.
Conclusion
Overall, the Vivo TWS Neo is a good Bluetooth true wireless earbuds for a price of Rs. 5,990. It has a lightweight, compact design, offers good audio  and good calling experience with AI call noise cancellation. The earbuds also come with aptX Adaptive, however this doesn't work on all the phones and some features like DeepX sound effects also work only with select vivo phones. It is available from Amazon.in and Flipkart as well as vivo store online.
Pros
Bluetooth 5.2 with multi-point connectivity and aptX Adaptive
Decent audio quality and call quality
Decent battery life
Cons
Glossy case is prone to scratches
aptX Adaptive is not available for all the phones
Customized features such as DeepX sound effects work only with compatible vivo phones