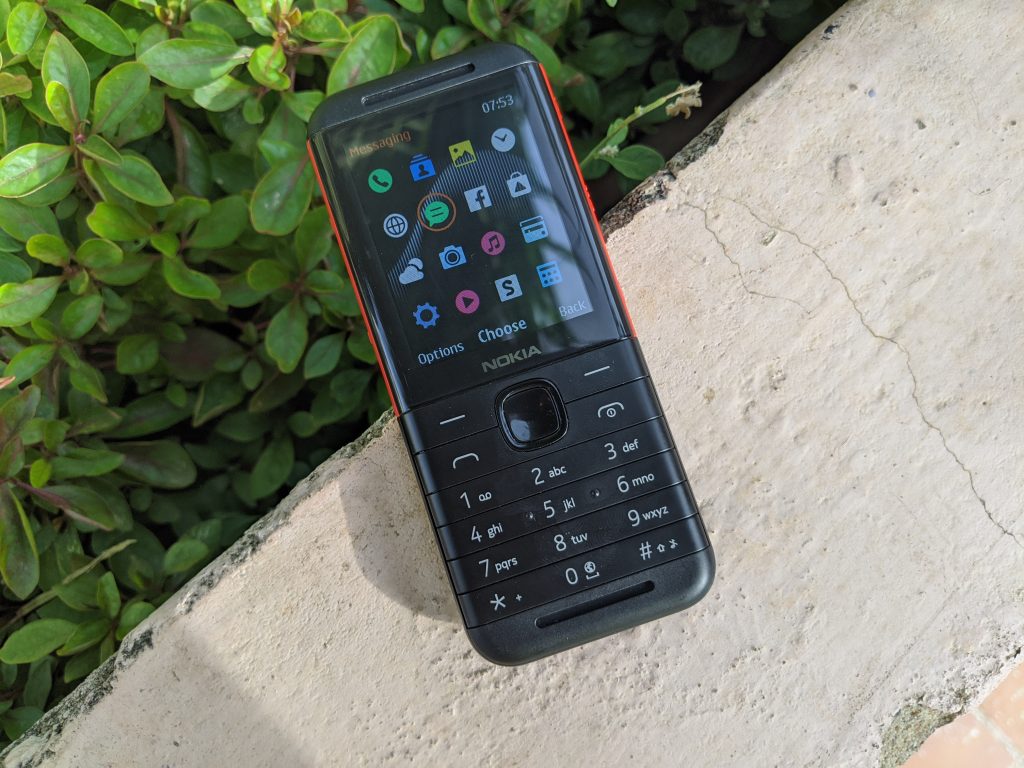 Back in those days the name NOKIA meant TRUST, especially among us Indians. Even a small detail like the boot animation of shaking hands added a sense of identity and created a deep attachment with the masses. Most smartphone users today have a sweet past with Nokia phones, including their flagship Symbian phones. Betting on this nostalgic sentiment, Nokia, with HMD global, started their new retro series with the introduction of Nokia 3310, Which was followed by Nokia 8810 4G and the iconic flip phone Nokia 2720(not made available in India).
Now in 2020, Nokia has introduced the Iconic XpressMusic legend from 2007, the Nokia 5310. Back in 2007, this phone was considered a compact music specialist, competing against Sony walkman phones. It featured a Dual speaker arrangement with dedicated music control keys. Will Nokia 5310 2020 match the legacy of the name it got from 2007 legend? Will this phone justify the Rs. 3,399 price tag? Could dropping the iconic XpressMusic branding be a signal? Let's get everything cleared below. Welcome to the review.
Box contents
Nokia continues packing their products in minimal looking clean white boxes with required basic information printed around and the same continuous with Nokia 5310 2020. Box contents are:
Nokia 5310 2020
5V – 0.550A Charger
Battery
Headset
User Manual
Key features of Nokia 5310 2020
Stereo Speakers
Wireless FM Radio
MicroSD slot – upto 32GB
Torch
30 days standby
Specifications
SAR Value – 1.5 W/Kg in 1g tissue mass
2.4-inch (320 x 240 pixels) QVGA display
MT6260A processor
8MB RAM, 16MB internal storage, expandable memory up to 32GB with
microSD
Dual SIM
Series 30+ OS
VGA rear camera with LED flash
3.5mm audio jack, Wireslss FM Radio, Dual front facing speakers
Dimensions: 123.7 x 52.4 x 13.1 mm; Weight: 88.2g
2G (900/1800), Bluetooth 3.9, micro USB
1200mAh removable battery with up to 7.5 hours talk time (Single SIM &
Dual SIM) and standby time up to 22 days (Dual SIM), up to 30 days (Single SIM)
Design and Feel
Today's phones are mostly glass slabs, so we can't see much variation out there. When it was the era of phones with hardware keypads, manufacturers were having a lot of fun by making completely different looking phones. Nokia 5310 2020 has no exception and it looks good in spite of being a feature phone powered by Series 30+. Phone feels very light to hold and is made up of plastic with matte texture which adds a good grip to it.
The phone's front is busy from top to bottom with stereo speaker setup and a 2.4-inch display, Nokia branding between display and T9 keyboard. The T9 keyboard feels flushed along the surface and feels perfect to click without any error.
Easy to use hot keys are present along either side of the phone. Right side houses a volume rocker and Multimedia controller at left, which is unlike classic 2007 xpressmusic. As our unit is Black with Red, it was not in favor of getting dirt and strains. Bottom of the phone is clean and has a small slit near the back cover to access the battery and SIM section. At the top of the phone a 3.5mm jack and Micro USB port for charging and data transfer. Rear is clean and minimal with Nokia branding in the middle and a camera with flash above.
Removing the back case provides access to battery and SIM slots. Nokia 5310 comes with dual MINI SIM support and MicroSD slot. Most users with nano and mini SIMs around would need a SIM adapter like this.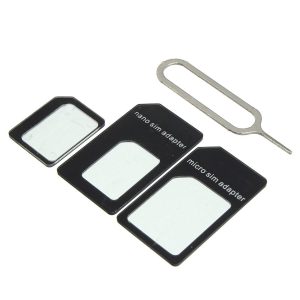 The Nokia 5310 comes in White with Red and Black with Red colors, is priced at Rs. 3399 and will be available from Amazon.in and nokia.com/phones.
Display
Nokia 5310 2020 comes with a 2.4-inch (320 x 240 pixels) QVGA display and is protected by a tough polymer, but I strongly recommend a screen protector to be installed before use. I managed to scratch it easily.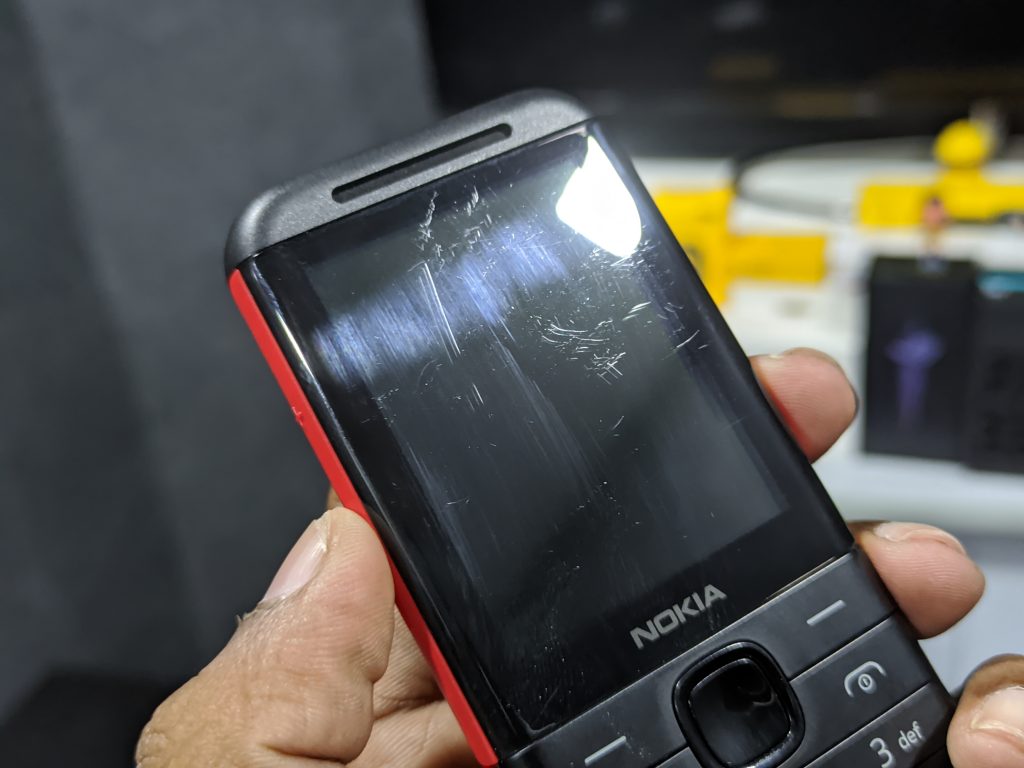 If you had an idea of use themes, sorry currently series 30+ do not support themes. Display is good for a feature phone and Sunlight legibility is good as well. Brightness should be handled manually with respect to the environment, due to the lack of ambient light sensor.
At max brightness visibility under direct sunlight is good and during indoor we can manually switch it to low. When Always on display and Ambient display are getting common now, Nokia 5310 2020 comes with Glance screen as option. Glance — The name which Windows phone users won't forget. Glance screen works without any issue and stays for a predefined time and then display turns off to save power. To check time or notification details on glance screen pressing the power button will help. Also, a predefined timeout option is available and which can't be changed manually.
Only two wallpapers come preloaded and users can use their own pictures as well.
T9 Keypad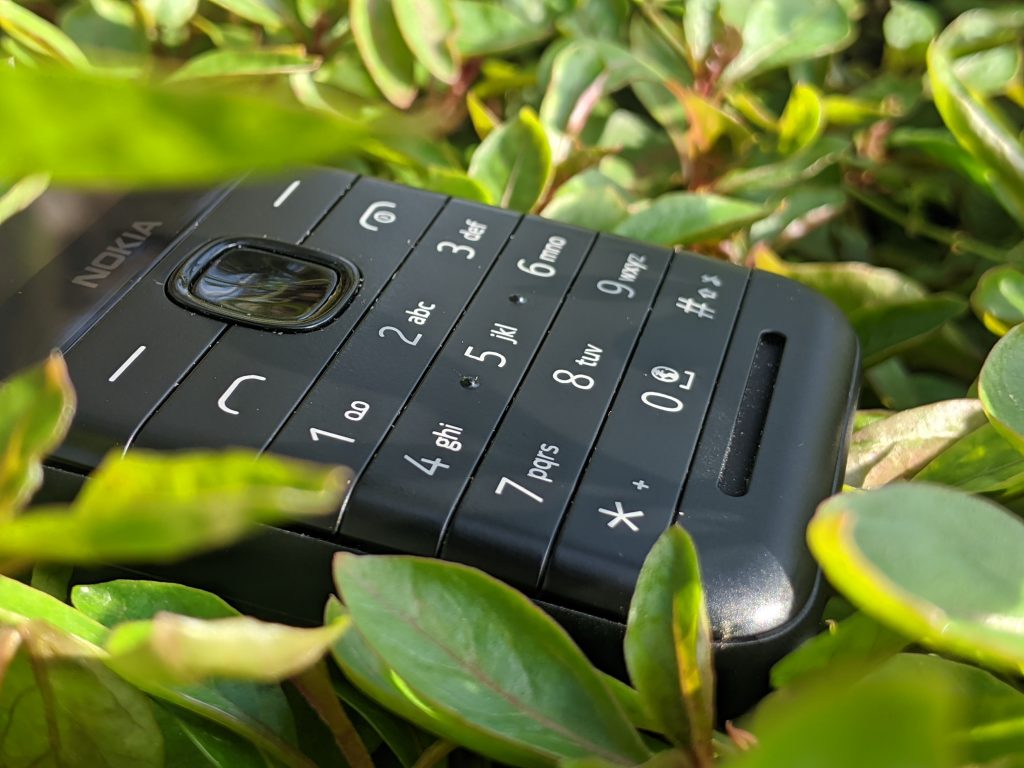 Most 80s and 90s kids should still have their muscle memory hidden related to the T9 keyboard and can be stimulated by using this phone. Some even type messages on t9 boards keeping their eyes closed! Board is good with perfect distance between buttons. Was easy to type without issues. Primary keys which we use the most at top are very good and responsive. They did not show any issues related to failed entries or multiple entries on single click. Backlight is even and good.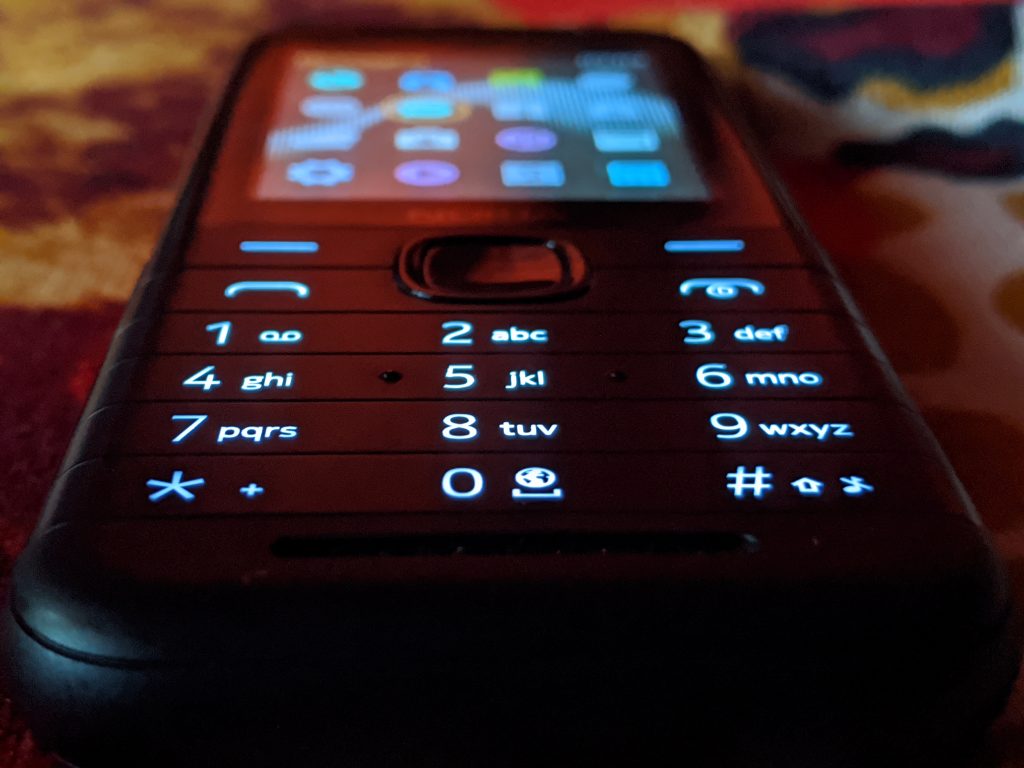 Overall experience is very good compared to phones from lava and Jio as Nokia t9 dictionary is faster and comfortable.
Network Connectivity and Notifications
Being a feature phone, the main area to be considered is phone calls and SMS. Nokia 5310 2020 did good in this area as network reception was good without any doubt and also call quality is great. Vibration feedback for call connect is welcome and this helps us get notified that the person on the other end has attended the call. This is very common among android phones today. Calls through loudspeakers are very loud and clear. Speakers in this phone are good for the price tag. Both the speakers are nearly identical in strength but strangely earpiece speakers are being used for calls through loudspeakers. Mobile data worked fine and was able to use the App store, Opera Mini and preloaded apps like FaceBook. During calls accessing dialer is not that easy. Conference call initiatives are painful. Vibration is very strong and good. I am sure that users don't miss a call in vibration only mode. Speaker is the key area of this phone. Speakers are very good for listening to music and also calls. Very loud and makes sure won't miss calls in a louder environment.
Bluetooth 3.0 helps in transferring data and music. Works good without any issue.
Software and Performance
Series 30+ is completely different from that of the regular Series 30 and 40. They were Java based and supported more games and apps. Series 30+ is completely feeling new and immature and needs more work to be done to fix missing things.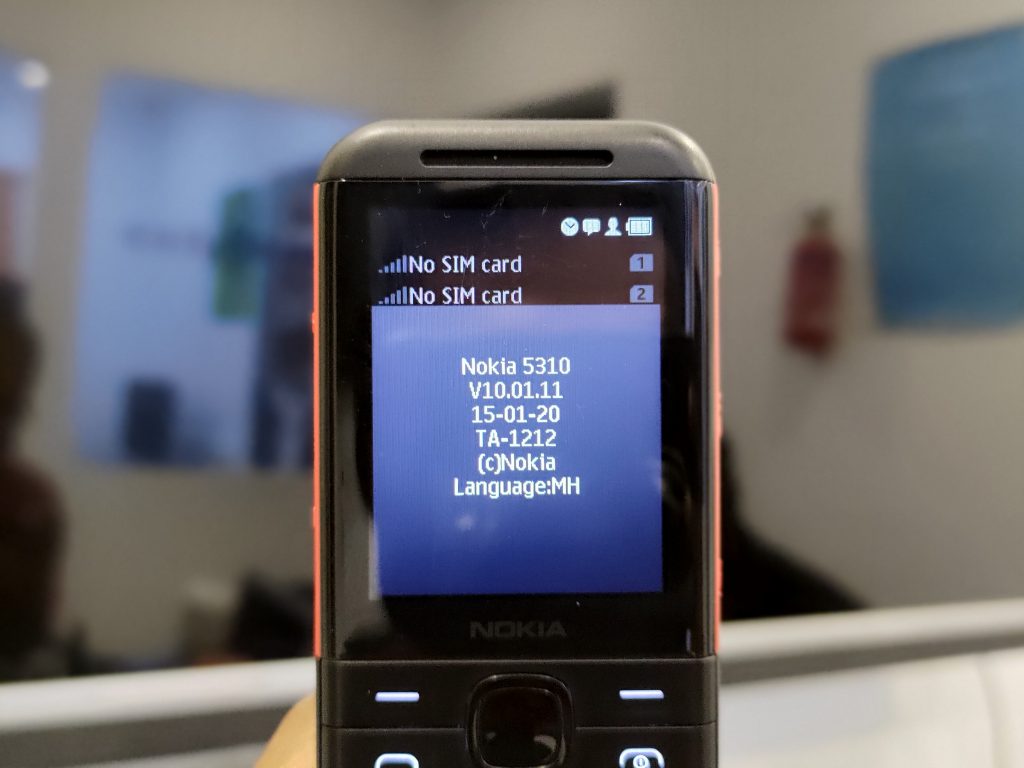 Managed downloading few games and tried playing those. Everything worked fine and also try searching as, Games for Series 30+.
Music player is very basic and has very limited options. Other system applications too worked without any crash or issues.
Nokia 5310 2020 is powered by MT6260A processor and 8MB RAM with 16MB internal storage. Phone is smooth in performance until we fill the external MicroSD card. Phone storage can be increased up to 32 GB with the help of microSD. I personally used a 16GB card with 4GB of music and few more Series S30+ apps. There is no heating issue with the device as well.
Multimedia
The name Nokia 5310 is well known for the XpressMusic trademark it owned back in 2007, But the current version is not exactly the same. Music experience through loudspeaker is good for sure but that too requires few tweaking in equalizer.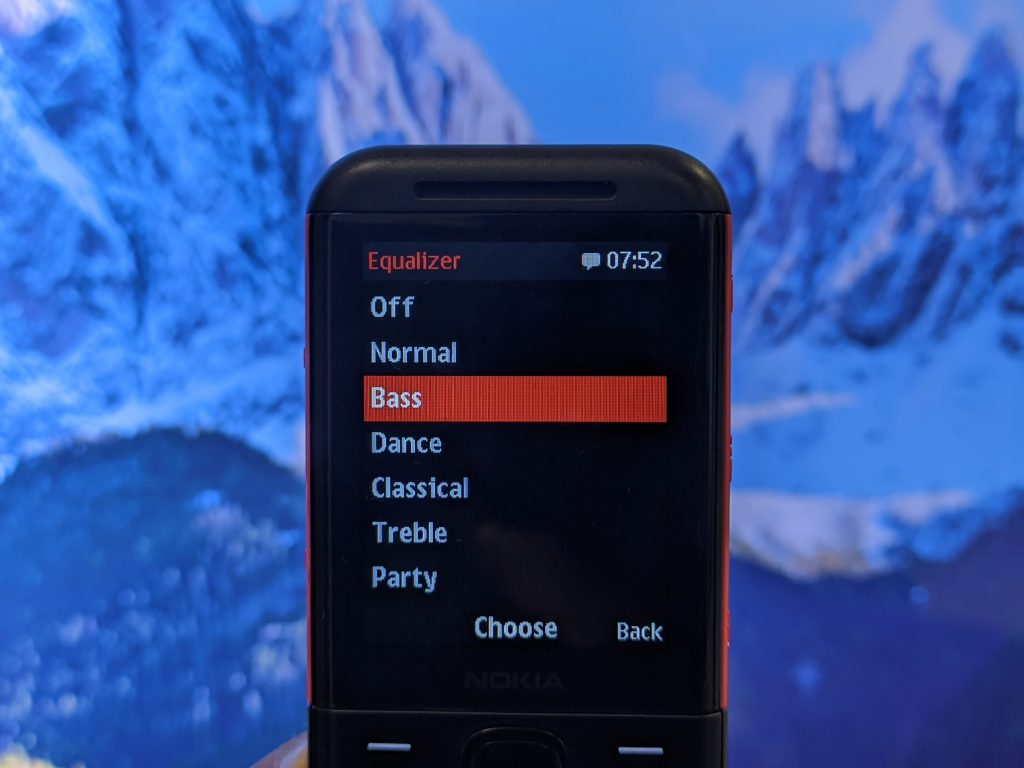 Music experience through speak is good if equalizer is set at BASS and through headphones is average overall. To listen through headphones I recommend using CLASSIC or NORMAL in equalizer. (Note: You can't create your own equalizer Profile)
Stock Music Player is poor in options and those who are coming from Series 40 or old Nokia feature phones may feel it annoying. Comes with limited options users from past feature phones won't spot basic options like – now playing or even grouping songs based on ARTISTS, ALBUM, GENRES etc are not available. Even the option to create your own PLAYLIST is missing. Only users can add songs to FAVOURITE SONGS.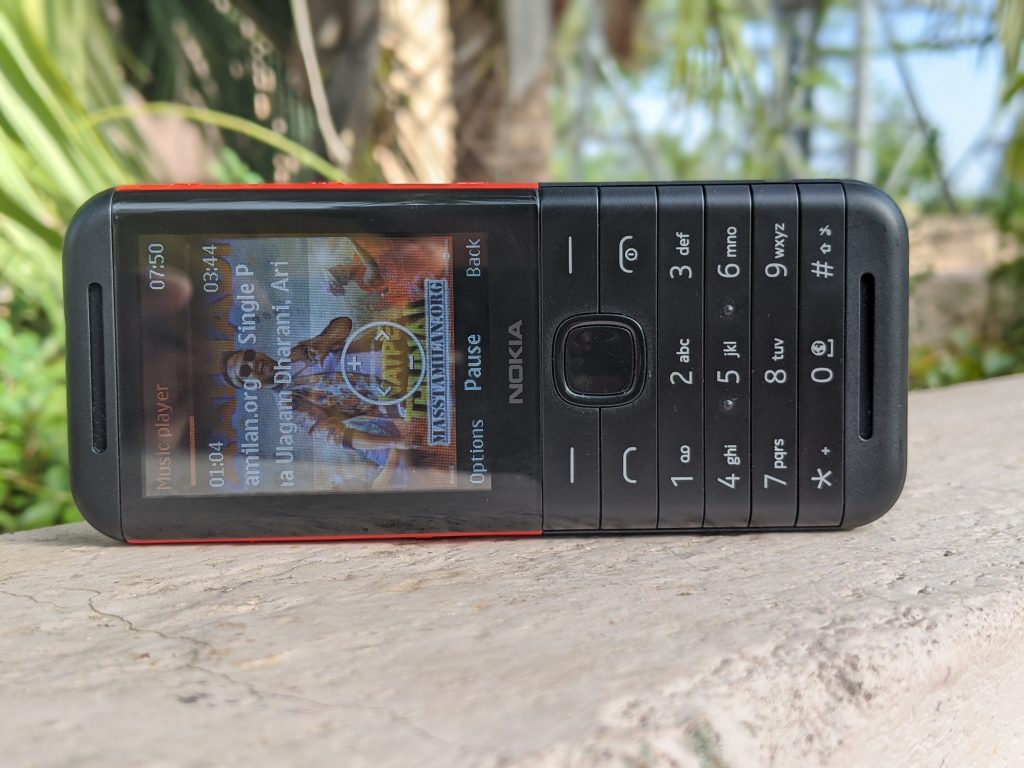 Music player provides options to check ALL SONGS, FAVOURITE SONGS, EQUALIZER, RECEIVED, ADD TO FAVOURITES, USE AS TONE and in SETTINGS option to enable SHUFFLE and REPEAT are available.
Nokia 5310 2020 comes equipped with a good Stereo Speaker setup. Audio output is loud and good considering its price and also stereo effect can be felt very well. Even at maximum volume levels output was good and distortions were less. I even tried placing it next to Pixel 2 XL and felt Pixel's output at maximum volume to be less loud but good in clarity whereas Nokia 5310 made louder output with compromise in clarity. I would personally recommend to use loudspeaker volume around 80%.
Video recording and playback works fine which hardly users will prefer in this phone.
Wireless Music experience is good as Nokia 5310 2020 comes with Bluetooth 3.0 and supports A2DP. Stereo output is very good and can be felt through better headphones. I personally tried using Neckband as well as true wireless headphones.
Camera
Camera is not a key selling point for a feature phone. Seeing a VGA camera with flash in the spec sheet made me like "Why is it there?".
Nokia could have added a 2MP shooter rather than VGA. At Least the flash acts as a torch when needed. Day time photos with VGA sensor is decent and can be helpful at times.
Night mode is gimmicky and nothing special with it. Tried a few shots in Night mode and no difference with that of normal. Using flash can help getting some details.
Video recording can be done at QCIF which most users won't prefer. But surprisingly it will look good in low resolution display of Nokia 5310 2020.
Battery
This will be a key area for a feature phone and Nokia 5310 2020 did not fail. 1200 mAh battery brings enough juice to keep this machine running more than a day on heavy usage. Painful area is charging it with the inbox charger. I drained the phone until it turned off and then connected it to the stock charger and it took around 3hrs to charge it full. That too if the user prefers to keep the phone stay on during the charging process it can increase charging time further like 15mins more than usual.
Conclusion
Nokia 5310 2020 will be a good secondary companion for smartphone users. This phone will feel good for Wireless FM and also music through the loudspeaker. A lack of 4G bands and Hotspot may disappoint a group of users, especially those with JIO SIMs.
Again, we have many other options around for the same purpose. We even have in-house options like the Nokia 110, Nokia 105, Nokia 106, Nokia 3310, Nokia 150, Nokia 216 and finally the Nokia 8110 4G for the role of secondary phones. Samsung Metro series like Metro XL, Metro 313, Metro 351 and Guru music, Guru FM Plus, Guru Music 2 etc are also good to consider.
Pros
Good Battery Life
Loudspeaker
Lightweight and comfortable design to hold
Dual Mini SIM + MicroSD
Cons
Music player
Camera
Series 30+
SAR value
The Nokia 5310 comes in White with Red and Black with Red colors, is available from  Amazon.in  and nokia.com/phones.