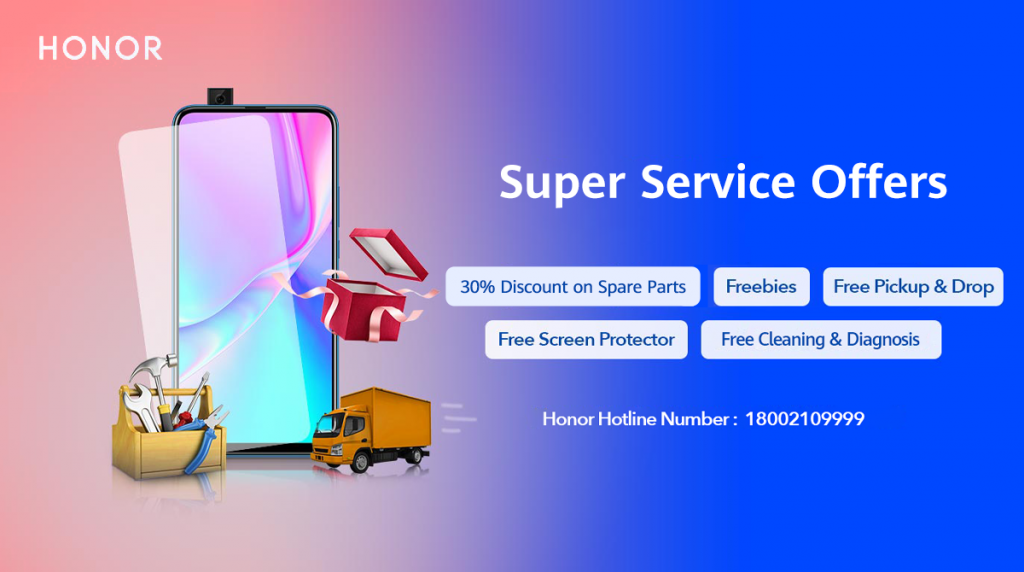 HONOR has recently announced a service campaign called 'Super Service Offers' for its consumers, where it offers 30% discount on smartphone spare parts, other free-of-charge services such as Cleaning and Diagnosis, Screen Protector and Application, and even giving out goodies, which can be facilitated by consumers during their service visits. 
Valid till June 30th!
Additionally, HONOR is also providing free pick-up and drop facility on all of its smartphones and select smartwatch models. The special offer under this campaign will be valid until 30th June 2020 and applicable to all popular HONOR smartphones. As per the company claims, this service offers is aimed at promoting stay at home. 
Free battery replacement!
The consumers will be entitled to avail a flat 30% discount on the cost of spare parts, available on all the smartphones and at both exclusive as well as Authorized Multi-brand Service Centers. Additionally, customers will also get free battery replacement if they are getting their phone screen replaced. 
The spare parts replaced during the out-of-warranty repair, will also carry a warranty for 90-days from the date the repaired device is delivered/picked-up.
Avail the Phone Cleaning and Diagnosis service
The HONOR smartphone users, whether opting for repair service or not, can avail the Phone Cleaning and Diagnosis service at our Exclusive Service Centers. Applicable on both In and Out of Warranty smartphones, the service includes software and hardware diagnosis with cleaning to remove any unwanted oils, dust, and dirt present on your device. 
Further, testing phone's major hardware functions, including the cameras, battery and charging, screen display and appearance, and the performance of applications, network connections, power, etc. will be a part of this free of a charge service package.
The HONOR Indian customers can call at 18002109999 (Toll-free number) and schedule the pick-up request with Authorized Service Centers.