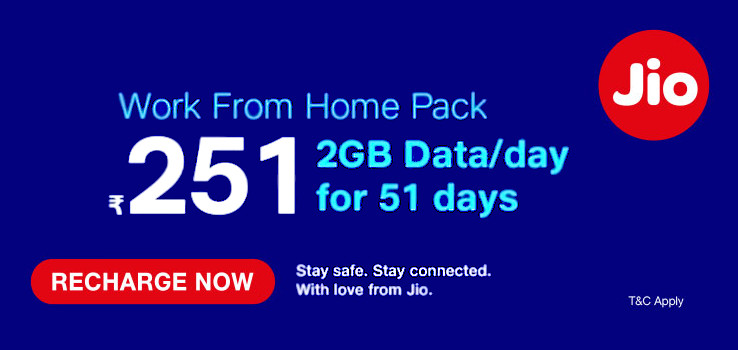 People are working from home due to the outbreak of Coronavirus and during this period, the consumption of data will be more than usual. Mobile operators and internet service providers are offering more data and speed as a result of this and on similar lines, recently, ACT Fibernet offered a free upgrade to 300Mbps speed and Unlimited FUP till March 31st. Now, Reliance Jio has also announced a prepaid 'Work From Home' plan and is offering double data for existing Jio Fiber users.
The 'Work From Home' prepaid plan costs Rs. 251 and offers 2GB of 4G data per day for 51 days. However, this plan does not include any voice or SMS benefits and offers only 2GB of data per day for 51 days. This was previously offered as Jio Cricket Season Pack. Existing Jio users will also get double-data on 4G add-on vouchers and these will include non-Jio voice calling minutes as well.
Similarly, on the broadband side, Jio will provide Basic JioFiber broadband connectivity with a speed of 10Mbps wherever it is geographically feasible without any service charges. Also, the company will offer home gateway routers with a minimum refundable deposit.
Furthermore, existing JioFiber users will get double data across all plans. There is no information until when Jio will offer double data. Other mobile operators and internet service providers are expected to come up with a similar announcement soon. We should know more information in the coming days.
Reliance Jio in a media statement said:
Reliance Industries Ltd. (RIL) has responded to its call-of-duty to be at the service of the nation 24×7 in our collective fight against Covid-19. RIL has already initiated multi-pronged prevention, mitigation, and ongoing support strategy that is comprehensive, sustainable, and resilient. This approach can be ramped up further to scale as required by the nation.
RIL has deployed the combined strengths of Reliance  Foundation, Reliance Retail, Jio, Reliance Life Sciences, Reliance Industries, and all the 6,00,000 members of the Reliance Family on this action plan against COVID-19.