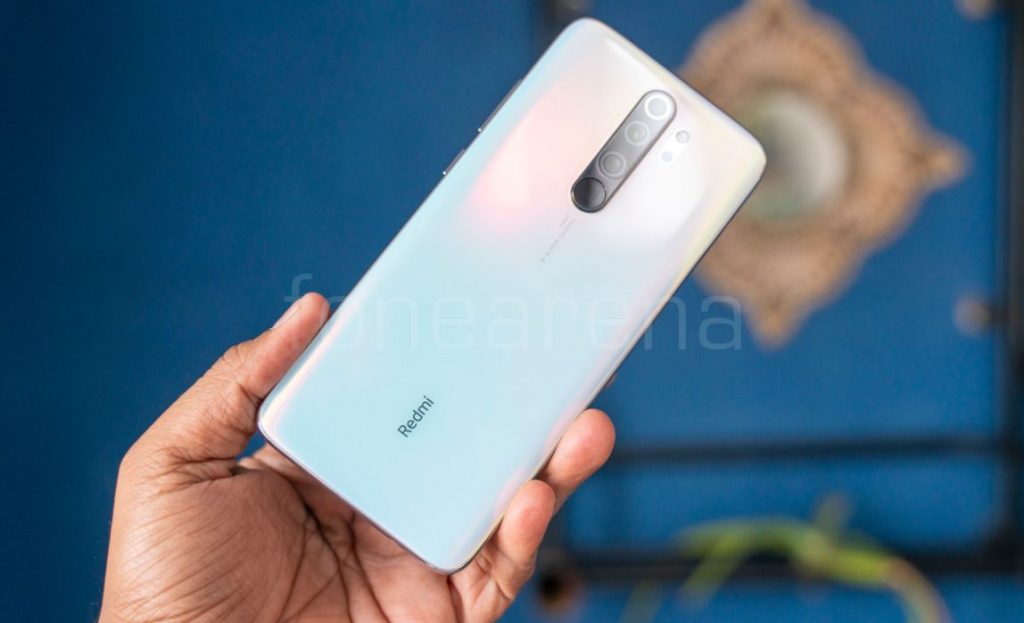 IDC India has reported a record 46.6 million units for smartphone shipments in Q3 2019, which calculates to a 9.3% YoY growth and a 26.5% growth compared to the Q2 this year. This record was largely due to the multiple online sales festivals, new smartphone launches and price corrections on many important models.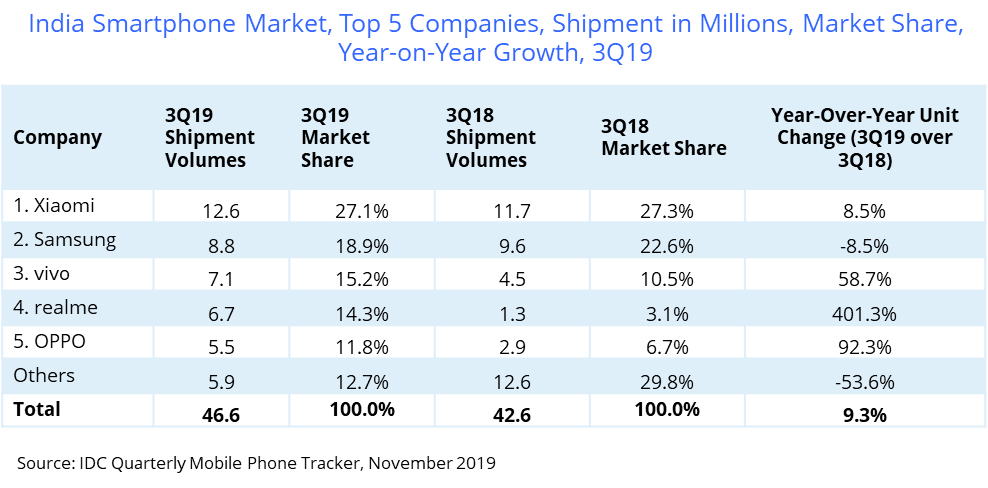 Online sales continue to increase in India with the online channel taking a share of 45.4%. Offline channels on the other hand, continue to decline with a 2.6% decline YoY. Offline channels were simply not able to match the lucrative offers that online channels provided like No Cost EMI's and financing options.
The low end market of Rs 15k contributed for 80% of all sales in Q3 2019. However, it lost a 5% share to the mid range segment which saw double the shipments from Q3 2018 with phones like OnePlus 7, Redmi K20 Pro and vivo V15 Pro proving to be really popular. The Rs. 15K-20k segment saw a good growth of 47.8% YoY growth with strong demand for the Galaxy A50, Redmi Note 7 Pro and vivo Z1 Pro.
The premium segment continued to be dominated by Apple with a market share of 51.3%. This was largely due to price drops on previous generation models like the iPhone XR, iPhone 8 and iPhone 7 (128GB) along with strongly positive reviews for the new iPhone 11 series.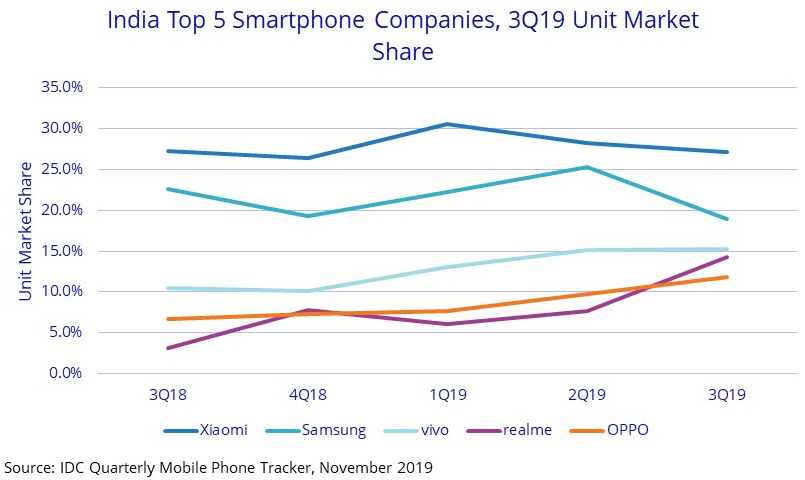 Xiaomi remained as the market leader, having its highest ever sales figure of 12.6 million units, growing at 8.5% YoY. The most popular phones were the Redmi 7A and Redmi Note 7 Pro with the K20 series being popular in the Rs. 20k-35K range. Xiaomi also maintained its position as the number one online seller with 40% market share.
Samsung was the only one of the top 5 companies to report a decline of 8.5% in Q3 2019. This sharp decline was largely due to the late refresh of the Galaxy A series for the Diwali quarter. However, the new M30s reported strong shipments in the beginning of the quarter.
Vivo came strong in 3rd place with 58.7% growth in Q3 2019, thanks to its affordable Y series (Y12, Y91/i). The newly launched Z/U series accounted for 20% of its smartphone shipments giving Vivo a market share of 8.2% in Q3 2019.
realme climbed to 4th place in smartphone sales, thanks to its affordable C2 model and its newer 5 and 3i series. The company saw its smartphone shipments at 6.7million units that calculates to an incredible 401.3% growth compared to Q3 last year.
OPPO went down to 5th place, even with a growth of 92.3%. Its Reno 2 series proved to be popular within the Rs. 20k-35k segment. But its online exclusive K series on the other hand, suffered due to competition from Xiaomi and realme.
Regarding the IDC report, Upasana Joshi, Associate Research Manager, Client Devices, IDC India said :
The continued aggression by the online platforms with attractive cashback and buyback offers as well as affordability schemes like No Cost EMIs and financing options were key in taking the share of the online channel to a record high of 45.4% with YoY growth of 28.3%.
Commenting on the forecast for India smartphone sales, Navkendar Singh, Research Director, Client Devices & IPDS, IDC India said:
We expect the smartphone market to see only mid-to-high single digit YoY growth for the year 2019. This can be attributed to a strong undercurrent of passive consumer sentiment and muted shipments in the last quarter of the year due to a record 3Q19 when channel stock levels went up. Additionally, the unabated aggression of the online players will continue to be a challenge for the offline channel, which remains the largest channel for smartphones in India. All these give us an indication of sluggish growth next quarter.