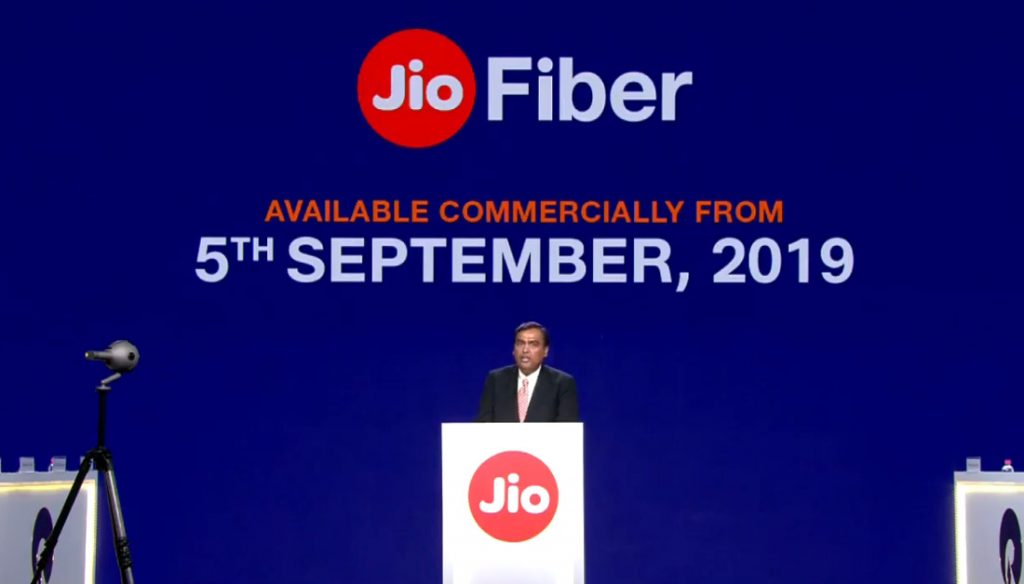 Realiance Jio just announced the launched of JioFiber, its Fiber to the Home service, across 1,600 cities in India, as it has promised last month. As it had announced earlier, plans start from 100 Mbps and go all the way up to 1 Gbps and are priced between Rs. 699 and Rs. 8499 (GST additional on all plans, as applicable). Additional benefits which will be included with all the plans include free voice calling all over India, TV video calling, latency-free Gaming, and Device Security with Norton Device secure for up to five devices for an entire year. Every user will get a Set Top Box even with monthly plan. Jio says that users will have to pay Rs. 2500 (includes Rs. 1500 security deposit and Rs. 1000 non-refundable installation charges.).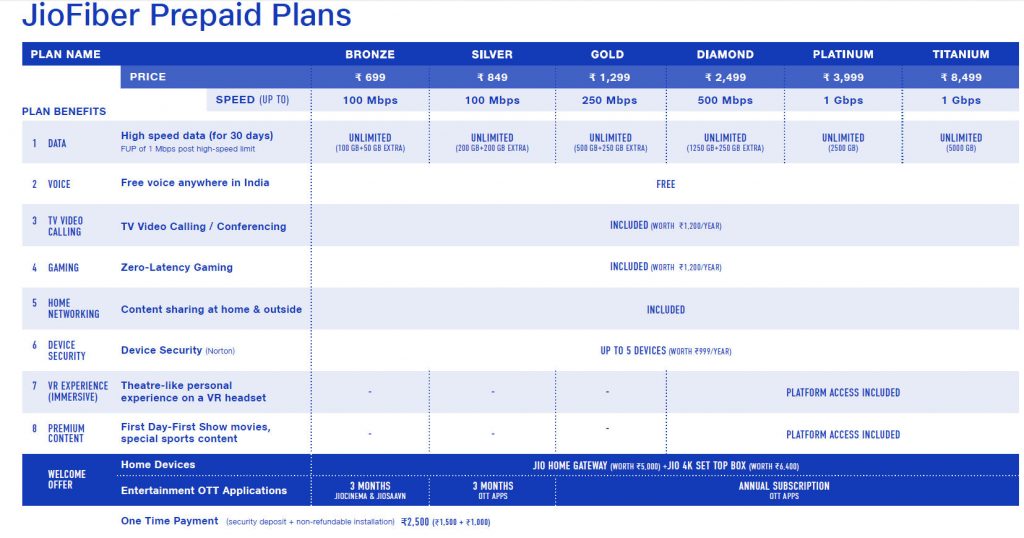 100Mbps Bronze plan at Rs. 699 comes with 100GB data and 50GB extra data
100MBps Silver plan at Rs. 849 offers 200GB data and 200GB additional data
250MBps Gold plan at Rs. 1299 offers 500GB data with 500GB additional data
500Mbps Diamond plan costs Rs. 2499 and offers 1250GB data with 250GB extra data
1GBps Platinum plan costs Rs. 3999 and comes with 2500GB data
1GBps Titanium plan at Rs. 8499 offers 5000GB data
Extra GBs are available for 6 months as introductory benefit, said the company. Users on 1Gbps plans also get VR experience with VR headset and first-day first show movies and special sports content next year.
For Gaming, Device Security, Home Networking, VR Experience, Video Content services, provided by RCITPL (a platform service company) and TV Video Calling & Conferencing, subscribers need to purchase compatible devices.
JioFiber users will have access to 3, 6 and 12 month plans that provides substantially higher value. Through bank tie-ups, Jio will provide attractive EMI schemes, so customers get the benefits of annual plans by paying only monthly EMI.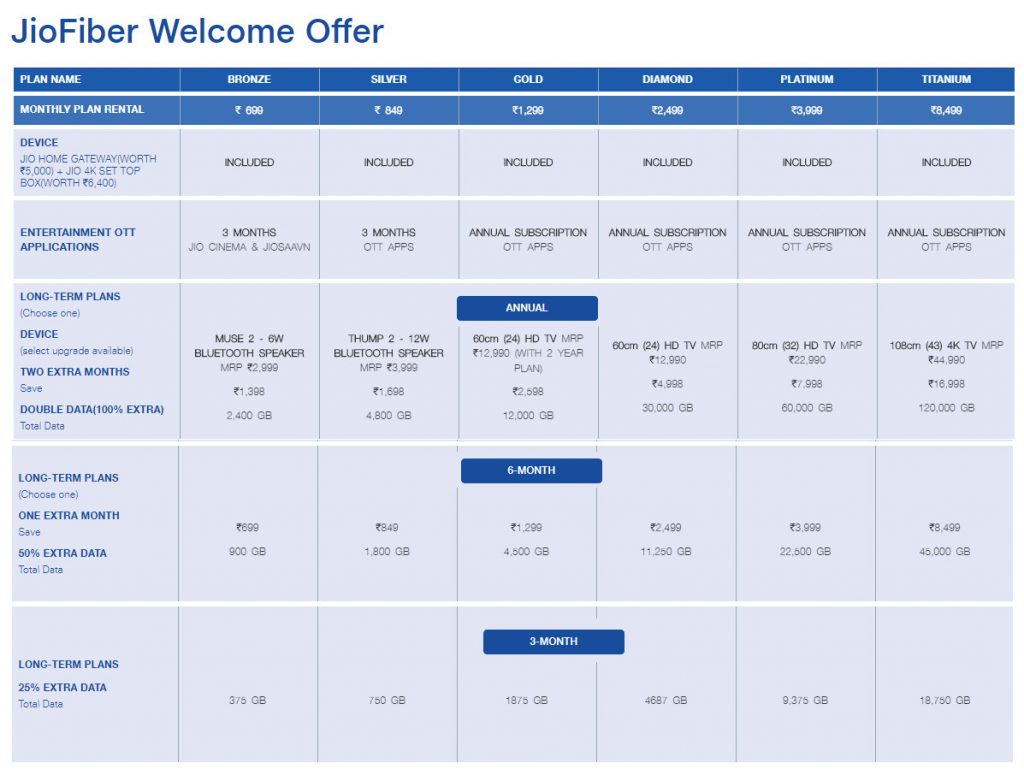 Every JioFiber user will get unprecedented value on subscribing to JioForever annual plans. With JioForever annual plan, users can get the following:
Jio Home Gateway (worth Rs. 5000) and Jio 4K Set Top Box (worth Rs. 6400)
JioForever Bronze annual plan subscribers get free Muse 2 Bluetooth speaker
JioForever Silver annual plan subscribers get Thump 2 Bluetooth speakers
JioForever Gold and Diamond annual plan subscribers get 24-inch HD TV worth Rs. 12990 (MRP)
JioForever Platinum annual plan subscribers get 32-inch HD TV worth Rs. 22990 (MRP)
JioForever Titanium annual plan subscribers get 43-inch 4K TV worth Rs. 44990 (MRP)
Subscription to your favourite OTT apps + 3 Months of JioCinema+ JioSaavn+ 3 months OTT Apps +Annual Subscription of OTT apps
Unlimited Voice and Data