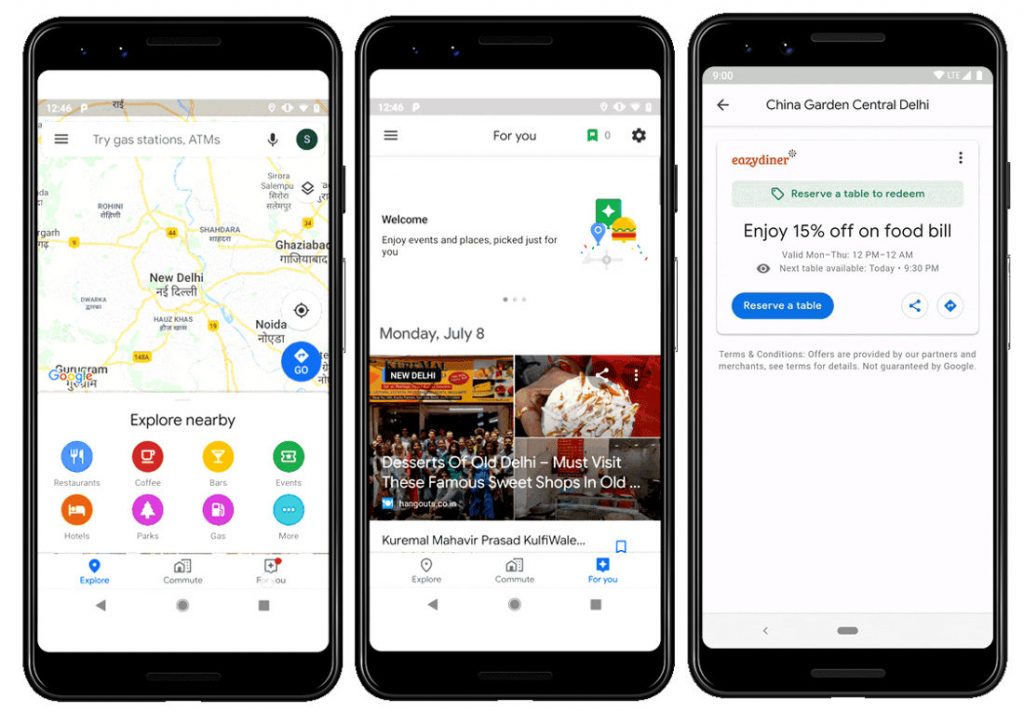 Google has been rolling out new features for Google Maps in India. Last month it rolled out local bus schedule, live train status and mixed mode commute suggestions in the country. Today it has introduced three new features — a redesigned, India-focused Explore tab, a new For You experience, and dining Offers.
The 'Explore tab' has been redesigned for India that brings seven shortcuts that you can access from the Explore tab: Restaurants, Petrol Pumps, ATMs, Offers, Shopping, Hotels, and Medical Shops. Using machine learning, Google Maps automatically identifies the top suggestions across these categories in every city. The 'Explore Nearby' uses machine learning to automatically identify the top areas in every city.
The 'For You' tab shows new restaurants, trending places, and personalized recommendations tailored to your interests. It also uses the 'Your Match' score, which uses machine learning to combine what Google knows about millions of places with the information you've added — restaurants you've rated, cuisines you've liked, and places you have visited.
The first time you use this feature you can select the areas/localities you are interested in, and get more personalized and relevant recommendations over time. You can also follow a business and get business updates, news on events and offers posted by them.
The new Offers section in the Explore tab where you can find deals and claim them at restaurants across Delhi, Mumbai, Bengaluru, Pune, Chennai, Kolkata, Goa, Ahmedabad, Jaipur, Chandigarh and Hyderabad. Google has partnered with EazyDiner to bring offers for over 4,000 restaurants with more coming soon. Offers section is currently available only for the Android app, while other features are rolling out to Google Maps users on Android and iOS.