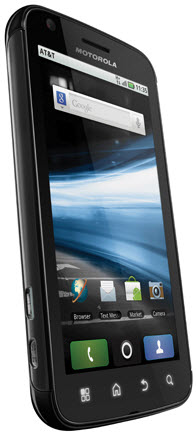 AT&T recently launched the Motorola Atrix 4G at the CES 2011 in Las Vegas. This handset is powered by the Android 2.2 (FroYo) operating system and it will be exclusively available on the airwaves of AT&T in the US. Motorola Atrix 4G features a 1 GHz dual-core processor, high-resolution qHD display, 4G Connectivity, HDMI video output and more.
"The upcoming lineup of 4G Android smartphones from AT&T is truly cutting-edge. These devices coupled with the recent deployment of carrier billing as an Android Market purchase option for AT&T customers are great examples of AT&T's commitment to smartphone leadership," said Andy Rubin, vice president of Engineering at Google.
Motorola Atrix 4G comes with a Tegra 2 dual core processor, 1 GB of RAM, 16 GB internal memory, 48 GB expandable storage, Bluetooth, WiFi, GPS, 3G and 4G Connectivity and a 1930mAh battery. It is the first dual core smartphone, to be available on the airwaves of AT&T. The HD media dock uses the Atrix 4G's HDMI video output capabilities and processing power to offer an amazing browsing, application and media experience.
This handset will be released in the first quarter of 2011. the price of this handset is not announced yet.