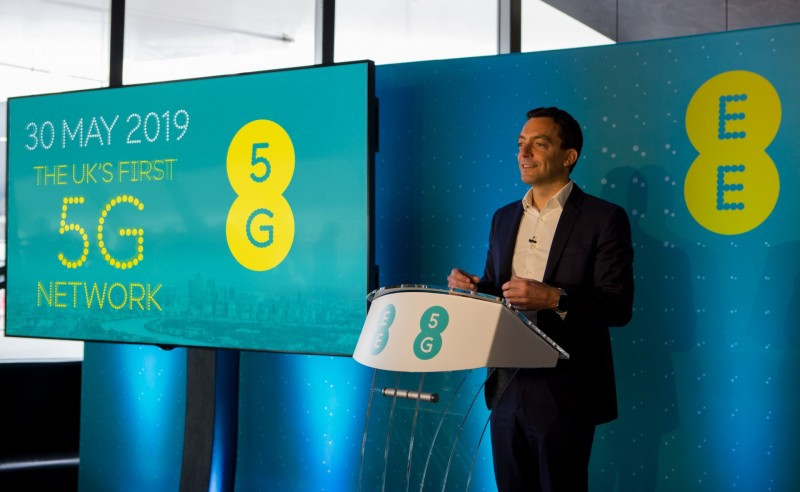 EE; UK's mobile network that is part of BT Group today announced that it will launch 5G in Uk starting in six cities: London, Birmingham, Cardiff, Manchester, Edinburgh and Belfast from May 30th. It will also introduce new 5G plans, a range of six new 5G smartphones and devices. The company announced 5G roll out plans last year.
In addition to the six launch cities, EE will also be introducing 5G across the busiest parts of Bristol, Coventry, Glasgow, Hull, Leeds, Leicester, Liverpool, Newcastle, Nottingham and Sheffield by the end of 2019. Aberdeen, Cambridge, Derby, Gloucester, Peterborough, Plymouth, Portsmouth, Southampton, Worcester and Wolverhampton will get 5G  in 2020.
EE promises speeds of around 100-150Mbps even in the busiest areas, and says that some might even get 1Gbps speeds on their 5G smartphones.  As well as upgrading more than 100 sites to 5G every month, EE is expanding 4G coverage into rural areas, and adding more capacity to 4G sites by turning 3G signal into 4G to enable more spectrum for a better network experience wherever EE customers go.
5G roll out in phases
Phase 1 of EE's 5G roll out: a 'non-standalone' deployment focused on using the combined power of 4G and 5G to give customers the fastest, most reliable mobile broadband experience they've ever had.
Phase 2, from 2022: Will introduce the full next generation 5G core network, enhanced device chipset capabilities, and increased availability of 5G-ready spectrum. Higher bandwidth and lower latency, coupled with expansive and growing 5G coverage, will enable a more responsive network, enabling truly immersive mobile augmented reality, real-time health monitoring, and mobile cloud gaming.
Phase 3, from 2023: Will introduce Ultra-Reliable Low Latency Communications (URLLC), Network Slicing and multi-gigabit-per-second speeds. This phase of 5G will enable critical applications like real-time traffic management of fleets of autonomous vehicles, massive sensor networks with millions of devices measuring air quality across the entire country, and the 'tactile internet', where a sense of touch can be added to remote real-time interactions.
All 5G customers will get two Swappables from a choice of five — including the BT Sport App HD HDR access, Gamer's Data Pass, Music Data Pass, EE Video Data Pass, and Roam Further Pass — which they can swap in or out anytime they want. Customers taking the 120GB plan will get three Swappables, worth up to £33.99 per month.
Alongside EE smartphone plans, EE is also rolling out the UK's first 5G SIM only plans, offering Swappable benefits, inclusive Service Pack benefits, and a range of great 5G data allowances starting at 20GB per month (£32 per month) and rising to 100GB (£52 per month).
EE is offering Samsung Galaxy S10 5G as well as UK exclusives with OPPO Reno 5G, LG V50 ThinQ 5G and One Plus 7 Pro 5G. EE will launch 5GEE home broadband in June. 5GEE WiFi with the HTC 5G Hub is available with upfront cost of £100 and with 50GB of data per month for £50 per month, or for £75 per month with 100GB of data per month.