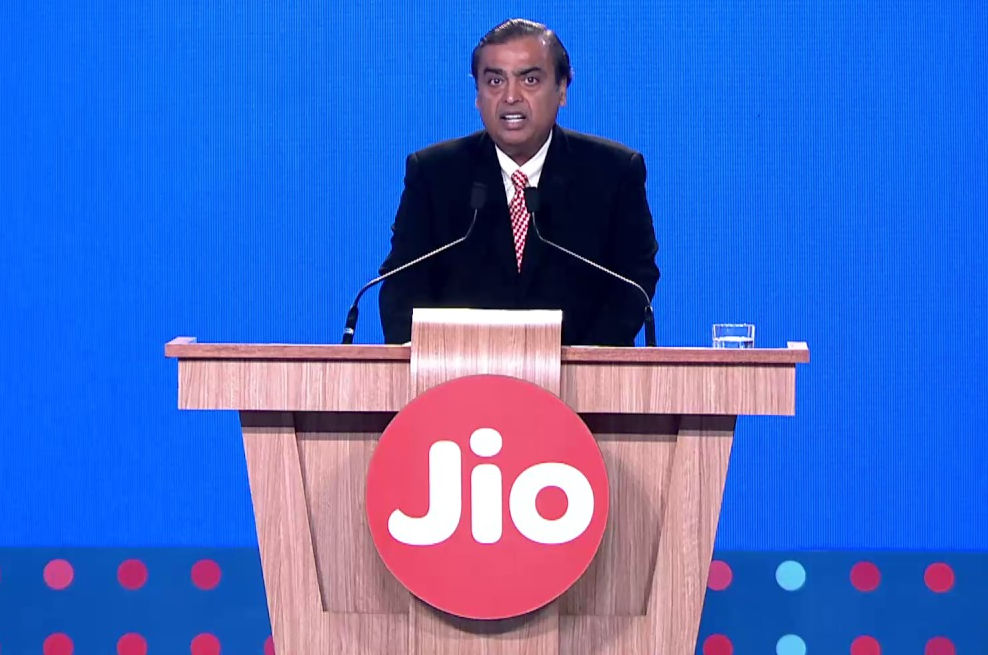 Reliance Jio has reported Rs. 11,106 crore revenue, up 7.0 % QoQ and 55.8 YoY and a net profit of 840 crore, up 1.1% QoQ and 64.7% YoY for its seventh quarterly financial performance for the period that ended 31st March
2019.  Jio reported Standalone earnings before interest, tax, depreciation and amortisation (EBITDA) of 4,329 crore, up 6.8% QoQ, EBITDA margin of 39%, and Standalone earnings before interest and tax (EBIT) of 2,585 crore, up 9.1% QoQ .
Consolidated value of services stood at 13,062 crore, up 6.6% over trailing quarter. It has 306.7 million subscribers as of March 31st compared to 280.1 million at the end of December quarter. The company said that it is the fastest operator in the world to reach 300 million users milestone.
Average revenue per user (ARPU) during the quarter – ₹126.2 per subscriber per month
Total wireless data traffic – 956 crore GB
Average voice traffic – 72,414 crore minutes per day and 823 minutes per user per month
Video consumption per subscriber per month – 500 crore hours
Average data consumption per user per month – 10.9 GB
Jio started offering JioGigaFiber services starting 15th August 2018, and the company said that  JioGigaFiber services for Home broadband, Entertainment, Smart Home Solutions, Wireline and Enterprise being rolled out across 1,600 cities.  Jio is currently optimising its service offerings across fixed broadband, entertainment and IoT based smart home solutions. Jio is focused on catalysing the underserved fixed broadband market in India with its next generation FTTX services.
During the year, Reliance Retail opened 76 new Digital stores, 2219 Jio Stores and operates more than 8,000 Digital and Jio Stores put together as on 31st March 2019.
Commenting on the results, Shri Mukesh D. Ambani, Chairman and Managing Director, Reliance Industries Limited said:
We at Jio are truly overwhelmed and proud to now serve over 300 million subscribers. Growth in data and voice traffic at this scale has been unparalleled. Jio's network is one of the largest mobile data networks in the world carrying over 3 Exabytes of data every month at unmatched download speeds. Jio 4G LTE network would soon cover every district, taluk, gram panchayat and village of India with targeted population coverage of 99%. Our constant endeavour is to offer gold standard digital experience to all our users across the country.

After successful execution of mobility business, Jio is now focused on catapulting India's underserved Home & Enterprise connectivity market to global standards with its next generation FTTX services. Jio mobility services along with Gigafiber fixed-broadband services and
associated technology platforms have been designed to transform India with the power of Digital Revolution and reinvent Reliance as a Technology Platform Company.