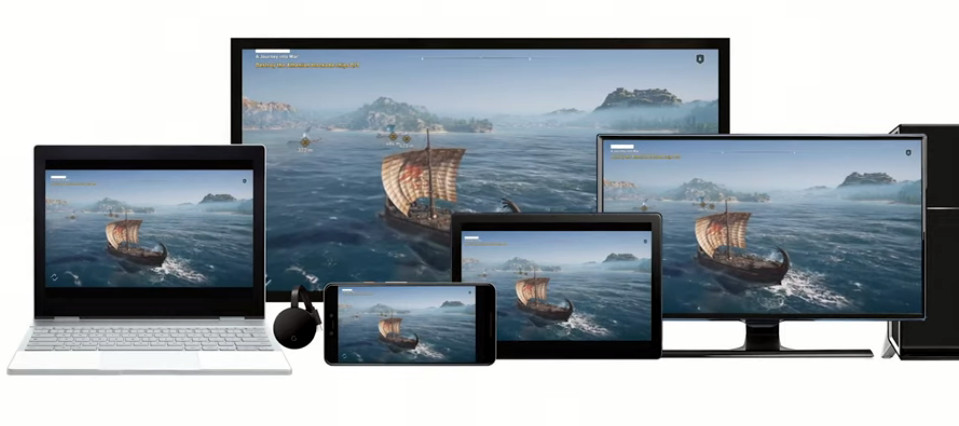 At the GDC 2019 yesterday Google announced Stadia, the company's new video game platform, as it had promised. This lets you instantly play games on TV (via Chromecast Ultra), laptop, desktop, tablet or a mobile phone at up to 4K and 60 frames per second with HDR and surround sound. Since this is completely online, gameplay experience may vary based on quality of internet connection.
Google said that developers will have access to nearly unlimited resources to create the games, thanks to powerful hardware stack combining server class GPU, CPU, memory and storage, and Google's data center infrastructure.  Crowd Play feature allows watchers to 'Join a game' being streamed, with creators able to manage the queue.

It has also introduced Stadia controller that is directly connected to Google's data center over Wi-Fi for the best possible gaming performance. The instant capture lets you save and share gameplay in up to 4k resolution on YouTube, has Google Assistant button and a built-in microphone.
Google Stadia will launch later this year in select countries in Europe as well as  U.S., Canada and U.K.
Regarding Stadia, Google said:
Data centers make Stadia possible, but what sets the system apart is how it works with other Google services. In a world where there are more than 200 million people watching game-related content daily on YouTube, Stadia makes many of those games playable with the press of a button. If you watch one of your favorite creators playing Assassin's Creed Odyssey, simply click the "play now" button. Seconds later, you'll be running around ancient Greece in your own game/on your own adventure—no downloads, no updates, no patches and no installs.